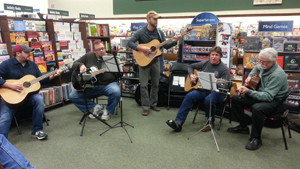 Christmas time is almost upon us, and this generally means people are out looking for trees, decorations, toys, gifts, and… books? Yes, books. The book club hosted a Christmas-themed book fair at Barnes and Noble, where both students and staff got into the holiday spirit.
The book fair opened up at noon, and the event opened up with a band named "Staff Infection." The quintet was composed of teachers counselor Lorne Perry, principal Tom Leitz, CSI teacher Greg Feldkamp, and teachers Jim Konnie and Rick Farr.
"It was great; it was a little nerve racking, but once we started playing it was alright," Farr said. "It also got really nerve racking when it was my turn to sing; I am a terrible singer."
Once the "Staff infection" was cleared, that made way for associate principals Jeremy Kranzo and Pete Paulon to host a quick round of a game called Heads Up."
"Jazzy and I started playing, and a bunch of people who walked past jumped in and joined randomly," senior Moe Hijazi said. "It was a lot of fun and embarrassing. We messed up for 'trampoline' by imitating jump rope. Also, every one was laughing at the calendars behind us because they said things like 'Hot Guys with Baby Animals.'"
After playing games, there was a 20-minute performance by a one man band. Lietz performed acoustic renditions of "Home" by Phillip Phillips, "I Will Wait" by Mumford & Sons, and an original song titled "Instantly."
After Lietz performed his songs, there was a raffle.
"I went around and got names while the games were going on," senior Jacqueline Berg said. "We drew names, and there were around 20 prizes."
"Although it was the last event of the day," senior Hannah Maze said, "The sing-alongs had a lot of crowd participation, especially for the song 'Jingle Bells.'"
Teacher Steve Haley, always jolly, contributed by reading children's stories.
Of course, no Christmas event would be complete without the likes of Santa Claus.
"Honestly, Santa seems like a great gig. Everyone loves Santa," teacher Mark Moehlig said. "Everyone even smiles at Santa, but I wouldn't know for sure. I wasn't there. I was sick; I had food poisoning."
The book fair, being a fundraiser, raised approximately $600 to $1,000, according to teacher Melissa Kevonian.
"I think we had a lot of support from students and staff," Kevonian said. "Next year we'll be able to keep book club going strong."
Santa Claus is Coming to Town
If you were at the book fair at Barnes and Noble, odds are you were asked a question or two from a man sporting a jolly red suit who claims possession over a long white beard. That man is non other than Santa Claus, who was portrayed by the always helpful teacher, Mark Moehlig.
"I thought Moehlig was a great Santa," Berg said. "He was very enthusiastic, and he even joined the band in Christmas carolling."
The children that accompanied adults, brothers, sisters, and teachers enjoyed meeting Santa.
"All the little kids would run up to him and just freeze," senior Jasmine Castillo said. "It was so cute; this one little kid ran up to him he froze and his face got super red and he motioned 'Santa' to get lower and the kid whispered what he wanted in his ear."
The book fair also had the always jolly, story book reading by teacher Steven Haley.
"When I heard Mr. Haley was reading to the kids, I wasn't surprised," senior Antonetta Berisic said. "He has a way of making stories come to life and he has the perfect voice to get little kids involved in the stories that he is reading to them."
Haley read a few books, ranging from "Rudolph the Red Nosed Reindeer" to "Cookie Monster's Christmas." Not only were the books enjoyed by the little children in attendance, but the teens, as well.
"Reading to the kids was quite entertaining," Haley said, "but Mrs. Pollum's son stole the show. He kept being cute and stealing my crowd."
Games, Sing Alongs, and Raffles
Other than Santa and story telling, the book fair had much more to offer. The Christmas-themed fundraiser was the talk of the school following the weekend event.
"The Christmas theme was pretty festive," senior Jasmine Castillo said. "The teachers were all dressed up as elves or reindeer, and even Santa. Mr. Haley had a red light-up nose while reading; it was adorable."
They only had time for a few games, but nonetheless, the games were fun, according to students.
"The games were actually a lot of fun," senior Hannah Maze said. "Even though we only played for a short time, I had a lot of fun."
The second to last festivity that went on was a raffle to help raise funds for the book club.
"I won something in the raffle," Castillo said. "I got a 2014 Prom cup and a 'U Love New York' shirt. I was pretty happy about the shirt, honestly."
The sing-alongs at the book fair included the band, as well as teachers and students. The songs spanned from "Silent Night" to "Jingle Bells."
"The band and sing-along was pretty good," senior Ashley Kerr said. "I got to organize the band, since I'm the drum major. Mr. Sauer wanted me to get people together for the book fair."
With the festivities getting students and staff into the Christmas spirit a little early, it goes without saying that the book fair was a good time for those in attendance.