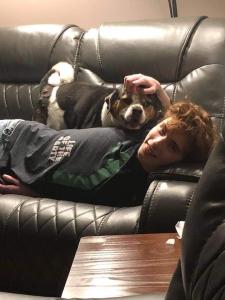 Colin Gollish
Sunday, May 17, 2020
I spent a lot of the day playing stellaris and doing math stuff again. I had a pretty boring yet relaxing weekend. Tomorrow I am going to do as much work as I can so I don't have to worry that much about school for the week. If I can get it done early I will do it. Some of my teachers give work for the entire week on monday so being able to get a jump start on it is very useful. Having this weekend as a break from all the school work that I crammed into one week is very refreshing. I am going to try and stay on top of things the best I can but I may fall behind in some stuff if I don't understand it. I am hoping most of my upcoming work is easy though so I don't have to worry about it as much. I think that is gonna be it for my blog today so I will talk to everyone in my next blog.
Saturday, May 16, 2020
This weekend has been pretty fun. I had another fire in my backyard and talked to my family. I have a lot less stressful of a time without as much missing work. I got a new game called Stellaris which is a space strategy game where you rule an empire in a galaxy and have to try and take over everything. It is pretty difficult but after some time I got used to everything. I played for hours without even realizing it. The game is really addicting and I am definitely going to be playing more of it soon. I ate some ice cream today as well. Chocolate Fudge ice cream is my favorite. I don't have anything else to talk about today since it was pretty uneventful, so I will update everyone tomorrow.
Friday, May 15, 2020
Math is now officially caught up. I now just need to finish some worksheets that are due next week. It feels pretty good knowing that I am getting caught up in all of my classes. It takes a lot of worry off of my back. There are still a couple of small things that I need to do here and there and some other big things that I need to finish soon. Other than that I am now doing pretty well in school. I might try and get ahead on next week if any of my teachers post anything for the week early. I am gonna take the weekend to relax and play games with my friends. After that next week is going to be another quick and productive week filled with work. Once I finish and can prove to my parents that I finished all of my work I am allowed to play games for the rest of the day. I will update everyone tomorrow which is going to be a relaxing weekend.
Thursday, May 14, 2020
Another pretty productive day. I am caught up in everything except math. I am working on about 5 worksheets and after that I just have some journalism stuff to do. I had a hot pocket for breakfast today, and I pretty much just snack on other things throughout the day. I ate some wings from Wingstop for dinner, which was really good. That is probably one of my favorite places to eat. The math is a little confusing, but I think I am getting the hang of it. I got ungrounded, but I didn't really do much on my computer other than catch up with some friends I hadn't talked to for a couple days. Tomorrow I am probably gonna play more games after I do more math. Other than that I really didn't do anything else. I chatted with my family a little and did some random small things here or there. I am gonna end my blog for the day here, and I will talk to everyone tomorrow.
Wednesday, May 13, 2020
Today was another very productive day. I spent the entire day again working on catching up in school and I am nearing completion. There are only a few classes that I still need to catch up in. One of them is math. I don't know about anyone else but trying to learn math through youtube videos and random notes does not work very well for me. So I am probably going to have a lot of trouble getting back on track with math. I did the 25/5 minute break technique again today and it worked pretty well. I got caught up completely in history and english. I am also caught up in french and biology. I am probably going to try and stay ahead on my work in those classes from now on because I don't want to end up failing and having to repeat 10th grade. I don't really have much else to say for today so I will update everyone tomorrow and give a good progress update as well.
Tuesday, May 12, 2020
We only have about a month left until summer vacation, I am so looking forward to it as long as I am able to actually go outside. Today was one of the most productive days I have had in a while. I spent all day doing school work and trying to get caught up in all my classes. I did not spend any time today playing games and only took small breaks here and there. I would work for 25 minutes straight, then give myself a 5 minute break to relax and clear the mind. I repeated this for the day and got a load of work done. I am caught up in 3 classes and could probably get another class in there if I worked hard enough. It wasn't the most exciting day for me in but at least stuff got done. My parents aren't very happy about my missing work and took away my computer so I am pretty much forced to do work at this point. When I have no distractions I get stuff done pretty quick. That and the fact that I downed an energy drink in the morning to wake me up and have me ready for the day. The only time I would take a break for longer than 5 minutes was to eat. Whether that be a snack or a full meal. I tried today not to procrastinate at all and it worked very well. I would recommend anybody that doesn't have the best work habit to try the 25 minute/5 minute technique. I don't know the exact name for it, but a lot of people use it and it seems to help. There are 2 hours left in this day that I can spend working on more school work. I will get as much stuff as I can get done, and probably get ahead in some of my classes if I am able. I know my blogs aren't that exciting but thank you to whoever spends their time reading this. I hope everyone has a good week and I will update all of you tomorrow.
Friday, May 1, 2020
I am still very bored in quarantine. Apparently the stay at home order just got extended even longer, but I haven't looked too much into it yet so it might not be true. I ate some wings and ice cream today. I spent most of my day watching movies and playing Valorant, I wish I could go outside and hang out with my friends. We all want to hang out with each other, but we are all restricted with the stay at home order. Everything is very repetitive, every day seems like the same exact thing. I had a bit of a camp fire in my backyard and I enjoyed it. I barely have anything to talk about because every day is the same so I guess I will update everyone tomorrow.
Tuesday, April 28, 2020
I really wish I had something interesting to write but all I can say is that these days in quarantine are boring as boring can get. It is literally just the same thing everyday. I wake up, eat, do school work, play with friends, and go to sleep. I honestly wouldn't be surprised if the stay at home order gets extended even further. What would really make me mad is if the stay at home order extends through the summer and everyone gets stuck indoors on the only time that teenagers have a lot of free time to do stuff. Now you can't even leave the house without being required to wear a mask. I get in trouble just for walking up to CVS for snacks. I am slowly losing my mind being stuck inside every single day doing the same things. I am at least enjoying some of my school work and playing with my friends. If I did not have any of that to do I would probably go crazy. The only things remotely interesting that happened to me today is someone managed to knock the power out in my neighborhood when they cut down a tree and it fell on the power line. Most eventful thing that has happened to me all month. That's really all I have to write for today so I will see everyone tomorrow.
Monday, April 27, 2020
It is all the same. I have spent all my time pretty much doing schoolwork and playing games with my friends. I started a TikTok account to help grow my livestreams. The username for it is "cjcrazy1" and I have posted a few videos on there already. They are mostly just highlights from my streams. I had ice cream and cheerios to eat, and a bunch more snacks. I had sausage for dinner and then I spent the rest of my day watching YouTube and other things. I started doing some work ahead of time to get a jump start on school for the week. Tomorrow I will only have 2 hours to do instead of 3. I could even knock it down to one if I read something before I go to bed. I will probably spend the rest of my time in the day scrolling through social media on my phone. I will talk to you all tomorrow.
Friday, April 24, 2020
The past few days have been pretty much the same. Get up, eat some food, shower, do some school work, and play video games. I've been streaming almost everyday playing Valorant. A ranked mode comes out in about a week so I am looking forward to playing a lot of that. Streaming has been a lot of fun. Seeing people in chat and getting followers and subscribers puts you in a good mood. I've seen a lot of people just coming into my stream to try and get free games and stuff and they just kind of sit there in my stream and don't really interact. My friends usually play with me online too. I have about 4 or 5 friends on at one time to play with me so I have a lot of good times with them. My days have all been pretty much the same so I don't have anything else to write. So I will see you all in my next blog.
Tuesday, April 21, 2020
I am writing this on April 22 because I completely forgot about this, so I am going to tell you everything that I did yesterday and then write again today about what I did in the present day. Yesterday I woke up around 9 a.m. ate some food and began my schoolwork for my hours 4,5, and 6. I had some french work to do, some english to do, and some history to do. It all went by pretty fast. It is surprising how much faster things can get done when you are not forced to sit in a classroom for 7 hours a day. After I finished all of my schoolwork I got onto Valorant again with my friends and started up a livestream on Twitch. I had about 7 viewers the entire stream which is not a lot, but it is fun to talk to some people in the chat while I was playing. One of the people on the other team of the game saw that I was streaming, and since he was a streamer as well sent all of his viewers to my stream to say hello. I then did the same thing to another streamer when I started wrapping things up on my livestream. Yesterday was a pretty fun day. I believe quarantine is still going to end soon to I am keeping my hopes up now for that to happen. I will see you all later tonight when I write my blog post for April 22
Monday, April 20, 2020
Today officially marks the first day back to "school" during the pandemic. I woke up around 9:30 a.m. and started working on my subjects in school. I only had hours 1,2, and 3 to do today and the rest tomorrow. After I finished with my school work I started playing a new game called Valorant with my friends online. I got an early access code and I had a pretty fun experience with the game so far. Tomorrow I am probably gonna wake up at the same time or even earlier. For dinner I had some burgers which were pretty good. I spent other time watching YouTube videos and just talking online with my friends. I think the stay at home order is going to end soon so that seems like something to look forward to. I just hope that it doesn't end up getting extended another month or two and I have to be stuck inside even longer. That's pretty much all that I did today so I will talk to all of you tomorrow.
Wednesday, April 15, 2020
I never thought I would see the times where I was unable to do anything during spring break and Easter. A lot of people are breaking the stay at home stuff so the situation is only getting worse. I was right in my prediction on April 1, school is not returning until next year. We are starting online school for credit on April 20th so I am preparing for that. My sleep schedule is pretty bad so I have to get back on that and fix it because it can pretty badly affect me. I don't have a lot of stuff to write about. I'm probably gonna do my work for online school that I need to do and then play some CS:GO with my friends. I have been stuck in silver 2 for a long time and I am expecting to get out soon.
I'll talk to everyone reading this tomorrow and update on anything I find interesting.
Wednesday, April 1, 2020
Is it even possible to fall for things on April Fools anymore? We are too paranoid and skeptical to believe a single thing on this day. However, I want you to believe me when I say that I ate ice cream for breakfast. I spent pretty much all day indoors again, only leaving to go to the CVS for ice cream and a Bang Energy Drink. I played a lot of Animal Crossing today. I have sunk hours upon hours into it already and I don't plan on stopping anytime soon. My sister is getting the game in a couple of days so it will be fun to play together online. I also played some more Warzone, but me being bad at that game I didn't win at all.
It is 2 a.m as I am writing this so again, it is technically April 2nd, but we will just ignore that. I said yesterday that I would try and do a blog, but of course I was too lazy and never got around to doing it. So tomorrow you can possibly get your hopes up again. Tomorrow our Governor is making an announcement about the state of the school closings, and judging by how badly the virus is getting in Michigan I am going to predict we are not going back this year, and everyone is just going to move up a grade. I don't have much else to write about today so I am just going to end this day here. I will talk to you all tomorrow.
Tuesday, March 31, 2020
I am technically writing this blog at 1:50 a.m. on April 1, so I guess this is my big April Fools prank, It is not actually Tuesday. However, I will cover most of what I did on the 31st. I woke up at around 10 a.m, took a shower, ate some food, and brushed my teeth. I had a zoom meeting for journalism at 1 (which I was late too because of technical difficulties on my end) which was pretty fun. It was good to see some other faces compared to all my friends I have been chatting online with. One thing I have been looking forward too is playing Animal Crossing: New Horizons with my sister and some friends. I did not have a Nintendo Switch though so this was a huge problem. Because of the coronavirus they were all sold out everywhere I looked, so I had to settle for buying a Nintendo Switch Lite, which is a more handheld, but virtually the same, console. I picked it up from target which had tons of people buying supplies like toilet paper, paper towels, soap, hand sanitizer, and other products. Most people where wearing masks as well to try and prevent the catching and spreading of the disease.
I picked up my switch and went home and set it up. I bought the game and downloaded it as well. I played for a few hours and then put the game down to get online with my friends to play some other things. During this entire break I have been playing a lot of Minecraft, Warzone, CS:GO, Roblox, and Beat Saber. I also ended my 6 month caffeine free streak by going to the store and buying an energy drink. I am still shaking as I am writing this blog. After playing games with my friends I watched a little bit of youtube and ate dinner. After I did all of that I got back on Animal Crossing and did everything I possibly could on the first day, so I would be prepared for the next day when I wake up. This is pretty much leaving us off at the point of where I am writing this at almost 2 a.m. My sleep schedule is all messed up but I am enjoying my quarantine life so far. I am a pretty big introvert so I am used to staying at home and talking to my friends online.
I will try and do something more exciting tomorrow. I might actually do a vlog alongside a blog but that depends on how lazy I feel that day. So I will talk to you all tomorrow.