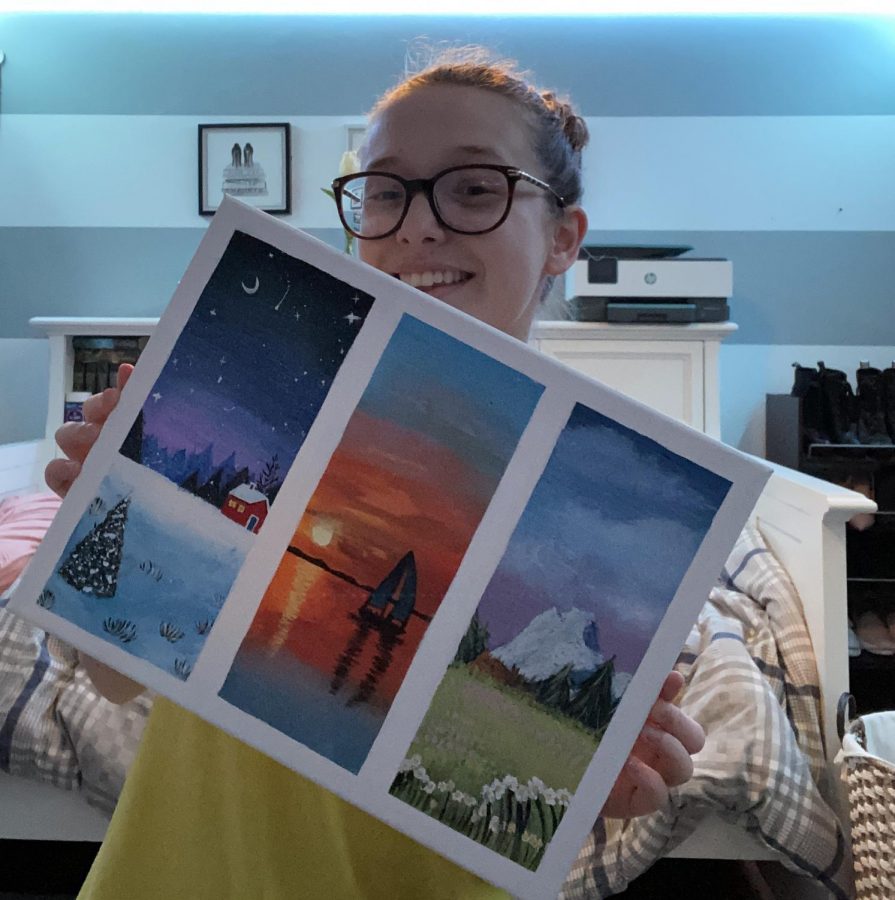 Thursday, June 4, 2020
This week was filled with me getting a bunch of Amazon packages. Yes, it's come to that point where Tik Tok has made me buy a bunch of things.
I actually recently got these light strips that you put under your dash and under your back seats in your car so you have like club lights in your car. If you play music the lights change to the beat of the song. When we got them, my sister and I had gotten in my car and I drove for about an hour with her just to play music and have the lights on.
I am currently more than half way through season 5 of Once Upon A Time. A lot more sad character deaths and a lot more tears.
Thursday, May 28, 2020
Today was really boring. I tried once again to fix my WiFi, and it will not work. The WiFi just cuts out so much and we end up not having WiFi for the longest time. Apparently that's what we get for having Xfinity.
I am now on season 4 of Once Upon A Time and it's safe to say that I've cried more than I thought I was going to. I forgot how sad the major characters deaths were.
Am I the only one getting tired of watching tv? Like I have shows to watch, I just don't feel like watching them. I love reading too and it's starting to get real boring lately.
Monday, May 25, 2020
Today my family had a barbecue and we sat outside and ate in our backyard. My little sisters were playing in the small inflatable pool and running around using the hose to soak each other😂
I am on season 3 of Once Upon A Time and forgot about how many character deaths there was, so that means that I cried, a lot.
Thursday, May 21, 2020
Still having horrible WiFi, which is great. You can tell I'm being very sarcastic.
I am now on season 2 of Once Upon a Time. Which means that most likely I might finish faster then I anticipated. Oh well.
Monday, May 18, 2020
I've had such spotty WiFi lately it's been hard to have my siblings and I do work.
I haven't been really doing anything different other than just watching different movies and tv shows.
I'm rewatching a tv show called Once Upon a Time. I loved this show when I watched it two years ago. Hopefully this will keep me entertained for a little while.
Wednesday, May 6, 2020
Today they opened the Starbucks drive thru on Hall and Hayes, so I went there to get a macchiato. Which by the way, was amazing.
I also went to the Costco gas station to fill up my car with gas. It's pretty cheap there which is amazing. It's like $10 to fill up my car.
Today was basically a clean up day. I did my laundry, folded them and hung them up. Washed my bed sheets and put them back on after they were done. I also cleaned my room and organized things that were put wherever.
My sisters love using my makeup even though I tell them to stop, so I had to wash my makeup brushes from all of the colors of eyeshadow they used on them.
Monday, May 4, 2020
Today was actually fun, my mom bought seeds and things to plant in our garden. I helped her plant everything.
I got my mom into the show Outer Banks, she loved it like I did. So basically I watched the entire season again, which I was not complaining for.
I also finished a book I started yesterday. It was pretty good.
Tuesday, April 28, 2020
I painted today and it took me all day. I went downstairs at 3 and didn't come back up until 10.
After I came upstairs I took a shower and went to bed. You can tell that I've been starting to get really really bored these last few days.
Monday, April 27, 2020
The weekend was nice, we spent a lot of time with our parents.
My dad and I painted the garage this weekend. It was fun but cleaning everything out before we started painting, was a pain.
That was basically all I did.😂
Friday, April 25, 2020
Today I finished catching up on all my recordings.
I again, finished yet another book, which is great.
Today was a very very lazy day I'll be honest. I was committed to watching Tik Toks today.
Thursday, April 24, 2020
I had a bunch of tv shows recorded on my dvr that I haven't been watching lately so I took today to catch up on all of them.
I also having been reading a lot recently. I probably finished more than 15 books this quarantine. I just love reading to the point where I start reading in the morning and I just get so sucked in, that I end up finishing it in the same day.
Wednesday, April 22, 2020
Today was honestly just filled with finishing homework early so I don't have to focus on them in the following days.
My family got a fire pit so that's where we have been spending our time at mostly. Just outdoors and making s'mores and just talking with the fam.
I got to FaceTime my family in Albania and talk with them and see what they have been up to lately during their quarantine.
Tuesday, April 21, 2020
All I did today was read, watch tv, and do homework.
I watched Avengers Age of Ultron today. It's pretty cool sitting back and watching all these movies over again. It lets me see things that didn't make sense before and helps me use clues from other movies to finally understand them. It's also nice to just sit back and eat popcorn while doing it.
Disney+ also put their Disney singalong on the subscription service, so I watched that and remembered the days of my childhood. I also sang the songs and surprised myself on how much I remembered all of them.
I did some homework for some classes, and then made a plan on when I'm going to do the others.
Monday, April 20, 2020
Today was pretty different then my last few days. I got absolutely nothing done. I took a nap around 4 pm because I was bored, and didn't wake up until 10 pm. This is why, right now, I am up at 5 am and cannot sleep.
Before I took the nap, I watched Captain America: Winter Soldier. It was pretty good. Anything right now to get me through being bored helps.
A show I highly recommend on Netflix is this new show called Outer Banks. It was amazing. If you're looking for a teen mystery that turns into a murder mystery, you'll like it. It's pretty funny too.
Seasonal allergies are starting and I am suffering through them right now, so that isn't fun.
Other than that, there's nothing really new. I'm just watching Tik Tok to get me through the night, because what else can you do in the middle of the night?
Wednesday, April 15, 2020
It's been a while since I have blogged, I've been busy with emailing teachers and doing the work they want us to do. I've also had therapy appointments that I've been doing using video chat.
What I've been doing these days is mostly what I have been doing for while, reading, watching movies, and hanging out with my family.
I was looking in Disney+ for some good movies to watch like I usually do, and I came across the marvel movies. I love them so much and I had an amazing idea. What don't I watch all of them in order. Not order by when they came out, but by the order of the whole storylines timeline. So that's what I've been doing, just binging my time away.
I also just finished rewatching All American for the third time, so that's great. This show is a highly recommended show for you to watch. It is absolutely amazing.
Tuesday, March 24, 2020
Sleeping has been very hard lately. There's nothing during the day that's helping me waste my energy and I've just been having a lot of energy at 3 am.
I spent today basically on my tv. I've been going through all of my recordings of shows that have been there for a while and I've fallen behind on and almost watched all of them.
Today I didn't have a Disney movie, just catching up on shows.
Monday, March 23, 2020
I have an Xbox so I thought it would be a good time to just play a bunch of games that I have on it. I've been playing Modern Warfare a bunch with my friends lately, getting a lot better too.
My Disney movie for the day was Aladdin!
Friday, March 20, 2020
Today just consisted of me doing some homework that some of my teachers assigned.
I also made a pizza today. I made the dough and realized I didn't have mozzarella, but I did have mozzarella sticks. So I shredded those babies up and boom, there's the cheese.
My Disney movie was Home Alone, because he's stuck alone without friends and so am I.
Thursday, March 19, 2020
Today was my sisters birthday and we made the most of the stuck inside day. We got her a bike with Frozen 2 characters on it because she loves the movie Frozen. I spend about a good hour putting the bike together for her and she went into the garage and rode the bike for a while.
And of course the Disney movie of the day was Frozen 2.
Wednesday, March 18, 2020
Tomorrow is my sisters 7th birthday and I spent today making an adorable cake for her. She's loves chocolate and that's what she got.
Can't forget my Disney movie! Today I watched Glory Road. It's one of my favorite true story movies ever.
Tuesday, March 17, 2020
Today was just as boring as yesterday.I'm starting to just try to find random things to do around my house.
I found a good book online to read and basically that's all I've been doing today, just reading.
Last night was great, I sat down and painted for 4 hours. It was a painting of 3 different things on one canvas all separated. One had a landscape of a wintery day, the next was a sunset image, and the last was a floral garden with a Mountain in the back.
Basically at this point I've got paint all over my pants and my shirt.
For my daily Disney movie, I watched National Treasure. It felt like a confuse my brain with facts that aren't real, kind of night.
Monday, March 16, 2020
Honestly, I've been absolutely bored out of my mind not being able to leave the house.
These past few days I went to Barnes and Nobles to pick up a few books to read during this break. So that's what I've been doing: reading actual books and even some reading on my phone.
Surprisingly, I've even picked up a new hobby: painting. Never would I have ever thought I would enjoy painting as much as I did. Although nothing will beat my love for books, I'm enjoying doing something I'm not used to.
I've also started watching a Disney movie every night since Saturday, and I will continue to keep that up. I've watched a childhood favorite of mine, "Thumbelina," on Saturday. Yes I know, that's for kids, but I loved it. Yesterday I watched "Let it Shine," and I was suprised that I still knew some of the songs.
I'm just going to end this blog by saying that subscribing to Disney+ is probably one of my smart decisions that I've made.