Students gather for their annual and highly anticipated competition day as homecoming week arrived. With complex designs and spirited slogans, these shirts not only foster a sense of unity but also celebrate each student's unique identity. As the day unfolds, students from different grades showcase their creativity and school spirit.
"I think it's really cool," junior Fjona Subashi said. "I didn't make a shirt, but they were all very different."
Many students agreed and admired the creativity of the shirts.
"It's cool that everybody made their own designs on the shirts," sophomore Kalaya Powell said. "It made each one very unique."
It was cool for Powell to see unique designs from each student.
"I think it's cool that everybody matches," sophomore Emilio Oddo said. "You also get to see the people in your grade all in the same color."
Other students also found joy in the unity that came from seeing everyone in their grade wearing matching colors.
"You can see the people in your grade match which is really cool," sophomore Jasmyn Goldsmith said. "It's also cool to see all the seniors showing off their school spirit."
Knowing who is in her grade really helped Goldsmith.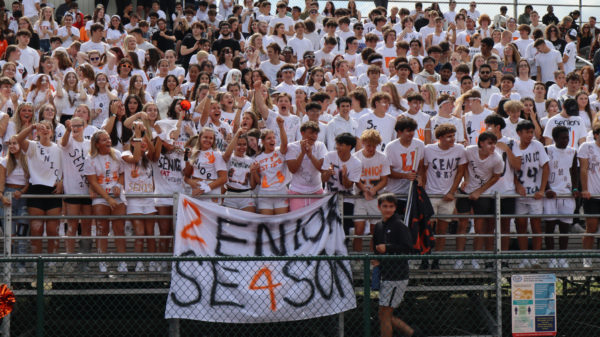 "I feel that they should make them more decorative," junior Mark Bahoura said. "It's also cool to see all your friends in their shirts."
Bahoura hoped to see more decorative shirts.
"It's cool seeing the grades all in one color and expressing them," senior Megan Zamora said. "Some people are lame; they need more school spirit and color into their shirt. They definitely need to be more bedazzled."
Meanwhile appreciating the designs of them, a student said that the shirts were decorated as necessary.
"I think it's cool seeing everyone show off the school's spirit," sophomore Nathan Reese said. "But I do think that they are decorated enough, peoples design on their shirts are very distinctive."
Showing off Utica's spirit really thrilled Reese.
"The more decorated, the better for sure," junior MiaBella Canta said. "It's also good to show off your grade and spirit."
The decorative shirts made Canta value them even more.
"It's definitely cool to show off the Utica spirit," senior Jenna Szalai said. "They should also have a saying on the shirt to make it more unique and personal."
Similarly, a student also said that people should have more spirit and color into their shirts, having a quote on them.
"I feel that everybody should have some sort of saying or slogan on their shirts," junior Krista Townsend said. "I think people are very boring with their shirts and need to be more spirited."