High school student by day, firefighter by night
Senior Drake Lundquist trains in cadet program
Sirens start to go off. He scrambles to get his gear together and hop in the truck because a call has been made. He plugs in the proper fire code for the call and gets prepared for what is ahead. Lives have to be saved.
This is an average night on the job for senior Drake Lundquist, who is a member of the cadet program for the Rochester City Fire Department.
The cadet program trains high school students that plan on becoming firefighters. It gives them first-hand experience on the job at a fire department and teaches them useful skills that they will need to know in the future.
"My dream career is to be a firefighter," Lundquist said, "and this program is a great way to get my foot in the door."
Lundquist has many responsibilities as a member of the program, and according to him, it is one of the most important things in his life.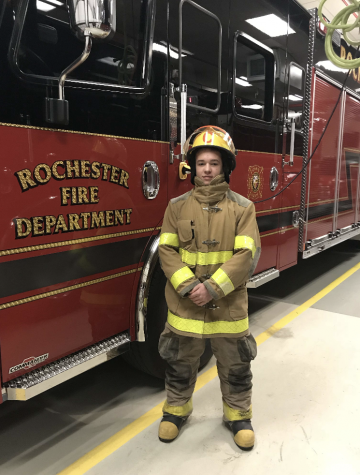 "I do things like normal house chores, respond to fire calls, and wash trucks," he said. "I'm constantly being taught new things about being a firefighter. It is a great time and it's going to help me a lot."
Utica's medical health program has assisted Lundquist in the cadet program.
"A lot of terminology that I use at the department," Lundquist said, "I already learned in [medical] health."
Lundquist's fast-track to a career doesn't come as a shock to some staff, especially because of his enrollment in the medical classes that the school offers.
"I am not at all surprised," principal Thomas Lietz said, "that our top-notch medical health program gives our students, like Drake, an edge up over other candidates for programs like these. They really prepare our students for their future careers."
Reflecting on his time at the fire department so far, as a cadet, Lundquist most loves to respond to a fire call.
"The adrenaline of responding to one is great," Lundquist said, "and we get to help people, too."
Lundquist does not get paid with any money, however, that is not an issue for him. He believes he gets paid in a different way.
"I get paid in knowledge," Lundquist said, "and I enjoy it so much, it does not feel like work to me."
Regardless of how he gets paid, Lundquist puts in the time and hard work.
"I have put over 300 hours since this past June," he said, "at the station running calls as a cadet."
The cadet program has not only given Lundquist a way to do what he loves and help people, but it will also benefit him later in life.
"It prepares me for EMT," Lundquist said. "It also prepares me for the fire academy and paramedic school."
While most other teenagers go through the typical struggle of choosing their path in life, whether it's selecting a college major or a long-term career, Lundquist is on the fast track to beginning his career, all while being a full-time high school student.
Leave a Comment
About the Contributor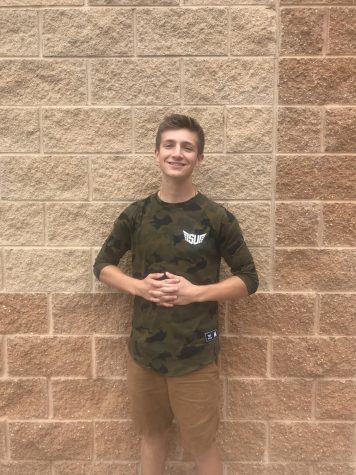 Collin Fox, Sports Editor
This is Collin's third and final year with good ol' Smales. He is the sports editor and is ready to go out with a bang and do it to em this year. #comebackszn