U of M and MSU rivalry divides students, staff
A state divided. A state with two universities that just plain don't like each other. One school is seen as the little brother, and the other is seen as brash, arrogant and stuck up.
The University of Michigan, being the winningest football programs in history with over 900 victories, has a permanent bulls eye on their back. Further down that list Michigan State ranks 42nd in all-time wins.
Historically Michigan owns this match-up with 68 victories and the largest blowout victory in the series in 1902 where the Wolverines beat the Spartans, then known as the Michigan Agricultural Aggies, a whopping 119-0.
In more recent history, Michigan's journeyman and blue collar running back Mike Hart, made headlines and sparked debate during his time wearing maize and blue. In his career as a Wolverine, Hart tallied over 660 yards and a touchdown in four games against the Spartans.
"Hart was used a lot for Michigan against Michigan State," teacher Kyle Rojeski said. "He was a work horse, but for his talent he was too cocky about it."
In 2005, the Spartans hosted an unranked Wolverines team. The Spartans put up a fight, but Michigan would ultimately win in overtime with a 35-yard field goal.
In 2007, Michigan once again triumphed over the Spartans. This time however, the story wasn't about what happened on the field, it surrounded the comments made by Hart in the locker room. Comments that would create a ripple effect neither program could have expected.
After the game, Hart deemed Michigan State the "little brother" of the rivalry. "I was just laughing," Hart said of MSU taking the lead."They got excited. Sometimes you get your little brother excited when you're playing basketball, and you let him get the lead, and then you come back and take it back."
Mark Dantonio, Michigan State's head coach, responded to Hart's comment stating, "They can print that crap all they want all over their locker room. It's not over, it's just starting."
Dantonio further warned, Just remember, pride comes before the fall…"
And for the Spartans, that comment ignited a spark that would fuel them forward, ultimately toppling their "big brother" in blue.
In the 2008 season, the first meeting since Hart's "little brother" dig, starting sophomore middle-linebacker Greg Jones and the Spartan football program had something to prove.
"The guys wanted nothing more than to embarrass the Wolverines," Jones said, "and make them feel it in the morning."
Michigan State, fueled by Hart's quote, went on to win 35-21 at the Big House. They followed up this win with another the following year, marking back-to-back victories.
The Spartans would win four consecutive meetings following Hart's infamous comment, proving there is more than one powerhouse in Michigan.
After a Spartan loss in 2012 in Ann Arbor, when the Wolverines returned to East Lansing, they were dealt a record-breaking defeat.
On a freezing November night, fans packed Spartan Stadium, adorned in ponchos and wrapped in blankets. Freezing rain fell all night, but Spartan fans stayed until the end, chanting "go green, go white" as the clocked ticked down.
In that 2013 meeting, Michigan State held the Wolverine offense to negative 48 yards rushing. The Paul Bunyan once again returned to the Skandalaris building, where it now stood for five of six meetings after Hart's quote.
"When Shilique Callhoun and Max Bullough sacked Gardner over and over again last year, I felt pretty awesome as a state fan," senior Michael Woelkers said. "When State plays Michigan this year, I want State to kill them."
Leave a Comment
About the Contributor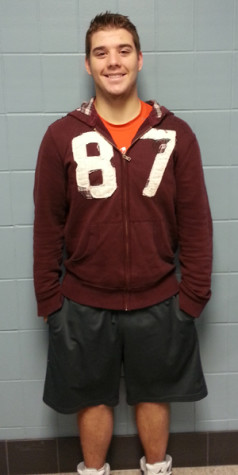 Tyler Warner, Managing Editor
Tyler Warner is a Senior at Utica High school, and his 3rd year on the staff. Warner enjoys sports writing as well as feature writing which have produced...