Serving up turkey, turf, trouble
Football Frenzy
Football is a classic sport. When people think of Thanksgiving, they think of family, friends, food, and football. The game of football almost has as much history as the holiday itself. With traditions, comes great Thanksgiving football stories.
"I watch the Lions Thanksgiving game every year," principal Tom Lietz said. "I love the game and all the commotion that goes along with it."
The Lions football organization was the first to schedule a football game on Thanksgiving. The NFL only agreed because they wanted to get more football fans to come to for their teams. The game was a huge success. Ever since then, people have been crazed to see this annual game.
Ford Field can hold 65,000 fans and all are in attendance for what some will call the "game of the year." People tailgate outside of the stadium waiting hours before the game to have fun with friends. This in itself is one of the main reasons people go to the game. Once the game starts, many fans can be seen wearing crazy attire, including hats with turkeys on them.
"My family is very football-oriented," senior Brittany Wojniak said. "We have gone for five years and I will continue to go even after high school."
The Lions Thanksgiving game is also one of the most watched football games of the year, behind the Superbowl. People love to sit around the table with their food and family, waiting for the game to begin. America has a frenzy, a football frenzy.
"When I go have Thanksgiving with my family the game is always on," junior Jason Miller said. "It's a way my family and I can reconnect and have a good time."
Thanksgiving Traditions
The turkey is roasting throughout Utica, where Thanksgiving traditions are a big part of students' November vacation.
Thanksgiving break begins Nov, 26 through 30, and students throughout the school are preparing for their feasts.
"My family and I eat either quail or lamb on Thanksgiving," junior Sara Baum said, "as well as cheesy pineapple that I'm in love with."
The food is an obvious must during the fattening holiday, but it changes from every family to family, straying farther from a turkey dinner regular.
"I typically eat way too much, but I enjoy it. I love pumpkin pie and turducken," principal Thomas Leitz said. "It's basically a turkey stuffed with duck stuffed with chicken."
Beside food, November's holiday is special for getting together with family and friends adding an exciting factor.
"We'll all sit around telling funny stories," sophomore Violet Milicaj said, "and spend quality time together."
Being with your family is important, no matter how big or small, but that may require some traveling to see the ones you love.
"I go to Canada every year," Baum said. "Four generations show up, cramming into my great grandma's two-bed room house."
Traditions change through every family, snacks and the main course to the time spent with the people you care for matters the most during the holiday.
"Thanksgiving is about being thankful," Leitz said, "as well as getting together with your family. It's probably my favorite holiday, because it's not about gift-giving; it's just centered around being together."
About the Writer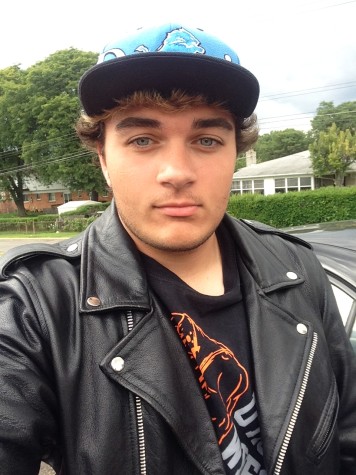 Ian Briggs, Reporter
Ian Briggs is a junior at Utica High School. This is his first year on the newspaper staff and he really enjoys the stories he covers. He says the staff...