One More Step
It was a chilly night as players rushed out of the locker room. For seniors, it would be their last game in a Chieftain uniform. For some it was bitter sweet, for others, a relief.
Chieftain rival, the Stevenson Titans, entered Swinehart on Oct. 24 with 6-2 record, en route to the playoffs. On the other end of the MAC, the Chieftains stumbled in with a 2-6 record, out of contention for playoffs, but still fighting for pride.
Junior Kumehnnu Gwilly made sure he left his mark on every Titan jersey that dared get in his way. Gwilly took a direct snap in the formation "Wildcat," and ran to the right, finding a crease in the line, and burst through it, only to be met by a pair of Titans.
For a running back, "yards after contact" prove to be a prestigious statistic. For Gwilly, "yards after contact" describes the x-factor of his game. On this night, Gwilly made his presence felt. He took on the Titan defenders, grinding out a few yards before two additional Titans joined in, trying to take him down. Gwilly continued his campaign toward the endzone, shedding tackles and breaking free from every defender. Gwilly's march continued down the field until he reached the Chieftain stamp painted in the end zone.
"Kumehnnu is a very hard worker," senior Austin Kowalczyk said. "As a captain, I can see that he is a natural leader on and off the field."
This season, Gwilly accumulated over 1900+ yards and 14 touchdowns, with 296 carries, good enough for a gashing 6.6 yards per carry.
"I thought Kumehnnu had a great season," principal Thomas Lietz said. "Anyone who can touch the ball that many times a game and stay consistent is just solid. The kid is a workhorse."
Gwilly has since earned various accolades, spanning from the team rushing record, to Macomb All-County honors.
Before the awards, before the recognition and before the fanfare over his successful season, Gwillly laced up his shoulder pads and prepared for a season full of promise and high expectations. With only two seasons under his belt, he had to prove himself as a contender.
In the seventh grade, he was a defensive end for the Eppler Chieftains, and following a two season hiatus, he returned to the field, just in time to join the junior varsity team as a sophomore.
"I played football because a lot of people told me to play," Gwilly said. "I enjoyed watching football, so I thought, why not, let's try this."
Gwilly's sophomore season didn't come without its share of hiccups. At first, he struggled to hang onto the ball, allowing several turnovers off of fumbles. The coaching staff, however, worked on ball protection with Gwilly, and soon after, he was called up to the varsity team.
"Getting called up to varsity helped me out a lot," Gwilly said. "I realized how much bigger and faster everyone was, so I had to work harder to adjust to the game."
Gwilly combined hard work and determination, ultimately breaking not only his own records, but school records, as well. Gwilly's success will forever be written into the story of Utica football, notably his records in single season rushing yards (1944), yards in a game (315), and carries in a game (43).
"Honestly, I would give all the records back just to be in the playoffs," Gwilly said. "Luckily, I still have another season to try."
About the Writer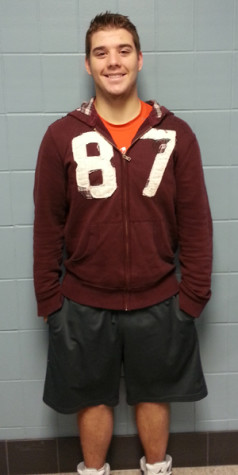 Tyler Warner, Managing Editor
Tyler Warner is a Senior at Utica High school, and his 3rd year on the staff. Warner enjoys sports writing as well as feature writing which have produced...