Hit the slopes
Skiers and Snowboarders look forward to Michigan winter and time to perfect skills
Early snow this season has led many snowboarders and skiers alike get the opportunity to hit the slopes mid-November. But before Michiganders got a real opportunity to enjoy the snow, it was gone.
Snowboarding has been a growing sport for a while, considering the popularity of skiing in the past.
"I think snowboarding is most common in our generation and generations to come," junior Luke Walters said. "Most skiers are older people or their young kids."
The debate still continues between which is more popular.
"I used to ski a lot as a kid," principal Thomas Lietz said. "I was part of the ski club in school and also owned a really nice pair of skis."
Riding the slopes is also a way to make new friends, whether you're into terrain or just normal slope skiing.
"You're really hanging out with a bunch of people that are just like you," Walters said.
Walters and junior Ethan Fromm hit the slopes whenever given the chance, along with sophomores Adam Walters and Charlie Fromm. They make it into a regular thing when winter comes around every year.
There are different types of slopes at most ski lodges or resorts. Riding terrain, which is jumps, grinds, with some cross country included, is more common for teenagers nowadays. Then there is also your basic slope riding, which is your average ride down hill.
Slopes rank from double black diamond, which is the most challenging and is not recommended for beginners. Then there's the easiest of all, which is on the Bunny Hill, This is where ski or snowboard lessons begin. It's not even located on the actual mountain.
Over the years, snow sports have gotten more and more popular, especially with the sudden social media popularity of snowboarding.
"It has gotten more and more exciting over the years," junior Noah Laino said. "It makes me want to try some of the stunts performed to an extent."
Ski and Snowboarding lodges and resorts have also gained much business due to the early season snow. Local popular places include: Mount Holly, Pine Knob and Alpine Valley.
"Mount Holly is my favorite place to go skiing, because it is more based for downhill skiing which is my favorite thing," senior Nick Freeman said. "I don't usually go on the terrain unless my friends I am with want to."
With the weather predicted to be even worse than last year, hitting the slopes this winter may not be an issue. Whether it's a Double Black Diamond or just the bunny hill, skiing and snowboarding can turn any average winter day into a good time.
Leave a Comment
About the Contributor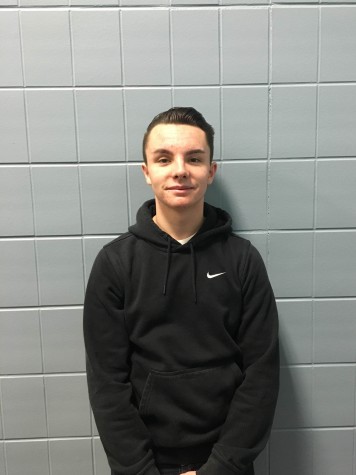 Ben Byrne, Business Manager
This is Ben's third year on Utica's publication staff. He participated in four seasons of high school football. He also looks to increase his knowledge...