Chieftain Hockey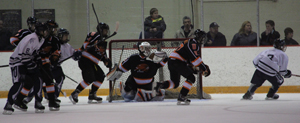 With four minutes left in overtime, the score is tied 3-3. The crowd is on their feet cheering, and coach Matt Burke decides to put his best line out on the ice. They work together, making the necessary passes back and forth to each other, when junior Jacob Maddox sees an open window in the net, takes the opportunity, and scores.
The Chieftains have high hopes for the upcoming hockey season, after their season opener on Friday, Nov. 21. The Chieftains have made some improvements to the way they are training this year.
First, they now practice on Wednesday mornings from 5:30 a.m. to 6:20 a.m. This is in addition to practicing on Mondays and Thursdays in the evening. Most players say that this has been a positive addition.
"Morning practices help wake us up so we're not tired in school," junior Tyler Keary said. "There are also no distractions around the rink."
Next, they brought in a goalie coach to work one on one with the goalies. For the first time in four years, the Chieftains have two goalies, freshman Mason Waldrip, and senior Jacob Lawson. In years past, goalies would be expected to play sick and hurt, because there wasn't any relief. Now, they have the ability to play each goalie as needed.
Lastly, they are running off-ice practices on Mondays, Wednesdays and Thursdays.
"We have trained by running and skating," senior John Lafata said, "and we go to the weight room."
The Chieftains also have fresh talent on the team this season. They welcomed three freshmen: Jacob Keary, Marc Herc, and Mason Waldrip.
The Chieftains put in the time to train for this season, and now will hit the ice to prove they can earn the wins. With all of the extra effort, it should be an exciting year for Chieftain hockey. The Chieftain's schedule can be found at www.uticachieftainshockey.com.
Leave a Comment