Guys swim looks to repeat near-perfect season
The swim team of 2015 has new and old team members contributing to the team's success. Last year, the team won the division and became MAC White Champions.
Along with the team's success, the boys swim team is also looking to the future season with great hope and optimism.
"We want to repeat our undefeated season this year as well," junior Steven Macdonald said. "Our goal is to win the division again."
Some athletes said that they learned far more than the skills to compete this season. Swimmers have been impacted individually by the swim team's experience and would never want to take that experience back.
The practices are held every day after school, and take hours of dedication and hard work. The swim team loves doing what they do and looks forward to each upcoming meet with anticipation.
"Swim has taught me that you have to work hard to be successful," Macdonald said. "It has also taught me to be responsible and that I need to persevere in life to get to where I want to be."
Last year, several school records were shattered by the champion swimmers, and this year, the team has set even loftier aspirations.
"I broke the 200 medley relay time last season," senior Marc Galui said. "I also broke the 200 free-style record."
This season, there is pressure to not only compete as a team, but to continue to earn individual honors and break previous records. While some people may let the pressure get to them, most swimmers say they are ready to take on the challenge of competing with their previous times.
"I hope to make it to states as an individual as well as a team," junior John Marchese said. "I am just going to get in the pool, do my sets, and work hard every day."
The boys swim team has several talented athletes that hope to go far this season. While swimming can be an individual event at times, teammates boost each other up to show support.
"Dean Wundrach has a lot of promise this year to go to states," Galui said. "He has made huge improvements throughout the seasons and has been training year round."
There is a lot of promise this year for the swim team. With fresh talent, seasoned veterans and experienced coaching, if things go as planned, this season will be a season to remember.
Leave a Comment
About the Contributor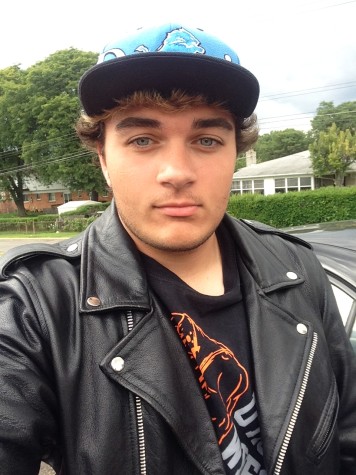 Ian Briggs, Reporter
Ian Briggs is a junior at Utica High School. This is his first year on the newspaper staff and he really enjoys the stories he covers. He says the staff...