Emagine theatre opens doors in Macomb
Cola flows through straws and fingers are greasy and full of popcorn. The commercials end, the lights dim, everyone slowly reclines and the movie begins. At the new Emagine Theatre in Macomb, this experience is possible.
The Macomb theatre opened in December 2014, although Emagine already has locations around metropolitan Detroit, in Novi, Canton, and several other cities.
"Our staff sets us apart," manager of the Macomb franchise, Art Hennessey, said."We only hire the brightest and sharpest from the community to work here. We also offer leather recliners, and food brought right to your seat."
These theatres, unlike any other theatres, offer affordable tickets ($6-$10) combined with luxury reclining seats and meal deals at local restaurants; such as the Buffalo Wild Wing's location near the Canton theatre.
These meal deals include a dinner and tickets to an Emagine movie. For some, it might be a perfect first date spot; for others it could be a place to get together with friends.
This theatre functions more like an expansive mall; there is a large cafeteria which serves everything from personal pizzas and shrimp, to popcorn and even wings. Many of the food items can be personalized, furthering the customer experience. It's not just about the movie anymore.
Finally having an Emagine right in the area, many students are excited to see a movie at the unique theatre.
"I saw 'Into the Woods,'" sophomore Akshara Reji said. "It was really cool."
How this new business will affect other popular cinemas in Macomb, like the AMC 30, is unknown.
Not far away, the Rochester Hills Emagine offers D-Box seats. To sit in a D-Box seat, customers can pay an additional $8 to experience moving seats with select films, immersing people in high action scenes.
In addition to the usual theatre experience, Emgaine will rent out rooms for private parties and independent film showings.
"Its a great idea," sophomore Zack Arafat said, "and the price is fine."
High school students in the area are excited to jump into the recliners at an Emagine Theatre, order some shrimp, and watch the next big blockbuster hits in style.
After checking the Emagine web site for information on local show times, students can also check the availability of seats and reserve them before stepping foot into the theatre.
About the Writer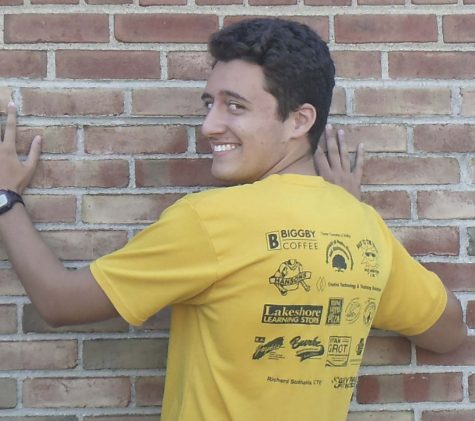 Ethan Cartwright, Editor-in-Chief
This is Ethan's third year of newspaper. Throughout all his horrible designs, and ok stories, he has become something he had hoped to be since 10th grade....