Proposing a better future
Utica Community Schools Board of Education proposes a bond to make schools safer, install new technology, make changes to infrastructure
Technology. Security. Athletic structures. These are all relevant topics within our school today. And with the recent bond proposal passed by the Utica Community Schools Board of Education with a unanimous vote of seven to zero, these are all issues within our school that could improve within the next five years, if voters pass it.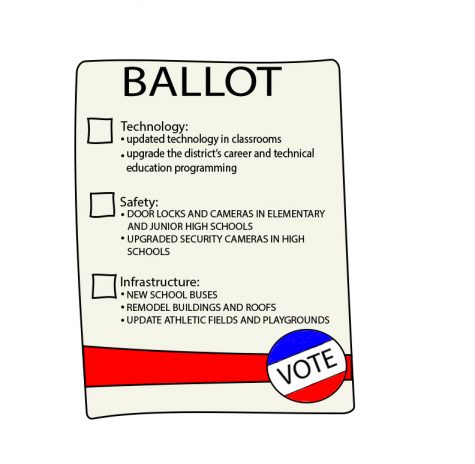 On August 13, The UCS Board of Education met to discuss the bond proposal. This $155 million proposal consists of improvements to safety, technology, and infrastructure.
Although many tax payers may be skeptical of this proposal, this proposal may be beneficial to the tax payers and their money.
This proposal is said to keep local taxes at or below the current mill rate, as this rate was increased in 2008. According to Investopedia, mill rate is the amount of tax payable per dollar of the assessed value of a property. The debt from this project is said to be paid over the next 15 years.
"It is important that our taxpayers know that all revenue must be used for the purpose that are specified in the bond proposal,"
Board of Education Treasurer Dr. Robert Ross said, "and the expenditures are independently audited."
What would the bond money pay for, exactly? Well, with many acts of terror and safety threats occurring around our nation, the district is striving to update security procedures and features to ensure the safety of UCS students of all ages.
Although the Shelby Township Police Department already has access to Utica High's security cameras, these cameras will be updated, and cameras will be installed in our elementary and junior high schools, as well.
Other security improvements the bond proposes include classroom security doors, emergency alert systems, and secured entry ways.
"It's going to have a lot of good technology as far as upgrading cameras," Shelby Township School Resource Officer Jacob Lukas said. "Putting cameras on the buses would be huge. They're much needed funds if the bond passes."
UCS will also make upgrades to the district's Career and Technical Education program, if the bond passes. These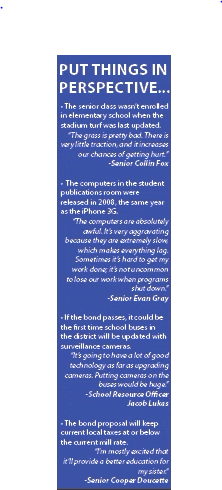 technological updates include laptops, desktops, smartboards, and an increase in technological infrastructure and capacity.
The age of buildings and their individual needs have been used to determine upgrades for the district's schools, such as remodels and roofing. Students see first-hand the current state of their classrooms and know where they hope to
see changes.
For example, the computers in the student publications room were first released in 2008. To put this into perspective, the iPhone 3G was released the same year.
"The computers are absolutely awful," senior Evan Gray said. "It's very aggravating because they are extremely slow, which makes it hard to get my work done; it's not uncommon to lose our work when programs shut down."
Technology isn't the only area students hope to see changes.
Recess is a major stress relief outlet for young students as they're adjusting to a school routine. As these students get older, this stress may be calmed by playing sports and taking gym classes. Now, imagine you are one of these students and these playgrounds and athletic structures are old, rusty, or falling apart. This is the last major project the bond proposal is said to improve.
"The tennis courts are in need of resurfacing," senior Patrick Capo said. "Multiple parts of the courts are badly damaged from wear and tear."
The bond would also upgrade the stadium turf.
"The grass is pretty bad," senior Collin Fox said, "There is very little traction, and it increases our chances of getting hurt."
In addition to improving our playgrounds and playing fields, infrastructure is also a big part of the bond proposal.
Forty of our facilities have an average age of fifty years. Infrastructure updates include remodeling buildings, and new school buses. If the bond passes, the district will be replacing eighty out of our two-hundred and thirty-three school buses, which is thirty-eight percent of the buses.
Voting on this bond proposal will take place on Nov. 6. In addition, voters can submit an absentee ballot until Nov. 3. This new bond proposal strives to improve the educational environment and the overall morale of the school district.
Students agree that with these improvements, the education, as well as infrastructure and safety within the district, will be improved. As voters head out to the polls, many students say they are hoping for the bond to pass.
"After hearing what's on the proposal, I'm very excited for what's on it," senior Cooper Doucette said. "I'm mostly excited that it'll provide a better education for my sister."
Leave a Comment