Williams ousted for now, Holt steps in
Credibility, by definition is the quality of being trusted and believed in. Take a brief moment and think of the faces of whom you could trust; parents, friends, and certain teachers probably come to mind. Now think about one of the most recognizable faces of national news, that face by all means should be one of the most trustworthy that you see all day.
Brian Williams, the managing editor and now former lead anchor for the 'Nightly News' on NBC, has been suspended for six months without pay following his misrepresentation of his own Iraq War experience.
"His perception affected his cognitive apprehension on the situation," principal Thomas Lietz said. "We can't make a valid decision unless we truly understand the position he was in and what was going on through his mind."
Once Williams was suspended, there were initial fears that the Nightly News would plummet, however with Lester Holt taking over the reins as lead anchor, the 'Nightly News' has improved its ratings.
"I believe it peaked every ones interest," teacher Jim Kilgore said. "When Williams was suspended and Holt took over, people were used to him in the morning and on the weekends, but were curious to see him in the evenings."
Holt is the interim weeknight lead anchor for the suspended Williams, however Holt is no stranger to the spotlight by holding down the 'Nightly News' weekend lead anchor spot among other NBC jobs.
Holt is a graduate from California State University, and has been active in journalism since 1981. Throughout the years, he has hosted 'Weekend Today' and 'Dateline NBC' along as the previously stated 'Nightly News' as a weekend anchor.
However with Williams gone until the middle of August, fans of NBC are going to continue to see a lot of Lester Holt over the next 5 months.
Holt is going to be all over NBC through various types of shows with that being said and done, this is going to be a daunting task for Williams to come back from.
Leave a Comment
About the Contributor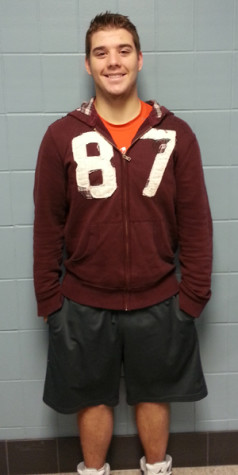 Tyler Warner, Managing Editor
Tyler Warner is a Senior at Utica High school, and his 3rd year on the staff. Warner enjoys sports writing as well as feature writing which have produced...