Curtain call
Student Council hosts final year of He's a Lady
The crowd starts to settle down as the lights dim. The audience jitters with anticipation as they wait for the show to begin. A dark figure appears center stage, as the MC, teacher Mark Moehlig welcomes the contestants in the pageant.
He's A Lady has been a school tradition for quite some time. Each year, students eagerly await the month of February to come, so they could enjoy a night filled with laughter. He's A Lady is a beauty pageant, where male students from the school dress as women and take on a mentor to train them to be elegant for one night.
This year's show of He's A Lady was Utica's last. According to principal Tom Lietz, the decision was made because the pageant may offend people, particularly members the LGBTQ community.
"It's kind of sad because it was a fun thing we did," junior Andrew Kadrich said, "but I can see why someone might be offended."
While guys dressing and acting as teenage girls may be funny to some, it's something that can be viewed as offensive to other groups of people. Lietz made the final decision and feels that it was the right thing to do.
"I'm the only one who gets to make the decision," principal Tom Lietz said. "I have to own that, and I'm okay with that."
The decision came as a bit of a disappointment for this year's sophomores, since this was their first year at the school. Most students are upset about the decision, but they can also see why the choice was made.
"It was my first year, so I'm kind of mad because it was fun," sophomore Jenna Mowry said. "The purpose isn't to make fun of anyone; it's for fun."
Moving forward, Lietz and the student council have decided to come up with something even better to replace He's A Lady.
"We're going to find something better and more inclusive," Lietz said, "and hopefully raise even more money."
Teacher John See, who was a judge at the pageant this year, suggests that the school hold something similar to the senior picnic, but that is open to everyone.
"[We could] set up a mini carnival with blow-up rides," See said, "and charge per ride."
Whether it's a carnival or some other event, some students believe that nothing will ever take the place that He's A Lady holds in our school.
"I don't think you'll have one event that raises as much money as He's A Lady," Kadrich said, "or gets everyone as excited."
It may be possible that nothing will ever be as popular as He's A Lady. Lietz, however, hopes students understand his belief that it's more important to take into consideration why these decisions were made.
"I think He's A Lady is a program that has been done with the right intent," Lietz said, "but it is my job as a principal to protect those who feel uncomfortable. Sometimes doing the unpopular thing is the right thing."
About the Writer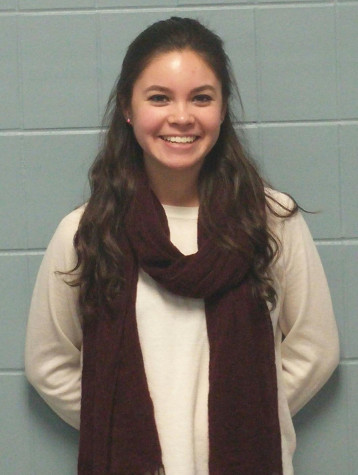 Julia Vasquez, Editor-in-Chief
This will be Julia's third year on the Arrow staff. She started the year as the newspaper's Editor-in-Chief. Julia is also a part of the National Honor...