McDonalds asks customers to McLove each other
As senior Ryan York holds the door open for his girlfriend, junior Jenna Perzanowski, the cashier waits patiently for her customers to decide to order. He asks Perzanowski what she wants, and they agree to split a 20 piece McNugget, then York decides to get a sweet tea, then follows his decision to add fries and make it a meal.
York gives his order to the cashier and begins to pull out his wallet, the cashier then asks York if his girlfriend is with him, York replies with a yes and the cashier gives him a task: "Tell her you love her," The cashier says.
"I turned to Jenna and told her I loved her," York said. "Then we got our food and left. It was simple and free food, what is there not to love about it."
On Feb. 4, McDonalds is spreading the love, and not just by bringing by the Shamrock Shake.
Each day, McDonalds restaurants will choose a random customer and offer them the chance to win a free meal. The catch: you must complete a random act of kindness, chosen by the cashier.
From hugging a random stranger to making a call to someone in need, the cashier has creative freedom. Once you complete the act, your meal is covered by McDonalds.
The McLovin movement, as it is known, affected all different community members, even students.
During Super Bowl XLIX, McDonalds purchased an ad, to present the McLovin promotion, showing the world a new way to love and show appreciation towards the ones you love.
The goal of the McLovin campaign was to encourage customers to be kind to each other.
"I think it's awesome that you can just get free food," junior Sarah Vansickle said, "and just by saying or doing something nice.'
Although some people believe the random acts of kindness are positive, others would rather not walk into a fast food joint and be asked to ante up their kindness.
The workers on the other hand, are enjoying watching these people spread the love for free food. Students who work at McDonalds found that the McLovin campaign didn't quite go as planned.
"I was amazed that the majority of people would rather pay for their food," junior Sara Swiatkowski said, "than actually do what they were asked."
Many students enjoyed this opportunity to earn a free meal, some even try different ways to win, but it usually ends up in failure.
"That's just an abuse of the system," senior Erunique Roach said, "especially if they are trying to promote something like spreading love."
Knowing that this is a possibility, McDonalds employees had a system in place to select the random customers.
"Some people asked me how many people had won already," Swiatkowski said, "and even though I told them it was only one per hour, they still wanted free food. Most people asked if they could come back for the next hour."
The procedure for picking the customers was decided by McDonalds.
"They gave us a slip of paper with a specific time on it," Swiatkowski said, "and we had to choose the customer that was at the register at that exact time."
The business inspired more customers to share the love and come back more for a possible chance to be another lucky contestant.
Though it seems like a positive idea from McDonalds, this may just be another challenge to promote their good name. With many other contests like those associated with Monopoly, and the Olympics, it could be just a promotional stunt to get people into the restaurant.
To promote their Monopoly game, customers were encouraged to hashtag #McDMonopoly. The object of the game is to collect pieces of the popular game. Once the proper pieces of the game are collected, the customer has the chance to win prizes ranging from a new car, to cash prizes. McDonalds has continued this contest year after year, suggesting that it does keep customers coming back.
Every two years, the Olymics promotion takes place. McDonalds being a major sponsor includes olympic athletes in their advertising to promote themselves, and the games.
Regardless of the promotion, McDonalds remains one of the top fast food chains globally, so one can only assume that people are still lovin' it.
Leave a Comment
About the Contributor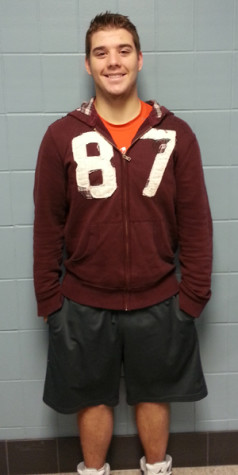 Tyler Warner, Managing Editor
Tyler Warner is a Senior at Utica High school, and his 3rd year on the staff. Warner enjoys sports writing as well as feature writing which have produced...