Blueprint for Success
Students personalize curriculum through use of flex classes
Reclining in an auditorium chair and listening to information about scheduling classes, senior Ian Briggs was pretty sure he already knew everything he needed to know about graduation requirements. That all changed, however, when counselor AnneMarie Carabelli announced a few changes.
"I put off my gym credit until senior year, but then I found out that my three years of marching band could replace that requirement," Briggs said. "I was happy because I knew I didn't have to force classes into my schedule that I didn't want to take; gym was one less thing I needed to worry about squeezing in."
Briggs is not alone. When Michigan loosed the requirements in its Merit Curriculum, Utica Community Schools allowed its students to have more freedom in both the physical education and foreign language requirements by taking a flex class, instead.
According to principal Tom Lietz, these opportunities will benefit students who are driven towards a particular career path, so that students can focus on classes that will benefit them in their future careers.
"If a student wants to take a flex class that will go toward his or her career path, then there are several options to fulfill graduation requirements," Lietz said. "Our end game is for students to be successful after high school."
Physical Education
This year, a new interpretation of graduation requirements has been put into place. While graduation requirements have remained the same, student athletes can now earn their physical education credit by participating in a school-sponsored sport.
While they will still be required to fulfill the health requirement, they will not need to take a gym class during school hours.
"I think it will make it easier for people who play sports," sophomore Jesse Ringle said. "It'll help them get their credits easier."
While this new requirement may get more students to participate in sports, some teachers feel that it takes away from what students can learn in a physical education class.
"I don't agree with the fact that sports and marching band will count as a gym credit," physical education teacher Mike Moscato said. "There are certain things you can learn from a class like P.E."
Physical Education cwlasses benefit each student in different ways. From learning the basics of a team sport, to laps around the track, most receive a sense of perseverance and team work.
"There is always time to learn new things," Moscato said. "Students will take away positive opportunities from this type of class."
Three years of marching band is another way for students to meet the physical education requirement. Playing an instrument in a group like marching band allows students to develop work ethics and the ability to work well as part of a team. Many argue it has the same benefits and advantages as a team sport.
"Of course marching band should count as a gym credit," band teacher Michael Sauer said. "It allows students to customize their schedule and take classes they will like."
The substitution of marching band also allows students who are not comfortable in athletic competition and activity to have an equal, or perhaps even better, option. But even with these factors at hand, some students and staff don't agree with these circumstances.
"Marching band isn't a sport," junior Mary Davis said. "It's not as competitive as other activities shouldn't take the place of gym."
World Language
While the district still requires students to take two years of a world language to graduate, those with a specific career path in mind have several options to replace their second year through a flex class. For example, two Career and Technical Education classes will fulfill the requirement, as will two Visual, Performing and Applied Arts credit.
With that said, counselors still encourage students to take at least two years of language, since most colleges recommend it.
World language is an important class for students to take since language barriers are becoming an issue. Spanish is now the most spoken language in the United States.
"I knew [the world language requirement] was good for kids," Spanish teacher Julie Wright said. "It gives them a global sense of the world; it makes them not so American-centric."
While most agree that there are many benefits to taking a world language, but those struggling in school, and especially in a language class, welcome the change.
Even though Wright agrees that language makes students more diverse, she also believes that students should also be able to take more elective classes that fit their interests.
"I personally don't like what high school has become," Wright said. "High school is historically meant for learning. I think there should be more room for electives and exploration."
Visual, Performing and Applied Arts
Students can fulfill their VPAA requirement by taking one of several classes, including theatre, music, dance, industrial technology, medical health, business, art, speech, debate, journalism, newspaper or yearbook, to name a few.
"One VPAA credit is required for graduation," associate principal Pete Paulon said. "However, if a student earns an additional VPAA credit, it can count as a flex class to replace the second year of world language."
Visual, Performing and Applied Arts classes are specialized and focus on a specific career path or interest.
"VPAA classes are beneficial to students," Carabelli said, "in that they can introduce and/or show a variety of areas related to arts and/or other interests."
English, Math, Social Studies and Science
Although flexibility is available to meet some requirements, it is not available in core areas.
"The amount of credits you need for English shouldn't be as much as it is now," junior Paul Marble said. "It gets kind of repetitive with reading a book and writing essays over and over and over again."
Educators, however, believe these classes are necessary to develop important skills for the future.
"Four years of English allow students time to develop their best possible writing and analytical skills," teacher Kelly Bronski said. "These are skills that colleges and universities expect them to have upon entering as Freshmen."
Currently, four math credits are a requirement for graduation. Geometry, Algebra I, Algebra II, and a "math experience" class such a MS Office or Accounting.
"I feel the math curriculum is fine the way it is," teacher Jennifer Pollum said, "but I don't like the idea of 'math experiences.' I say three credits should be required, rather than four, and students should be allowed to take different classes they'll enjoy."
Three credits of social studies and science also remain requirements without flexibility.
"More science," teacher Bob Morin said. "A student should have to get four credits of science, since it requires them to think and analyze."
Teachers in the social studies department also see value in their programs.
"I know all teachers say that their class is the most important, however, I truly believe economics is the most important real-life skill to master in the building," economics teacher Todd Koehn said. ww"Unless your goal in life is to life at the top of the mountain and live like a Yeti, there is no way you can avoid all the basic principals in this course. Everyone who is a member of society has to deal with decision making, budgets, price changes, savings, investing, mortgages, car payments. etc. Again, if your goal is to be a hairy Yeti on a mountain top… then I guess you don't need to take my class."
Regardless of a class's amount of credit requirements, each subject prepares students for the future. While graduation requirements help guide students down a general path to success, the flexibility a personalized curriculum provides can allow students to alter their schedules to match their interests and strengths.
"Each class is important in its own way," junior Sara Baum said. "It all depends on what you want to do after graduation."
Choosing Classes
While flexibility in scheduling has always been available through the use of a personalized curriculum, UCS is working on updating graduation requirements to reflect flex class options.
"The changes are in the process of being formalized by the district," Director of School and Community Relations Tim McAvoy said, "and will be posted our web site as soon as they are available."
Students wishing to personalize their curricula or utilize flex class options are encouraged to meet with their counselors for approval.
"The school and the district still expect all students to start from the rigorous standards set by the state which includes PE, two consecutive years of World Language, and the rest of the Michigan Merit Curriculum," Lietz said. "I think everyone wants our students to have a focus, and the new flexibility in requirements will allow for balance while still maintaining a high standard."
Leave a Comment
About the Contributor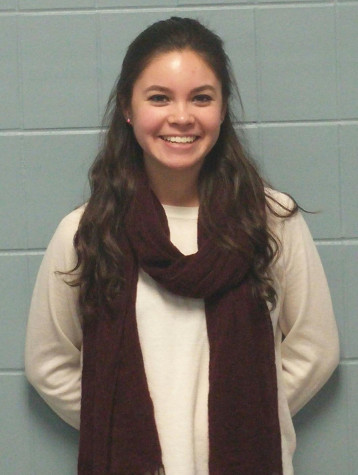 Julia Vasquez, Editor-in-Chief
This will be Julia's third year on the Arrow staff. She started the year as the newspaper's Editor-in-Chief. Julia is also a part of the National Honor...