Journalistic integrity and why it matters.
'Credibility is more than just a word.'
For a journalist, nothing is more important than credibility.
Credibility is the quality of being trusted or believed in. Recently, it came to light that a person I looked up to isn't as credible as I once believed. That man is Brian Williams. For those of you who either don't know the man himself, or what he did, here is a quick recap.
Brian Williams was formerly the host of the "Nightly News" on NBC; he was ousted from his position because of his inconsistent reporting on the story and his misrepresentation of an Iraq incident.
In 2003, on "Dateline NBC," Williams was in Iraq for coverage of the Iraq war, and Williams only said that "the Chinook ahead of us was almost blown out of the sky…by an RPG."
Then, in a 2007 retelling, Williams' story changed when he reported, "…I looked down the tube of an RPG that had been fired at us, and it hit the chopper in front of us."
The final flip-flop of his story came in 2013, when Williams said that his helicopter had been "hit … and landed very quickly."
This brings us to today, and why Williams is suspended until August without pay. Williams' retelling that a military helicopter he was traveling in had been "forced down after being hit by an RPG" was grossly inaccurate.
Each time Williams retold his story, the others involved also had their stories adjusted. Lance Reynolds, a flight engineer on board one of the three Chinook helicopters that had been attacked, refuted Williams' claims. Reynolds and other crew members said they were forced to make an emergency landing, and that Williams' Chinook arrived a half hour to an hour later.
My point of view is that if you are going to be a major player for a news organization as large as NBC, you have to tell the truth and you have to have the audience trust in your words. Being a journalist or reporter means you are a catalyst of knowledge for your audience. No matter what, you shouldn't skew any information, regardless of its ability to make your story more interesting.
Sadly, some journalists care more about ratings than integrity. I personally would rather read something boring and real and learn something from it, rather than be fed an entertaining lie. To tell your readers an incomplete truth makes us look uneducated and ill-informed when the truth comes out.
In the world of instant media, where we are updated constantly on the most relevant news, misinformation is quickly spread. In the case of Brian Williams, the truth was that he was part of a terrible attack. For Williams to take that and twist it so that his part in the incident was more intense was selfish and unfair to his readers and the others involved.
Note to future and current reporters: don't cheat on your stories; make sure your facts are exactly that: facts.
Leave a Comment
About the Contributor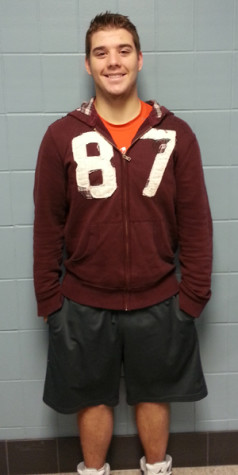 Tyler Warner, Managing Editor
Tyler Warner is a Senior at Utica High school, and his 3rd year on the staff. Warner enjoys sports writing as well as feature writing which have produced...