Opening the mind to the world of business
After months of preparation and competitions, six DECA students advanced to nationals and traveled to Orlando, Florida April 24-29.
"It was exciting to find out I made it. I had no idea if I would or not," senior Cole Horvath said. "It's crazy to think that I began the first week of school starting up in DECA and now I'm heading to nationals."
In preparation for this occasion, members wasted no time getting ready by practicing and running through each step.
"We have been preparing since the first day of school," Smith said. "We had to do many hours of typing and of practice, but it was worth it."
Seniors Robert Syfert, Stephen Smith and Tayler Monroe ranked third place in the nation for School Based Enterprise, while Horvath made it to finals in Entrepreneurship.
Aside from rigorous training throughout the year, DECA does a great deal of work for the school and members, by aiding students in building a solid resume and preparing them for the real world.
"It helps you to have better time management, be more creative, self-driven, and the ability to think outside the box," DECA adviosre Dana Boice said. "Students can earn scholarships through DECA, over 60 major companies support DECA through scholarships and other support."
Members are recognized for their hard work every year by the community. In 2013 DECA was acknowledged before a Detroit Pistons game on court for their accomplishments. Sponsored by Genisys Credit Union, students were involved with a short video on the program that played in the background of their recognition. DECA is also put in the spotlight for their volunteering in the community like Utica ICE Fest.
"Genisys credit union, along with the Utica mayor, recognizes us each year for our success in DECA and community involvement," Boice said. "DECA members work multiple shifts and are considered one of the go-to students at the Ice Fest. They are recognized at the opening ceremonies and are awarded by the mayor."
Besides the awards and future business opportunities and advancements, the organization builds lasting bonds between each student and the school as a whole.
"My favorite part of DECA is the friendships it builds," Monroe said. "I love how we can represent our school around the country."
People are able to watch as the personality of each student change throughout the DECA experience. It does a great thing by opening members up to each other and the world around them.
"You can take a shy kid and put him in a room with thousands of people and see him open up and get over the fear," Syfert said. "I think that's really cool."
For Boice, bringing DECA to the school was a big accomplishment. The association inspired her to become a marketing teacher and finds it great for all students.
"DECA students put the things they learn in school into play. Much like being an athlete, they practice and practice," principal Tom Lietz said. "They don't know how well they will do until they get there. This makes it mirror real life and puts students into a practical field."
DECA is an association the helps student members gain expertise of leadership, self-confidence, and knowledge in the fields of marketing, hospitality, and finance. The students of DECA apply these skills in competitions that require participation through presentations, role-playing, or interviews.
Through the years DECA members continue to receive more and more awards in competitions such as: written events that require a paper and presentation; events that involve a case study for students to solve in a certain period of time and present to judges; or over forty of the other events or areas to take part in.
"Each year our chapter earns a 'Gimmie five' award for membership increase at the state conference," DECA advisor Dana Boice said. "In 2012 we placed second place in the nation in School Based Enterprise, as well as top ten in the nation in School Based Enterprise in 2013 and 2014."
Leave a Comment
About the Contributor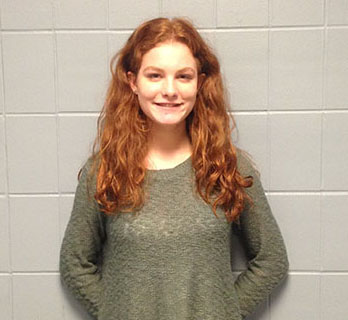 Annabel Aquino, Managing Editor
Annabel Aquino is the managing editor of the Arrow newspaper. As a senior this is only her second year on staff. Although she enjoys writing and designing...