UTICA UNITED
Supporters of LGBTQ commuity raise awareness in student-friendly club
Whispers, stares, and name calling. Isolation and feeling like an outcast. These are a few things that some LGBTQ members can relate to. For principal Tom Lietz, it's important that everyone feels welcomed and accepted at school, which is why he's supporting Utica United, a new club where anyone and everyone is welcome to learn and discuss issues happening in the LGBTQ community.
"I think the idea of a group that tries to raise awareness about the purpose of another group is important," principal Tom Lietz said. "We don't have any issues, but I don't think that's the only reason to have one [a club]."
While the LGBTQ community may not be a topic that is often discussed in schools, there are still LGBTQ students who are striving to overcome the challenges that this specific group faces against today's society. Issues in the LGBTQ community may be recognized in the public eye, but do students truly understand what it's like to proudly wear the rainbow colors associated with the group? According to teacher Julie Wright, sponsor of Utica United, the club was created to help students become more knowledgeable and supportive of this topic.
"I think that it's really great that we started it," junior Mandy Cole said. "I met a lot of new people and I didn't think there was going to be a lot of people involved. It's a lot larger than people really think; it's a great way to be who we are, no shame."
Students of any race, gender, or sexuality are welcomed at Utica United. Students come together to raise awareness about issues in the gay community, and hold meetings on the first and third Tuesday of every month. Meetings are held at 7 am in room 166, and anyone is welcome to come, including those that do not affiliate themselves as LGBTQ.
"Personally, I believe that LGBTQ community is an unrepresented minority sub group," Wright said. "One can be white, black, Hispanic, etc. and still be excluded from their ethnic community. I think that the LGBTQ students appreciate knowing that they are not isolated and that others outside of their community support them."
At Utica United's first meeting, there was some concern about how students were going to react towards the club. Wright invited Lietz to ensure that everything went well. Students who showed up because they were in disagreement of the club meeting quickly saw the seriousness of the club and ended up leaving.
"It was the right idea to get Mr. Lietz involved," sophomore Jordan LeBarge said. "I feel like it was kind of a 50/50. There were people there who were for it and against it."
Even though LaBarge was excited there was finally a club created to make this topic more comfortable to talk about, he was concerned about students attending the meeting and bullying those participating in it.
"I think it's an important thing to have," LeBarge said. "It's a club where people can feel safe and it makes it feel less weird."
Utica United has only met three times, but Wright is looking forward to what they have in store for the club and school.
"I'm not sure we've made an impact on our school yet," Wright said, "However, we're looking forward to organizing events to bring awareness of the struggles in the LGBTQ community."
Wright has many plans in store for the group. They recently participated in a National Day of Silence, bringing attention to anti-LGBTQ harassment. They also hope to hand out rainbow ribbons. The club also plans on inviting guest speakers to meetings, and watching movies/videos to inform themselves more on the community.
"The point of school is to learn and create," Lietz said. "[If anyone has any questions] I would openly encourage them to come talk to me. It is a community of people within this school. I'm not going to put a stop to this. It's important that students have a voice."
Leave a Comment
About the Contributor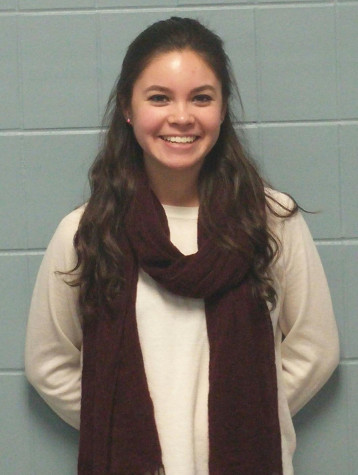 Julia Vasquez, Editor-in-Chief
This will be Julia's third year on the Arrow staff. She started the year as the newspaper's Editor-in-Chief. Julia is also a part of the National Honor...