From dream to drama
From wandering in a student's imagination one minute to suddenly being on stage the next, Utica's original play, "Lovely, Lovely Valentine," made headlines.
What made this play different unique was that it was the first UHS play written by a student. Senior Jacob Feeman was excited to see his work brought to life and performed on stage.
"Having it come to life has been super surreal and weird," Feeman said, "but I couldn't ask for better people to bring my words to life."
The play focused on characters Jordan DeWitt and Mona Valentine, and how their relationship will develop while dealing with their own lives. Junior Anna Hoffman plays Mona, whose character deals with a lot of stress.
"All of the characters are very complex and it was really interesting to develop a relationship with other characters," Hoffman said. "My character in particular, suffers from severe panic attacks which were a huge challenge in acting to really embody what those panic attacks feel like."
The set design itself was tricky on its own. Teacher Joel Kaczmarczyk designs and builds all of the sets for the shows, with the help of some outside friends. This set was a challenge for Kaczmarczyk, but a masterpiece in the end.
"Scenery design with me evolves," Kaczmarczyk said. "Jake drew me a sketch and gave me some freedom to do what he and I thought best."
News of the show spread quickly through news stories and social network because of the fact that a student wrote and directed it.
With the help of the show's publicist, junior Kayti Shelton made sure the news and invitations were out to neighboring high schools and junior high schools. Tickets were even reserved for the other schools' drama programs.
"Being on publicity gave me a new look and a new opportunity in theatre," Shelton said. "Basically, I reached out to other schools and encouraged the cast to publicize through social media."
The show performed April 23-25 was a huge success. Audience members were amazed to see the true work of a talented student.
About the Writer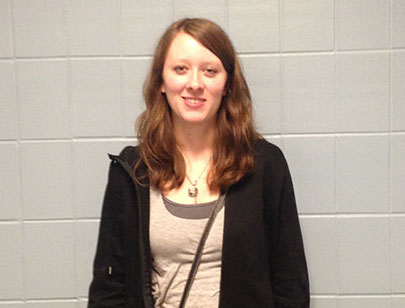 Tayler Pezanowski, Editor
Tayler Pezanowski is a senior and the copy editor of the Arrow newspaper. This is her second year on the newspaper staff and she has been enjoying every...