Utica kicks into high gear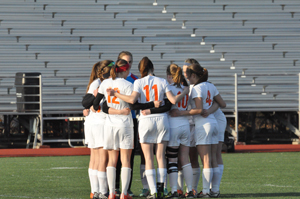 Stay humble, win again. This season's motto for the girls' varsity soccer team is laying down the foundation for the team's road to success. Already starting off the season with wins, the team's potential is very promising.
The team focuses on building and moving forward in a positive direction. Before each season starts, the team gets together to discuss goals for the season and what is needed to be done to achieve them. This season's goals include winning the MAC White Division, winning District Finals, and making it to Regional Finals. They have been training preseason doing workouts and a winter soccer league to be as prepared as possible. The addition of six new players to the roster brings new sets of skill that benefits the team.
Already 2-0 in the MAC White, the team is on good pace for the league title. Their success against MAC Red teams in crossover games has given the team hope and confidence that has carried over to their league games.
"Coming from JV last year and experiencing the faster pace on varsity," sophomore Elizabeth Balaj said, "it has forced me to step up my individual game as a player."
Last season's loss in District finals against Henry Ford II made the team fired up for a great comeback year to finish what they started. After winning their first District game in 10 years, there was great promise when the team made it to their first District final game in 20 years. Though the end result was not in the team's favor, it gave them more incentive to make winning District finals a major goal of theirs.
Seeing the boys' varsity soccer team's success to making it to Regional Finals has pushed the girls' soccer team to work harder and achieve this goal as well. This motivation has created a stronger girls' soccer program as a whole and has created a stronger bond between the players.
"We click better this year as a team," junior Lauren Chaney said. "We plan on coming back stronger than ever."
Athletes in any sport understand that chemistry between players is needed on and off the field. The Utica soccer girls are not lacking anything in the category of team bonding. Through all the team sleep overs and ice cream runs, this team has learned to bond as friends as well as teammates. Their recent achievement of winning first place in the Fowlerville Tournament made for a fun weekend along with lip sync battles and team dinners. Their 6-2 record overall is a prime example of their success and willingness to work together as a team to get the end result they want.
Leave a Comment