Hard work pays off
Yearbook editor-in-chief wins award, named to All-State journalism staff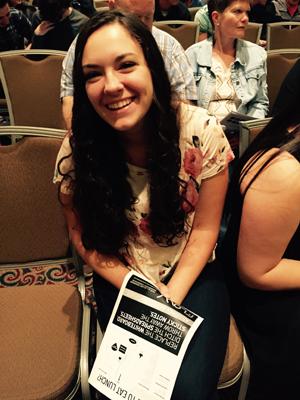 Put yourself in the shoes of a high school student. Now picture sitting in a banquet room full of approximately two thousand high school journalists from across Michigan. Now imagine in the middle of all the chaos and commotion, your name gets announced among 16 of the highest achieving journalists in the entire state.
Senior Alissa Szandzik was knows this feeling, named among the finest student journalists in Michigan. She received a special award as a member of the All-State journalism at the Michigan Interscholastic Press Association's spring competition April 20.
"The world of journalism is fast-paced and demanding," Szandzik said. "In a yearbook classroom, we face deadlines, we must collaborate to create our product and we must rely on each other to get the job done."
Szandzik, editor-in-chief of the Warrior, yearbook, was leaving a journalism convention in New York when she discovered the news.
"I called my mom to see if I had gotten anything in the mail, and she told me I had a letter from the Michigan Interscholastic Press Association. My mother gave me the good news that I had been accepted for all-state journalism," Szandzik said. "As a bonus, hearing the positive news not only distracted me while on the plane, but it also made me look forward to what would come."
To be considered for the honor, there was much work for Szandzik to attend to while still putting together the 2014-2015 yearbook. She not only assembled her portfolio, but also acquired letters of recommendation. She even went to well needed lengths to submit a resume, along with a personal essay.
"She has it all. She's creative, a talented writer, a natural leader and is extremely organized," adviser Stacy Smale said. "When Alissa joined the Warrior staff as a sophomore, she quickly stood out above the rest, her promotions and editorial responsibilities are unmatched."
Feb. 24 was the deadline for All-State Journalism award, but luckily for Szandzik, she got a couple extra days to work on it due to the snow days we received earlier in the year. "I had to divide my class time into finishing both my portfolio and the yearbook," Szandzik said. "I came in during winter break for additional time to work on and complete my portfolio."
Szandzik submitted a website to display her portfolio.
"There was so much stress going into the competition, especially having to work on my portfolio," Szandzik said. "So after I was finished, I kind of just pushed it off to the side not having to worry about it."
Szandzik's portfolio compiled examples of personal designs, non bias writing, strong leadership skills as well as certificates from visited camps such as MIPA summer workshops, Jostens workshop, Editorial leadership workshop, and lastly the Columbia Scholastic Press Association spring convention in New York.
"At the MIPA summer workshops I developed the theme for the yearbook. I learned how to carry out the theme through the entire book and I got a lot of stuff done before the school year even started," Szandzik said. "It was exciting to come back to school motivated and ready to start the rest of the book, because I already had so much completed."
Szandzik will be graduating in early June. Going into a new world of education, she will be attending Oakland University where she is planning on majoring in communications with a minor in journalism, and eventually heading into public relations as her career.
"Receiving the All-State award really opened my eyes to all the journalism options out there, not to mention the fact that it's a good reference to take with me whenever I need it," Szandzik said. "In that moment, I realized all my hard work paid off."
Conducting an interview is Szandzik's most favorable part of journalism.
"I love the way an interview can go in a direction you never imagined, and the way you have to go off script if something is mentioned that you want more information about," Szandzik said. "Concluding my time on the yearbook staff and as an editor, I can confidently say that my life has been forever changed, and I have learned more than I could have ever imagined."
Leave a Comment
About the Contributors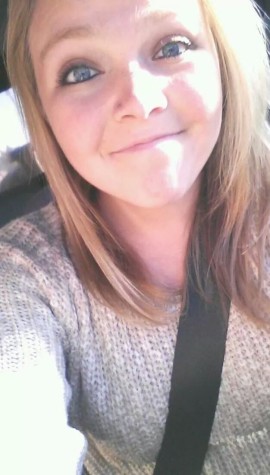 Chelsea Koger, Editor-in-Chief
Chelsea has been on the Arrow for 3 years, and is now Editor-in-Chief. She thinks of 205 as a family and loves being in newspaper for the three hours that...

Joe Imbrunone, Editor
Joe is a 17 year old senior who one day wishes to contribute time and dedication to defeat juvenile diabetes. Joe is not apart of any sports, instead he...