Tragedies.
Community mourns deaths of four UCS youth following accidents
Waiting for my ride after lacrosse practice, I was scrolling through my Twitter feed, passing time as usual.
"BREAKING: A car crash in Stony Creek Metropark leaves several dead." I didn't click on it; instead, I scrolled past the headline to check sports news.
After a shower at home, I logged into my Xbox Live to play "Madden" with two of my friends.
"Did you hear the news?"
It didn't take me too long to connect the dots. The headline I brushed past only an hour earlier would soon become the news everyone in the Utica community was talking about.
"UPDATE: Victims of Stony Creek Metropark crash all attended Utica Community Schools."
In that moment, a crash brought all four high schools together to grieve the loss of three juniors: Jonathan Manolios and Emanuel Malaj from Stevenson, and Michael Wells from Henry Ford II. These boys; someone's son, someone's brother, someone's cousin, someone's friend… they were alive one minute and gone the next. Eisenhower senior Greg Bobchick and Utica's Joe Narra, also involved in the accident, fought for their lives, listed in critical condition.
It wasn't long before speculation began about the cause of the accident. Witnesses reported speeds exceeding 80 miles per hour. Photos and videos from the scene were published with alcoholic beverages present, the sheriff confirming the alcohol was found inside of the car, although he was awaiting toxicology reports to confirm consumption.
While we all know that online posts are public, the journalists who stalked teens' Twitter pages to print the content proved to be immoral, if not unethical.
Events like this make us feel emotions like guilt, anger, frustration, sadness, and so much more. While we know we won't find the answers, we all ask questions in times of tragedy. How could this happen? Why are teens reckless behind the wheel? What's the point in it all?
A few days after the accident, Bobchick, the only one who was wearing his seatbelt, was discharged from the hospital. This created a new question for many: Why weren't they all wearing seatbelts?
So, what exactly caused the accident? Will we ever really know the truth? Do the specifics even matter? The questions and feelings left unanswered just might be the hardest part for many.
Shockingly, the grief from the weekend was not isolated to this event. We also learned that a second, unrelated accident on M53 that same night that would later claim the life of Stevenson and CSI senior Jack Parry.
Students, staff and families throughout Utica schools are struggling through our emotions while we try to come to terms with these tragedies.
I'm one of those people. I didn't know Emanuel, Jonathan, Michael, or Jack, but I do know that they've left us too young, and I just don't think that's fair. Maybe we can take a moment to pause, slow down and buckle our seatbelts because, honestly, this could have happened to any of us. This could have been me.
There is no timetable for grieving, there are no amount of tears that will be considered enough. There are no rights or wrongs in the process of moving on, except to say that when you're ready to talk, there are people who are ready to listen.
Leave a Comment
About the Contributor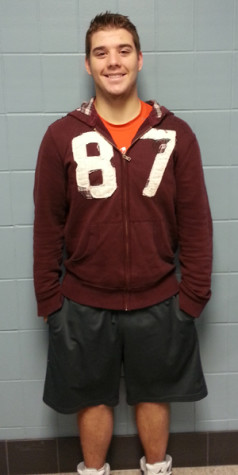 Tyler Warner, Managing Editor
Tyler Warner is a Senior at Utica High school, and his 3rd year on the staff. Warner enjoys sports writing as well as feature writing which have produced...