Crutches and casts
November 6, 2019
It happens in an instant. A head-to-head collision, a wrong twist or turn, or even a wrong step could end an athlete's career in seconds. Student athlete injuries in high school are no exception. Peers see their friends wobble around on crutches because they went too hard in the game, or even landed the wrong way. High school students are becoming more aware than ever about the different kinds of injuries that occur on the field.
Athletic trainer Adrien Brudvig recalled last year as being the most hectic for Utica sports injuries. With having to report every injury to the school or state, she noticed a trend in the past few years for the amount of students that came into her office.
"I was extremely busy last year. It's too early to tell how this year is going to go, but last year was the worst. I'm only one person that services around 300 athletes, and it is hard to remember everyone's injury and where they are in the recovery process. With concussions especially, we send them to a doctor, wait until their symptoms are gone, I will help them in the return to play process, and then send them off to get cleared by their doctor. It's a lot to remember all at once," Brudvig said. "Many people don't see the behind-the-scenes of me taping ankles or the rehabilitation things. They only see me filling water, but there's definitely more to [the job] than that."
Brudvig also noticed that since more schools are becoming aware of student injuries, more athletic trainers will be needed. All four Utica Community Schools' high schools have trainers.
"Stevenson has a trainer, Ford has a trainer, and Eisenhower has a trainer, too. Stevenson, Ford, and I are all contracted though Beaumont," Brudvig said. "This profession is on the rise due to awareness of injuries within different schools."
With many sports injuries being unpredictable, there are different processes set in place for coaches to ensure the safety of the athletes at all times.
"All coaches must take a concussion course and that covers the signs and symptoms of head injuries that also includes prevention. The MHSAA started requiring a health-safety component to the mandatory Online rules meetings that all head coaches must complete prior to their seasons," athletic director Karyn Holmes said. "All head coaches must have CPR/AED training every two years, also. Students [with diagnosed injuries] are not allowed back into participation until cleared by a doctor and documentation must be provided. We are lucky to have an athletic trainer at our school to work with rehabilitation and injury prevention, as well."
Student injuries are not only present on the turf or gym floor, but they are becoming a common sight at hospitals, too. For circulating nurse Colleen Skaug, seeing student athletes in the operation room is a normal day at work.
"Many of the injuries are sports related. We have a lot of softball and cheer injuries in the operation room. ACL reconstructions, patellofermorial reconstructions, and a lot of backs are also very common," Skaug said. "For me, I see a lot of softball, soccer, and cheer for the girls and a lot of shoulder injuries for the boys playing football."
After surgery or examination from doctors, it is noted that many athletes return to their sport too early, which can lead to even more damage.
"It's just important to do what the doctor tells you to. Many kids push themselves more just because they're young and think they can go back to playing faster than normal," Skaug said. "Re-injuries are frequent because people go back to playing before they are supposed to, and they do not educate themselves on what can happen when they go back at full speed. Follow-ups are just as important to track progress of the recovery, too."
It may not even be the student that is pushing themselves too hard. People like physical therapists or even coaches can put too much pressure on young athletes to perform, yet the students end up injured again.
"We literally just had a co-worker's daughter that is a catcher who re-injured herself. She blew out her knee playing softball," Skaug said. "She was doing very well at physical therapy, and they started to push her too hard. She fractured her knee and now has to go through another surgery at 14. I've seen so many kids come in that we have already done work on because they are pushed too hard by someone that does not know what they are doing with these specific injuries."
Even with the rise of student sport injuries, there is little that can be done. Strengthening muscles, wearing the appropriate gear, and playing smart are ways to help an athlete stay healthy, but sometimes even doing these activities will not help.
"There is absolutely no way to prevent these injuries. It's hard. When kids are playing, they are playing to win, so they're going to go hard and try their best. Many don't focus on being safe or slowing themselves down. These kids give it their all, yet they don't realize what is happening to their bodies, " Skaug said. "Some are more prone than others. Everyone is made differently and accidents occur. If it's going to happen, then it's going to happen."
ABDUL'S STORY
It was the first play of the game for senior Abdul Hamid. The adrenaline was rushing and intensity was not missing.
"I was running down the field when a bigger kid hit me hard. I was blind sided and I fell down," Hamid said. "I thought my wrist was sprained and I didn't think anything of it."
Hamid continued playing through the pain oblivious that he had a serious injury. Once he got home, however, his wrist was red, watery, and very swollen. At this point, he knew that something was not right.
"I went to the doctor and found out that I broke my scaphoid bone," Hamid said, "which is the most important bone in the wrist."
Breaking the bone meant that Hamid had to be in a cast for three months. Although surgery was an option, his family wanted the bone to heal naturally.
Hamid is continuing to play football in his senior year, but is still extra careful with his wrist. He also feels like he is not alone when it comes to sports injuries on the football team.
"It still feels a little tender and I am still extra cautious," Hamid said. "I feel like every football athlete has been through an injury."
FRANCESCA'S STORY
Not once, but twice. Senior Francesca Rea spent both her sophomore and her junior years on crutches, and in the recovery room.
"I tore both of my ACLs. One time was no contact and the other time was with contact," Rea said. "My first one was just the ACL, but the second was the ACL and meniscus, too."
For both years, she has undergone the hamstring graft procedure. This surgery consists of removing a small part of the hamstring tendon and replacing this where the ACL was torn. The hamstring eventually grows back and the new 'ACL' strengthens with time.
Francesca learned valuable life lessons through her battle with surgery and the recovery process.
"Having these injuries taught me to work through things," Rea said, "and overcome obstacles that are challenging."
DOMINIC'S STORY
Trying to stay strong and play through the pain is not the best option for every student athlete. Senior Dominic Lount was called in to pitch the final out of the inning. However, that strikeout never came.
"I had previously had back-to-back baseball games and pitched for both. My arm was sore, but I ignored those signs of fatigue and thought it would all go away once my adrenaline kicked in," Lount said. "After that pitch, every ball I threw that inning resulted in terrible pain, and I should have said something, but nevertheless I kept throwing."
Lount did not want to let his team down on the last game of the season. He felt pressure to perform at his best.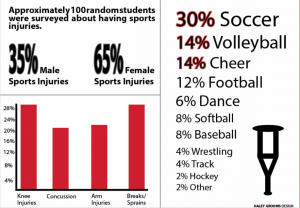 "I tried throwing a ball after a few days after, and my elbow began to hurt. I could not throw the ball more than 15 feet," Lounts said. "I thought I would be fine, so I lied to my mom saying that I was better when I really wasn't."
Without getting a real, clear diagnosis, he never figured out what was going on. However, what did happen was irreversible damage.
"I was really lucky that I did not have any ligament damage,' Lount said, "but my arm has never been the same. I wish that I never pushed my limit so hard."