This ink runs deep
INK. TATTOO. BODY ART. DIFFERENT WORDS. SAME DEEP MEANING.
December 4, 2019
Intricate little dots line the middle finger of sophomore Alexis Daniels, with a tiny cross dangling. To some, it may seem like a miniature rosary, but for Daniels, there's a deeper meaning to her tattoo behind the ink.
"Each bead of my rosary is for each person that I have lost in my life. My grandma made me want to get this tattoo. I was really close to her, and we used to travel together a lot. I wanted a permanent way to remember her," Daniels said. "Another bead is for my best friend when I lived in Florida. He lost his life to suicide. He and I were supposed to get matching tattoos, and it inspired me after he died to get another tattoo."
Meaningful tattoos are one way to express something sentimental forever.
"It makes me feel good nostalgia. It's a decent way, in my opinion, to remember them without having to carry around an object," Daniels said. "It brings back all the good memories that I have with every person. Each time I look down at it I smile. I made sure that I had enough beads for each person that I have lost. The pain is easier to carry, but it never really goes away. My tattoo is little, but perfect for my message."
It's not unusual for tattoos to serve as a reminder of something sentimental, or even to honor a loved one. For many, a tattoo is how someone can convey their emotions through their skin.
"My tattoo is the death date of my papa in Roman numerals. My sister created the design, which my dad helped with," junior Olivia Nordin said. "My mom, my sister and I all have the tattoo to honor my papa and remember him."
Students getting meaningful tattoos is not an uncommon sight in many modern high schools. However, there is a long process that one has to endure when wanting to get inked.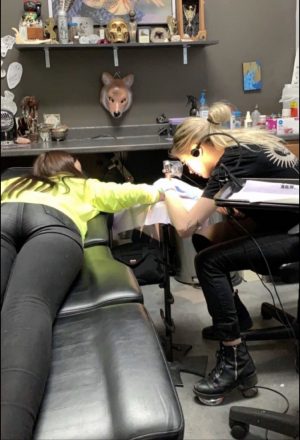 "Not everyone will tattoo minors, but se will tattoo starting at ages 16 with a parent present, with birth certificate and proper ID, from both the minor and the parent. And we won't tattoo everything on minors, no hands, neck, face, and usually nothing too big to start," tattoo artist Roxy Renze-Watson said. "It is exciting to get a tattoo, but the concept of it being on you forever isn't as easy to grasp for teenagers. Most people will turn to us for guidance and listen to our advice on size/placement. I would suggest for a first tattoo getting something smaller and/or not putting it in a very visible place. Even if it's something you'll never regret, most people's first tattoo is not their favorite and they come up with better ideas as they age. Once you've found your artist, make sure to eat and hydrate beforehand and check with the policies of the tattoo shop you choose."
There are numerous important factors to tattooing than just the actual process. Artwork and style is key when deciding to put something on skin forever. After going through the process of finding an artist, getting a drawing, going to get the tattoo, and the aftercare, most people would want the tattoo to turn out correctly.
"Research artists. Look at portfolios. Read reviews. Plan ahead. Schedule a consultation. Consultations are usually free and just give you a face-to-face with the artist to ask questions and get a price quote," Renze-Watson said. "When people come in for a consultation with me, I try to really listen to what it is they are trying to convey with the tattoo and often the idea evolves between us to create the best piece I can for them. Pay attention to the artist's style."
Tattooing artwork that is meaningful is not only emotional for the client, but for the artist, as well.
"Some [tattoos] are for very emotional reasons and I've even cried with clients over their stories," Renze-Watson said. "Even if you just picked out a tattoo that makes you smile, you will always have it and remember being young and carefree. I am truly honored that people trust me to have my artwork on them for the rest of their lives, especially ones that hold a special place in their hearts."
Some students get tattoos for meaningful reasons; others get them in meaningful ways. For senior Adian Rick, his tattoo artist was his father.
"I thought the image looked really cool. My dad that has been tattooing for 25 years did all of it," Rick said. "My favorite part about the tattoo is the fact that my dad did it and it's on me."
Matching tattoos with loved ones are also a way to connect with another person. Sharing ink with someone else can connect their artwork forever.
"I really wanted to match with my mom, because I wanted it to help make us close. We weren't close when I was a kid, but we are now. We were talking about getting tattoos for a while because I've been wanting a tattoo since I was fourteen," senior Samantha Williams said. "She let me get it for my seventeenth birthday. I was never opposed to the idea of getting a tattoo with her, but I wanted something that related to more than just her and I. I wanted it to be special for the both of us, but still look as cool and out-of-the box as I want."
Although matching tattoos with another person may be easy to some, it may be hard for others to come to an agreement with designs. For Williams, it took almost a year of planning, designing, collaborating, and compromising to finally settle on the art.
"
I get to look down at my tattoo for the rest of my life and remember those that I have lost."
— Sophomore Alexis Daniels
"I got exactly what I wanted with the flower but the words weren't exactly my first thought when I wanted the tattoo. I picked out the flower part and she picked out the words. It took us almost a year to figure it out and collaborate," Williams said. "She gave me color choices to pick from. The word part is my nickname that my mom called me. Once I turn eighteen I want to get another flower tattooed and I want my dad's birthday tattooed, too. I love my tattoo now and I can't wait to get more. Meaningful tattoos are definitely my favorite rather than just random things that I could get."
Intricate ink that creates a meaningful tattoo is unique to every person for countless reasons. Meaningful tattoos carry a story that will be remembered for a lifetime.
"My beads are everything to me. The people that symbolize each bead were everything to me. I am grateful that every day I get to look down at my tattoo for the rest of my life and remember those that I have lost," Daniels said. "I know my dad was against it at first, but I am so glad that I got the tattoo. I have no regrets because the tattoo means more than the pain that it takes to get it."