TEDx takes on Detroit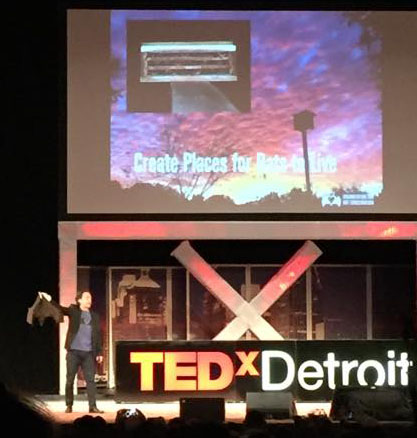 They inspire, educate, motivate and entertain conference-goers. They're the speakers who took the stage of the Fox Theatre at TEDx Detroit, an independently organized TED event that took place Oct. 8, 2015.
With the recent addition of an educator, UCS teacher Greg Feldkamp, on the TEDx Detroit Board, students from across the state were invited to attend, including nine from UHS. The tickets, which normally cost $100 each, were given to the students and their teachers free of charge through a grant.
"I expected TEDx to be more academic-based," senior Bridget Spagnuolo said, "but I liked it because it was all about people's thoughts and ideas about different things."
The event was live streamed, and attendees were invited to "Skype Around the World" with those at other TEDx events being held around the world.
The day began when Charlie Wollborg, curator executive producer, welcomed everyone. Some of the speakers during session one included Tara Reed, explaining how to build an app without code, and Charles Gibson of the Michigan Science Center who exploded various chemicals to create that satisfying "boom." Comedian and college professor Amer Zahr shared the struggles and oppression he faces as an Arab American.
"I love America, I really do," Zahr said. "I just wish that she loved me back."
After the first session, TEDx Labs were showcased at Hockeytown Cafe, located next to the Fox. Entrepreneurs and inventors gathered in the multi-story restaurant to highlight their products. Entertaining inventions included a father and son's home made zombie splat game, and a computerized paddle ball game with videos that showed up on the screen, utilizing QR codes.
"I like the one when you throw the balls at the zombie faces," senior Katelyn Tremper said. "It's really impressive that a father and son were able to create such a fun and interactive game."
Aside from the entertainment, other vendors had beneficial products such as a 3D printer that created prosthesis for children, and a clothing company called World Clothes Line, founded by Mallory Brown, that helps the poor worldwide.
Attendees also had the chance to converse with the speakers, who were walking around the exhibits and posing for photos, as well. Local reporter Roop Raj, who was there to cover the event for FOX 2 Detroit, also spoke with journalism students, offering advice.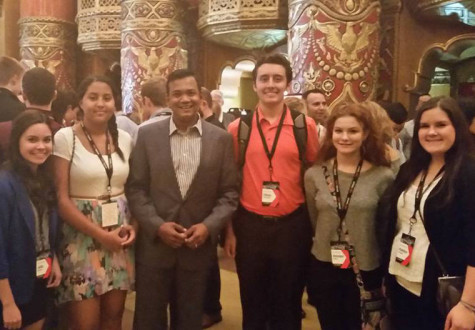 "To see someone from tv in real life is pretty cool," junior Ethan Cartwright said. "I'd love to have a job like his when I'm older; he's a true role model for journalists. He told us to always be on time, write accurately, and most importantly, have fun."
Session two began back at the theatre, where the highlight of this session seemed to be Alden Kane, who received the only standing ovation of the day.
Last year, as a junior in high school, he was given a mission from a partnership between University of Detroit Mercy and University of Detroit Jesuit High School and Academy: create a wheelchair accessible stroller. With this task in mind, he did just that.
"It's not so much a stroller where you'd want to use it independently," Kane said. "It's designed specifically to attach to a wheelchair. In a sense, it is a stroller but instead of a person pushing it, a wheelchair pushes it."
Other speakers included Rob Mies from the Organization for Bat Conservation discussing the extinction of insect eating bats that will soon cause dangerous effect on humans, and Karen Buscemi who brought up Detroit Garment Group's goal to make Detroit a fashion capital, much like New York, Milan, Paris, London, and Japan.
The musical talents of Shelby 5 Fam, UCS alumna Alicia Michilli, Britney Stoney, and a calibration between harpist Ahya Simone and singer Tunde Olaniran took the stage among the speakers as well.
"I adored Alicia Michilli," senior Julia Vasquez said. "I thought her music was relatable, and it wasn't like modern day music; it had personality."
Artists' masterpieces also shined during this event, such as a speed painting which was created upside down, only to be turned right side up to reveal a portrait of the Beatles.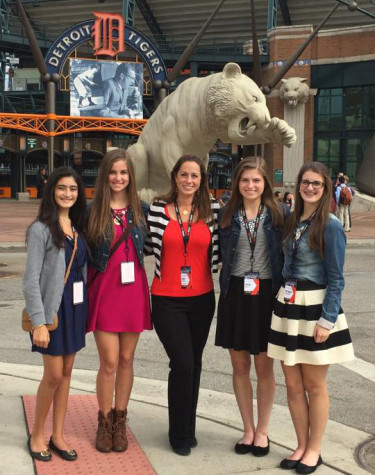 With the day ending perfectly with a tour of Comerica Park and an adult after party, the event was a true success. Tedx Detroit's goal was to raise awareness about Detroit and its improvements, as well as give people a chance to broadcast their ideas on how to be your best person by motivating and informing them at the same time.
"I originally thought TEDx was more for older people," junior Angel Augustitus-Bell said, "but I liked it a lot more than I anticipated. it was really entertaining and gave me a lot of ideas and information."
Leave a Comment
About the Contributor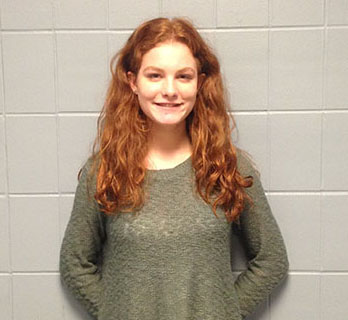 Annabel Aquino, Managing Editor
Annabel Aquino is the managing editor of the Arrow newspaper. As a senior this is only her second year on staff. Although she enjoys writing and designing...