Spring musical cast announced
Check out our other theatre stories below
Starting Jan. 7, the Utica Theatre Department held auditions for the spring musical, "Freaky Friday." The musical is based off of the Disney movie of the same name that came out in 2018.
The audition process took the course of four days – dancing, singing, acting and callbacks. Participants had to learn a dance, songs and work with others on scenes from the show. On the final day, some students were asked to perform once again for the production crew.
"The day before [acting auditions] we started creating scenes of who we knew we wanted [for each scene]," senior director Katelyn Butler said. "It's a lot more difficult than we expected it to be, because you have to create them, but also create multiple all at once, and make sure the people you're placing in them don't interfere."
After auditions were finished, the cast list (see left) was posted to the department's Twitter account.
The musical centers on a mother and daughter, Katherine (played by seniors Anna Bork/Kylah Spencer) and Ellie (played by junior Maria Chesnutt/senior Kayla Thorne), who swap bodies for a day. Throughout the musical, both mother and daughter must navigate each other's lives and try to reconcile with each other.
"I've been reading my script a lot, and listening to the sound track a lot," Chesnutt said. "You find new things every single time."
Unlike past years, the production team double-casted the two leads. This means that they will have the actors switch off each performance.
"There's a lot more work involved and we have three amazing acting coaches and I'm sure we can pull it off," Butler said. "The characters of Katherine and Ellie are difficult, but we have four powerhouse girls and they are able to pull that off."
"Freaky Friday" will be performed on Apr. 23-25 in the auditorium.
Leave a Comment
About the Contributor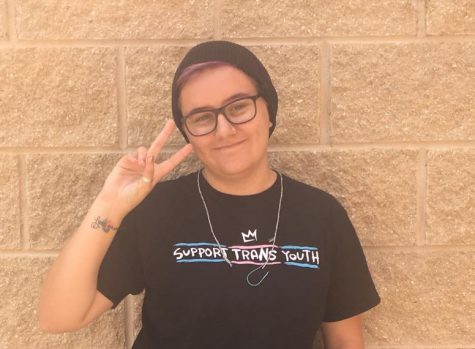 Parker Hopkins, Digital Editor-in-Chief
Parker Hopkins is a senior and this is their third year on the Arrow staff. When they aren't working on the newspaper, they spend a majority of their time...