Competitive season underway
Check out our other cheer stories below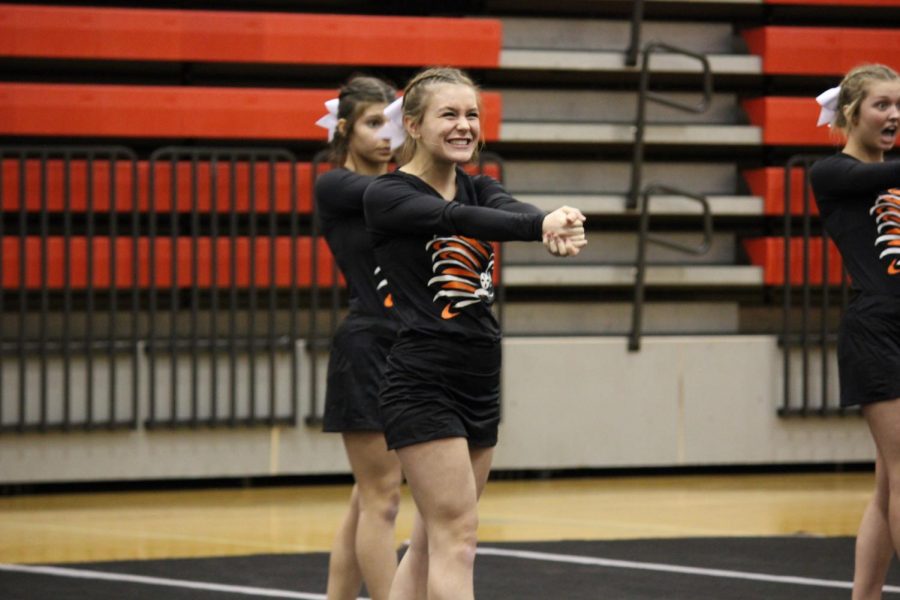 Cheer is a sport that requires strength and perseverance, and seeing as it's one of the top five most dangerous sports, it's no wonder why. Cheerleaders need a strong build as much as a strong mind and dedication.
The varsity team and JV have three-hour practices. In these practices, they go over their conditioning, tumbling, and stunting.
"Practices are every day for three hours. We condition, run our rounds, do exercises, and tumble," sophomore Tyana Carroll said. "We do hard conditioning and throw 100-pound girls."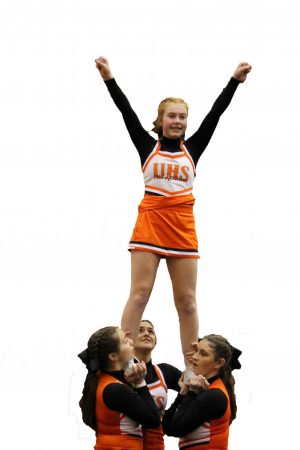 With three-hour practices every school day and sometimes Saturday, some of the girls feel like their social life has changed dramatically. With such long school days, there's little time afterward for spending time with friends and family.
Some cheerleaders, like sophomores Megan Kaszubski and Marissa Barch, however, believe that cheer has helped them in their social life. The long hours spent with the team has brought some of the newer cheerleaders out of their shells and helped them to make new friends.
"Cheer has done a lot in my life. It has kept me active, helped me meet some of my closest friends and make new bonds with people," Barch said. "It's taught me so much in general about the real world, responsibility, and time management."
There are three different rounds at competitions, and each one has its own challenges. At the end of the competition the scores from all three rounds are added together, and the highest score wins.
"Round one is motions, and we try to make it really clean. Round two is tumbling and motions, and this round has to be exact because everyone needs to look the same," sophomore Katelyn Verellen-Curtis said. "Round three is the last round, and it is mainly teamwork and stunting."
With hard condition and tumbling injuries are a regular occurrence for cheerleaders.
"There's been sprained ankles, concussions, hurt elbows, sprained wrists," Carroll said, "and just a lot of injuries this season."
Similarly, head coach Angela Micinski has seen injuries throughout her seven years of coaching.
"We've had several sprained ankles, wrist, knee, and finger injuries," Micinski said. "Some of the worst we've had were a broken nose, thumb, and tibia."
Even when they lose an athlete due to injury, they updated their routine and keep competing. The cheerleaders are trained to persevere through any challenges they face, and to always work their hardest, even when the going gets rough.
Leave a Comment