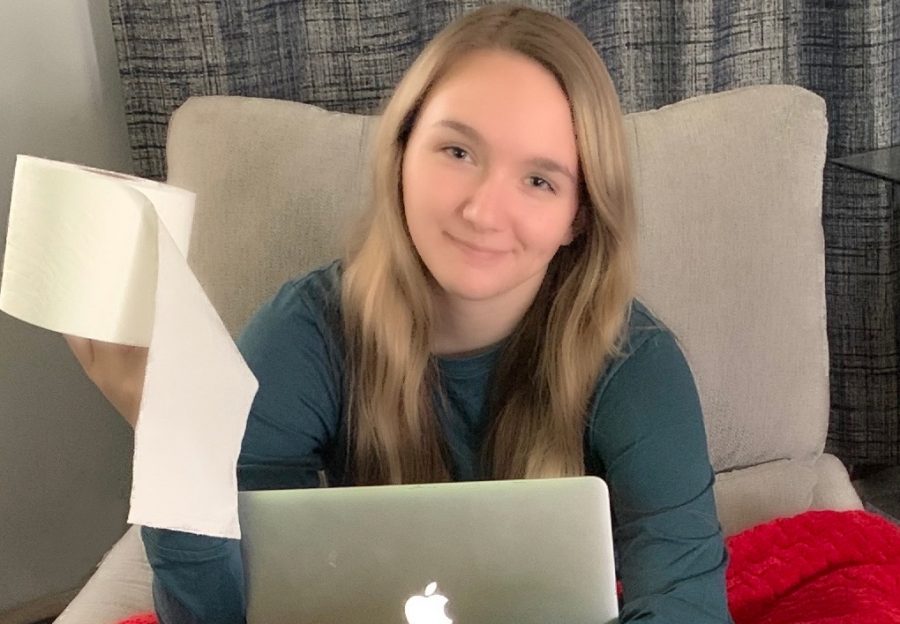 Haley Grooms
Friday, May 8, 2020
Rise and grind, it's time to do schoolwork for the whole day. And by schoolwork, I mean prepping for the final issue of the Arrow.
It's super bittersweet that this is going to be my last issue. This paper has given me so much more than an opportunity to share my voice with the world. It has become one of my passions as well. There is nothing like the feeling of when an issue is complete and ready to be sent off to the printer, or when we have to physically work to mail them out. It's a part of my life that I will miss deeply, so I want to make this last issue the best.
Other than working, today was really boring besides hunting for a Mother's Day gift. I hope that I can find a gift fitting for such an inspiration. Like my speech, it has to be perfect.
Thursday, May 7, 2020
Today is the return of the overly-edited senior speech. However, I actually have to read it. I mean I'm not one to get nervous when it comes to public speaking, but somehow I felt a little rattled today. I even messed up a word on accident. Whoops. Improvising at its best right here.
Besides the whole speech shenanigan, I had a really exciting day today. My mom and I decided it was time to take a nice and long car ride after I finished my schoolwork. We started by driving through Grosse Pointe, then took the scenic route all the way to Marysville. Watching Lake St. Clair and touring tiny towns on the water was really cool.
I can't wait for the weekend.
Wednesday, May 6, 2020
I got my cap and gown today! It was shocking to see how involved I actually was throughout high school. Each cord and medallion represents something that left a mark on my life in a different way. I guess it was just surreal to see them all in one place.
Utica did really well at MIPA this year too. Just in Newspaper, we had a bunch of awards and honorable mentions. I got my first ever award this year too, which was a giant accomplishment. I am very proud of my staff for working so hard in order to get these excellent awards at a big competition.
Today was a busy day full of homework too. It took me from morning until night to complete everything I wanted. Hopefully tomorrow is much better.
Tuesday, May 5, 2020
Today I went over to my dad's shop for a change of scenery. I got to float around and observe while everyone was working on cars of all sorts. I even got forced to hold the flashlight. How fun.
We also have a boat which my dad stores at his shop. I thought it would be fun to climb in it, so I did. I realized my mistake when a giant spider crawled out of nowhere and creeped towards my foot. So, I did what any rational young adult would do. I literally jumped out of the 10 foot boat onto grass.
MIPA Individual Category Awards are on tomorrow too. I can't wait to see how Utica does.
Monday, May 4, 2020
This past weekend was actually super fun. I got to socially distance with my grandparents, went on an exciting car ride with my brother, and went outside a ton. It was nice to feel like some things are still normal in this world while a pandemic is unravelling at our doorsteps.
I also heard that caps and gowns were to be delivered at homes through the week which was exciting. I have been dreaming about my cap and gown ever since I was a kid. Plus, I'm super excited to see my teachers again. I mean, it gives me motivation to cut the grass so my house doesn't look like a jungle.
Also, may the fourth be with you on this beautiful day!
Friday, May 1, 2020
May is finally here!
Today I woke up to the sound of tornado sirens outside of my window which was pleasant. The noise somehow incorporated itself into my dreamland and forced me to pull myself out of a deep sleep. I got up, and ready for a jog. This time, I decided to take one of my dogs with me.
It didn't go over too well. I have an Australian Shepherd, a smart one at that, and he does not like to do things on anyone else's terms but his. I took him outside and started to jog down the street. He saw the open road and booked it, dragging me with him. I eventually got ahold of him and scrapped the idea of jogging with a dog all together, so we went home.
I finally turned in my speech today too. I worked really hard on it and attempted to pour as much of emotion as I could into my writing. It was really hard not to cry when I was thinking about all of the good memories that I wanted to include in the speech.
It's Friday, so I'm gonna go find something exciting to do to kick off the weekend.
Thursday, April 30, 2020
It's the last day of April. Finally.
It seems like I have been stuck in my house for an entire eternity. I miss going out to eat and casually walking around Target without fear of catching a virus. I need to go on a car ride or something.
I worked on my speech for a little while today which was pretty good. I moved some things around so it could flow instead of sounding choppy when I speak. I finished my homework on time too, which was harder than it sounds.
Tomorrow is the big day.
Wednesday, April 29, 2020
Today was another whole day dedicated to perfecting my speech. I am about three breakdowns in and I have changed the angle of my approach at least four times. It's okay though, rough draft is finally done. I'm my worst critic, so it is going to take every minute of this deadline to edit.
I can't write anything else other than this speech or I will get distracted.
Tuesday, April 28, 2020
Literally nothing productive has happened today other than my schoolwork. Life is really starting to get repetitive and days are starting to merge into one. My motivation to get off of my couch is running very slim, and it feels like time is standing still. Eat, sleep, homework, and repeat.
Even though I am out of school, it feels like I'm getting dumped with more homework than I would actually get in a normal school day. I used to finish my homework at school where there was an environment that forced me to do the work, but being at home is making doing work excruciating.
I would never say I miss school, but I miss seeing my friends. I do not miss the workload.
Monday, April 27, 2020
T-minus four days until I have to turn my senior speech in for commencement. I am literally petrified of saying the wrong thing or sounding plain stupid. I am sitting here, looking at my computer, and waiting for the words to come to me. I'll get there eventually, but I want it to be as perfect as possible.
I also heard that nice weather is coming up in the week. I wanna go outside to kick around a soccer ball, but recently it felt super cold outside. Plus, I have nobody to kick the ball with other than a wall at my dad's shop. It's kinda sad.
I should drag my brother out of his room to kick with me tomorrow. I hope he will cooperate.
Friday, April 24, 2020
Well, today was way less exciting than yesterday.
I woke up, finished off the gallon off chocolate milk, and literally went back to bed. I had to pull myself together eventually, so I got back up and walked to the kitchen for a second breakfast.
I continued to work night and day to finish the next issue of the paper. People may not realize how much work actually goes into making one issue, but I swear it is the most draining thing ever. Editing for hours on end, scouring to find photos that look good, and getting last-minute sources are what I have been enduring for the past few days. I promise, it's all worth the work in the end.
Hopefully something good happens over the weekend.
Thursday, April 23, 2020
Today I finally felt special for the first time in a long time (sorry mom). I was recognized for being on the MIPA All-State Student Journalist Staff through a YouTube livestream. I worked myself on overdrive to get this honor and now that it's finally here, I feel proud. My work has been noticed, and it feels really good.
On the same note, my face is literally everywhere. And when I say everywhere I mean Twitter, Facebook, Instagram, The Macomb Daily, and more. I mean I know my makeup looked good in that picture, but not THAT good. I'm totally kidding. However, it was surreal to see my name in the headlines for the first time.
Maybe one day my name will be in the headlines again, and that day will be pretty great.
Wednesday, April 22, 2020
Literally nothing exciting happened today. I "went to school," did my homework, and continued on my merry way with watching shows. I still feel like I am on overload with all of this work that I have to complete, but I'll get there eventually.
Tuesday, April 21, 2020
Yesterday I was supposed to be at the MIPA Spring Conference watching all of my staff win awards. This was the one field trip that I looked forward to in the year. There is nothing like being in a gigantic ballroom with people cheering for each other from all different schools. I was also supposed to get recognized for being on the All-State Student Journalist Staff, but it breaks my heart even more that I can't hold the Spartan Award in my hands this year. My staff worked so hard for it and it feels like the experience is taken from us.
On another note, the second day of school went well. It's tiring trying to get back into a structured workday but I'll make it work. Two more Zoom calls went on throughout the day and once again, I'm stuffed with work. I want to push this March issue of the newspaper out so bad, but it is really being a pain in my butt. I get it, it's literally a month later than the original publishing date, but trying to balance and perfect every part of the paper is proving to be harder than it seems.
I promise I'm not being a crybaby, but even being out of school is stressing me out.
Monday, April 20, 2020
I hate this. I'm genuinely starting to lose my marbles more than ever before. I think my family knows I'm going downhill because I watch soccer re-runs until it gets dark out. I really miss kicking a ball instead of kicking back on the couch.
Online school started today too. I'm not totally opposed to getting back into the swing of things, but it's taking a lot of pure willpower to do anything. I had two Zoom calls today and dressed like a paper bag for both. I wish I could say I brushed my hair too, but some things are just unrealistic.
One of the Zoom calls today was with my principal's Student Advisory Board. I wish that I was told that everything is going to be fine and there will be a commencement, prom, and award night, but it's just not in the cards right now. It's not the end of the world, nor is it the end of my senior year, and I am truly grateful to know that there are people out there in my corner fighting for my senior milestones. Being a senior is really starting to suck.
Wednesday, April 15, 2020
Today marks exactly one month stuck in quarantine. It seems like life kinda stopped for many people who lived off of social interaction. I know that for myself, it can be quite lonely with nothing to do or nobody to hang out with, but many others do not even have family to talk to. I feel fortunate in my situation even though I have had to give many opportunities up. There's always a different side of the story that is not talked about.
Besides the dramatic thought process going through my mind, I have not done much today. My mom and I are starting up yet another show to binge which is pretty cool. I have already seen it before but I am not complaining about watching it again. However, the snacks that we eat in between the episodes are going to be the death of me.
Tuesday, April 14, 2020
I guess it's safe to say that I'm not the only kid that has to flip their entire sleep schedule by next week. Starting Apr. 20, Utica Community Schools' students will now have to ACTUALLY do online work. Crazy, I know. I have been going to bed at three in the morning and waking up around two in the afternoon, so in order to get back on a scheduled routine, something needs to change.
I have also been feeling a lot better today. I migrated to the living room to play with my dogs and then worked on the "print" issue that was supposed to be sent out last month. It's a lot of work but I'm pushing through it.
I can't wait until the day when I can talk about quarantine in past tense. Hopefully it is soon.
Monday, April 13, 2020
Wow. I really fell off the map there for quite a while, didn't I? I'm back though!
Not much has gone on in my life since my last blog post. I have been feeling sick lately (not coronavirus sick) and not been up to much besides laying down. I miss running too, and I hate running.
One good thing that came out of staying in bed is Gossip Girl. It has taken me forever to finish but it was worth every second for that ending. I'm not going to spoil anything, but I will for sure say that Gossip Girl is my new favorite show.
Tuesday, March 24, 2020
I guess now we're really stuck with this lockdown. I'm starting to get stir crazy. I can only handle so much of my family in my space at one time. Don't get me wrong, I love my family, but I also love personal space.
School is now starting to transition into my life at home too. Schoology is now letting me efficiently complete tasks that are assigned by my teachers. I'm honestly here for it though. I'm not upset about the remote learning through Schoology at all. If anything, it's making my schedule flow in a more structured manor, which I need.
Yesterday I also received upsetting news that my final MIPA conference has been cancelled. I'm not upset about missing getting recognized for my achievements on top 15 in the state, but I'm upset that I won't be cheering with some of my closest friends when the whole staff wins something. I understand that it was necessary for health precautions, and in the end that's all that matters.
It's hard living in the unknown. I hate living in a world that people are so consumed by fear that they're afraid to live. Maybe some cool scientist will find a cure out of the blue. Who knows.

Monday, March 23, 2020
Over the weekend nothing really happened. I continued to work on making my bedroom look less childish and slept a lot.
Today was kind of eerie in a sense that I feel something is going to change. My dad works for the railroad and showed me a paper he received stating that he still has to work through almost any circumstance. That kinda freaked me out a bit.
I wish I could say more happened today but I slept until two in the afternoon. Let's try to fix that tomorrow
Friday, March 20, 2020
(Haha 20 and 2020)
I got my hopes up too high yesterday. I am still cleaning. Apparently, shoving my mattress and dresser into the garage wasn't good enough for my parents.
I was annoyed with cleaning, so I asked for a quick break. I thought it was genuine until a credit card was thrown my way (not complaining) and was told to brave the grocery store. Again.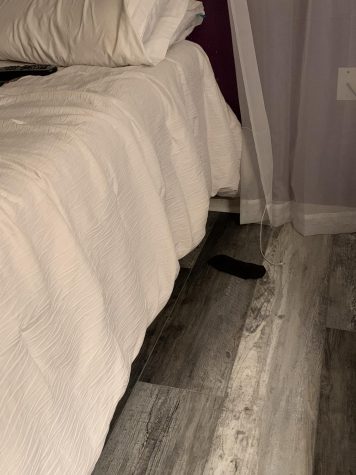 Meijer was a mess. People seemed to mind their own business until I was almost hit with a cart when I was grabbing rolls of Charmin Ultra Soft. It seems silly that I had to grab some and run before the whole area was empty again. The display of rolls only lasted about five minutes.
As I was leaving the store, I heard my name being called from across the checkout aisle. I looked over and to my surprise I saw my uncle. It seems like I'm making this up but it really happened, I promise. So, we chatted (yes, we were six feet apart) until I got hungry and left.
I am home now and currently trying to piece my room back together. Today was super productive and I am in a good mood. Time will only tell if it lasts into tomorrow.
Thursday, March 19, 2020
Going off the grid was definitely not what I expected to do today. It was not fun and took social distancing to a whole new level.
Today in the Grooms' household, we got new flooring. This meant that the wifi router had to be unplugged, my room needed to be completely empty, and my family fell into cleaning chaos. I will say, I became really handy with taking apart bed sets, dressers, and even taking off trimming. I didn't even have time to shower until midnight because I was working so hard.
Manual labor aside, I went for a quick jog before the rain hit. I need to stay in shape for soccer or else I will fall short of the bar I set for myself, which is terrifying.
For now, I'm kicking a ball around and wondering what I will write tomorrow. Hopefully something different than cleaning.
Wednesday, March 18, 2020
Today has been a sad day so far. I went to Kroger to get some chocolate milk, snacks, and fruit, but then faced my worst nightmare. There was no chocolate milk left (I think they were just restocking but it was still tragic). So, with snacks in hand and a sad excuse of whole milk, I proceeded on with my day.
I got home and was instantly thrown into doing work for my parents. I felt like the CEO of multitasking between shredding paperwork for my mom and managing my dad's social media accounts. This all took place while my little brother sat on the Xbox and watched me deteriorate. How nice.
I am exhausted already, but it makes the time go by faster. I hope tomorrow is the same way. Maybe they will restock the chocolate milk  by then so I can have something else to do.
Tuesday, March 17, 2020
I finally got ready today. However, nobody has to know that it was after 2:00 p.m. and my mom was yelling at me to "look alive." It did not matter that I wasn't going anywhere or doing really anything special, but it felt nice to look better than a blanket dweller.
I continued on with my day with ordering some Buffalo Wild Wings carryout and homemade green shakes to celebrate St. Patrick's Day. A virus is not going to keep me away from my favorite meal and a fun holiday.
Other than eating and sleeping, I have literally done nothing besides some physics work and jogging. Maybe I will be more productive tomorrow.
Monday, March 16, 2020
It has only been a weekend and I already feel trapped. I'm sitting on my couch watching reruns of sports when I should be out on the turf kicking around a soccer ball, or mailing out the next issue of the paper.
Calling the timing of this pandemic inconvenient is an understatement.
Although I'm losing time to play the sport that I love, see the people I care about before going our separate ways, and leave the paper with a legacy to remember, I look back and realize that lives are being saved by containing the virus. I'm okay with staying inside if that means less people will get sick.
The fact that my senior year will never really be the same is dawning on me and it's starting to really suck.