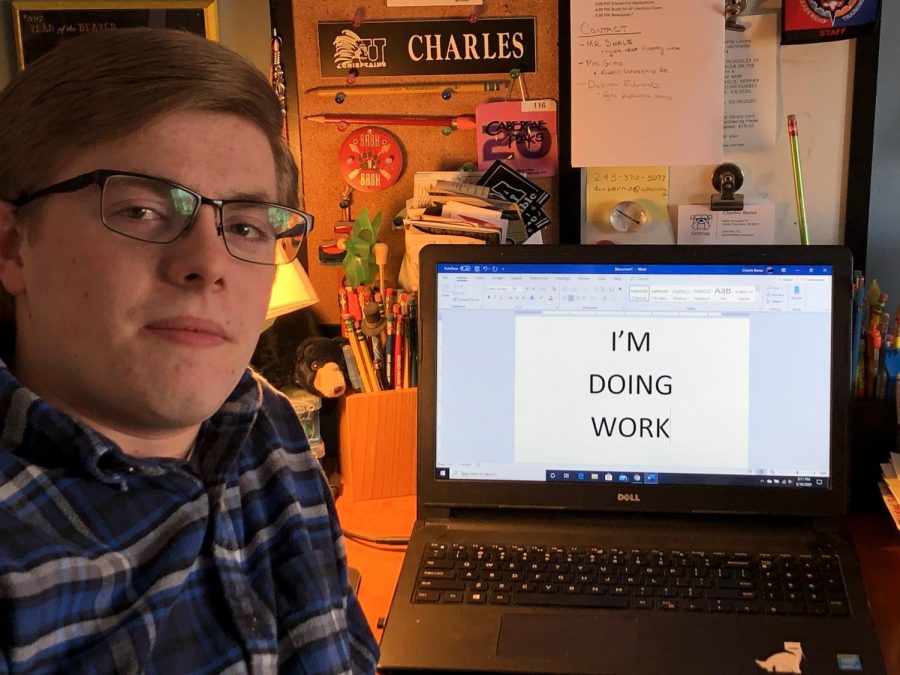 Charles Borus
Friday, March 27th, 2020
The plan was to go back after Utica Community School's spring break was over, but I am starting to think that might not happen. While some of you may be happy to hear this news, I am not. What about the seniors? Our year has been robbed of us. We were under the impression it would be a smooth cruise to the finish, but life threw us a curve ball straight to the gut. I had high hopes for the finish of my senior year, but right now, the future of it does not look certain. However, we must look for the good outcome as this  pandemic will allow our world to improve from where we were before.
On a much lighter note, today wasn't to exciting. I mostly did homework and had another video conference with my English class. We had a riveting discussion on this poem we were told to read, which was just peachy. I also visited my doctor today (not for for anything relating to the virus) to get my physical up to date in the hopes that I can play golf this season. Fortunately, I am in good health. Unfortunately, all golf courses and driving ranges are closed so I can't go out and really practice. I'm quite upset about that because in my opinion, golfing is not a contact sport. You are fairly spread out from other people on a golf course, which  is part of the reason why I like it so much. It's relaxing. I mean, practicing in my backyard is indeed beneficial, but it does not replicate the experience of the just-sliced-your-ball-into-the-lake feeling that you would get on a golf course. Like I said, it's RELAXING!
Thursday, March 26th, 2020
I think Michigan is taunting us. With all this nice, warm weather, something seems a bit fishy. I think we might get an unannounced blizzard next week. Who knows? But with all this negativity in the world right now, I'll take whatever I can get.
In other news, I didn't do much today. I did some homework, walked my dog, and that is pretty much it. Sorry everyone. These days are just running together.
Wednesday, March 25, 2020
Spring has finally sprung here in Michigan! The plants are waking from their slumber and the sun was shining. While it only reached fifty-two degrees today, this was a balmy change of climate than we are normally used to. If it stays like this for the rest of this break, I will be happy. Because it was so nice today, I wanted to spend some time outside. I was asked by my parents to visit the grocery store and pick up a few things for my great-aunt and uncle, giving me the opportunity to go and drive through the beautiful spring day.
During lunch, I had to sit in a video conference with my English class, which was…interesting. The technological efforts we are putting into effect will be a definite learning curve for all of us to overcome.  Unfortunately, my laptop decided it would be a good idea to blank out and show the "blue screen of death" in the middle of the conference, which was just great. Fortunately, it was just fine after a force restart. In the afternoon, I decided to go out once again and hit some golf balls at the local driving range. Rather unsurprisingly, the place was closed. Oh well, I guess my backyard will have to do for now. I will try again with another driving range tomorrow, although I am not expecting success.
In the midst of all this pandemonium, I have had a lot of time to think. In my ruminations, I was thinking about what might happen when this all cools down. Surely, this will not be an immediate action just to return back to normal life before this coronavirus ever existed. It will take a long time for people to regain trust in public places, and I believe it will take a long time to recover both mentally and economically. While it will be nice to have toilet paper and hand sanitizer again, what will be the result from all this panic? Will we learn a lesson from this? Will we not hoard essentials like squirrels? In all honesty, I believe hoarding toilet paper is completely idiotic. Unfortunately, all we can do is wait.
Tuesday, March 24, 2020
Following Governor Whitmer's "stay home" order, I have noticed the roads have unsurprisingly become very empty. This is very nice for many reasons, because at least we won't have to worry about traffic. Driving is now a dawdle.
In this episode of the "Life of Charlie," we find ourselves at my house…and that's it. Today, I did a few things. I read my AP Literature book, worked on math homework, had a piano lesson over the internet (that wasn't difficult…) and repaired a typewriter. Yes, a typewriter. I have a few hobbies such as cars, photography, hiking/backpacking, to name a few. I also have a more uncommon hobby of collecting typewriters. Now before you dismiss this as boring, let me say this. I like old things, such as classic cars, old machinery and typewriters. On this occasion, my Underwood 565 Electric typewriter was seizing up whenever I hit the return key. After a careful disassembly of the outer case, I quickly diagnosed the problem as a loose belt. Knowing that it was difficult to adjust the tension of the belt, I had to think of a cunning idea. This is where the long-overshadowed office commodity that you seem to have a million of comes into fruition. The simple rubber band! Once I found a rubber band thick enough to replicate a belt, I installed it and turned on the typewriter. Much to my joy, it was fixed!
If you found that interesting, I applaud you. If not, I am not surprised. You can probably tell the boredom is setting in…
Monday, March 23, 2020
You are most likely aware of the rapidly changing developments swarming the media during this pandemic. School closures, event cancellations, more cases of COVID-19 overwhelming our hospitals…it goes on and on. Today however, was by far the most unprecedented for the citizens of Michigan. Governor Whitmer's actions to mitigate the spread of COVID-19 have not gone unrecognized by Michiganders, and her most recent "Stay Home, Stay Safe" executive order is no exception. While this will have positive effects on the spread of the virus, I am starting to become increasingly concerned as the days progress. I am getting worried about when we actually return to school. I am getting worried about the spring athletic season, AP Exams, and even prom. How long will this last? My senior year-along with the rest of seniors across the country-has been disrupted completely. With this new executive order going into effect at midnight tonight, trivial things we all take for granted-will be no longer available. While this is not a total quarantine, it is getting close. In the mean time, we must learn from Winston Churchill and the British Government during World War II. We must "Keep Calm and Carry On."
On a lighter note, I went to the auto parts store to pick up the oxygen sensors I had ordered yesterday. How exciting. My plan was to go to the driving range today to keep up my skills for the possible return to the golf team, but the virus (as always) had other plans. In the meantime, I have been working on my homework. With Moby Dick in my left hand and poetry in my right, AP Literature has been taking up my time. To sum it up, it is just riveting. In my opinion, life would have been much easier at school.
What is next for us? Only time will tell.
Sunday, March 22, 2020
The sun shined brightly this morning and it made me think for a brief moment that maybe it was spring. However, we are quick to forget we are in Michigan. Yes, the state where the weather doesn't make any sense and the seasons don't matter. Maybe one day I will have the joy of experiencing spring, hopefully for more than five minutes.
As I am getting bored of sitting around my house, I decided to go out into the "contaminated" world once again this week. On this occasion, I was in search of some car parts to repair my 1999 Plymouth Breeze. I needed a new oxygen sensor, a part that monitors the oxygen levels in the catalytic converter in the emissions system of the car. Since I have a four-cylinder engine, my car has two of these sensors, both of which are sending error codes to my car's computer. But enough technical stuff, because I'm sure you're reading this now with enough drool to fill up the Pacific Ocean. What can I say? I like cars. In the end, I was successful. Once I get the parts in, I will install them and be on my merry way. That will be another story coming soon, so stay tuned.
Other than my trip to the auto parts store, I have had a very uneventful day. I took my dog for a walk and that is pretty much it. Now all we can look forward to is the week ahead of us, week two of our social distancing escapade. For now, keep calm and carry on. Cheers everyone.
Saturday, March 21, 2020
Well, I have lasted one week of this school closure. However, I do wish I was at school, because at least I would have something to do during the day. Today, I managed to get a few things done. I continued to brighten my house up for spring, especially with Easter coming up quickly. With so much time on my hands, I have had the opportunity to clean up and organize the long forgotten abyss that is my closet. In there, I had a photo album of pictures I have taken over the years it was definitely a trip down memory lane. It was nice.
The only member of my family not to be affected too much by this pandemic is my dog, Sandy. She has been able to keep up her normal sleep schedule with her nap and post-nap nap. The only irregularity is that she seems to like to more walks she is going on. After enjoying dinner with comedian Jim Gaffigan on Netflix in the background (the humans, but maybe Sandy was laughing too), we all decided to go outside and take Sandy for a long walk. I think she enjoyed that. Once we got home, we settled in for the night and watched Kevin Costner's Dances With Wolves, a truly superb movie.
While I didn't have much to say today, hopefully tomorrow will be more exciting. Hopefully.
Friday, March 20, 2020
I'm bored. This virus has really thrown a wrench into the school year. Because of this virus, it cancelled school. Because of this virus, Utica Community Schools will be going semi-online. One might think that the online instruction would count as "instructional hours, " but according to the Michigan Department of Education, they don't. Unfortunately, I'm fairly confident that we will be making up for the lost time in the summer. How lovely. To add to my disappointment, today was the day that I was supposed to participate in a service project for National Honors Society. While this may not seem exciting, I truly enjoyed doing it. The service project was to read books to the students of Flickenger Elementary School. But due to the closing of schools across Michigan, this was obviously cancelled (there's that word again). I guess the young students will have to wait for Go Dog. Go! another day.
On a lighter note, my day was better. I watched some more The Grand Tour and cleaned up my house today. We are making the transition into spring at the Borus Homestead, so things are brightening up a bit. As it is the Lenten Season, it is traditional for Catholics not to eat meat on Fridays. Instead, we eat seafood. Since I am from a Catholic family, we have a tradition to go out to fish fries that are hosted by churches or other places during Lent and have some fish. But sadly, the coronavirus had other plans. So did we. In the place of going out, we had our own fish fry at my house with my grandparents, which was nice. My Mom can really cook fish! To finish off the evening, we played a hand of Liverpool Rummy, a card game that has been played by generations of the Borus-Marriott family. We just call it sets and runs. It's simpler. Have a great weekend everyone!
Thursday, March 19, 2020
Today has definitely been more exciting. When I woke up this morning, I took a glance at the news only to find more disgraceful developments concerning the virus. Oh joy. Trying to get my mind off of the you-know-what, I decided to turn on my favorite show, The Grand Tour. In that episode, Jeremy Clarkson, James May and Richard Hammond were tasked with sailing three boats they bought themselves down some rivers in Cambodia to a harbor in Vietnam. While this is normally a car show (my favorite), it was more or less a comic relief to see how badly these guys can operate a boat. It was hilarious! I recommend you watch it, especially with the time we all have.
After my spirits were lightened, my Mom came in and said that my grandparents needed assistance in grocery shopping, giving me an opportunity to venture out into the contaminated world. I was sent to Busch's to get the various groceries they asked for. One item on the list was a loaf of rye bread, a fairly common item that may not seem in high demand. To my amazement, when I got to the bread isle, the rye bread was completely picked over while the whole wheat bread was fully stocked. How strange. Another thing on the list was toilet paper, but, as you probably would have guessed, it was gone.
Throughout the rest of the day, I did little things around my house. I practiced my clarinet and tickled the ivories of my piano. I am currently learning a jazz tune that I hope to have done when this break is over, so stay tuned for that! In my boredom, I also built a tower from my Girder and Panel set that I've had since was ten. That was fun.
To add the the sea of cancellations this virus has brought forward, I received an email from Eastern Michigan University-the college I am set to attend in the fall. "Dear Charles…" the letter states. As I read on, the letter notified me that "in an abundance of caution" the on-campus "FasTrack" registration day has been cancelled due to, you guessed it-the coronavirus. Yet another thing I was looking forward to slapped with the all-powerful word of today's age: cancelled. Thank you for reading, and I hope to see you tomorrow on another episode of The Life of Charlie!"
Wednesday, March 18, 2020
This unprecedented break has been truly an amusing few days. It feels like I have been away for a week when it has only been a few days. However, amusing is an overstatement. I'm going to say it-it is boring. Really boring.
In this episode of "The Life of Charlie," I participated in the lively task of doing little chores around the house. I built a wooden puzzle I had in my closet for eons. Ironically, it was a cruise ship. How exciting. The highest point of my day thus far has been a piano lesson, because it gave me the opportunity to venture out into the world! From my observations, the world apparently didn't want to see me-but all in good reason. While on this adventure, I was tasked with visiting Meijer to get some milk. At Meijer, I couldn't help but notice the vast emptiness of the shelves in the paper products isle. Why do people need to stock up on toilet paper? The world is not ending. In my opinion, people need to calm down.
Tuesday, March 17, 2020
Happy Saint Patrick's Day! I woke up this morning feeling more lucky than usual. I made sure to take my luck of the Irish with me as I decided to make a bold move. I decided to venture outside. I didn't know what to expect; I wasn't sure if I was supposed to wear a hazmat suit or not.
On my perilous adventure in the unknown, I gingerly drove my little car to the post office to drop off a scholarship application I had been working on. With great care, I slipped the letter into the mailbox and said my prayers, hoping that I would be lucky enough to earn the scholarship. After that, I came home and made sure to disinfect everything I touched. Not really. I just walked in the door and washed my hands.
With all this time away from school, my clarinet felt lonely. Per my home school administrator's request, I practiced some Finzi and some polkas which eased my worries. Today has been a decent day so far. I probably will go golfing later. We'll see.
Monday, March 16, 2020
It's day one. By now, most of us are settling in to what is this new reality for a few weeks. For me, I have taken this unique opportunity to catch up on work that I haven't been able to when we are at school. I have taken time to work on scholarship applications, stay ahead of homework, and I also plan to do some repairs on my beloved car.
However, I should say that this break is definitely a major inconvenience. As my senior year is coming to a close, I wanted to make the most of what was left. Now that the Center for Disease Control and the Michigan Department of Health mandated a "self-quarantine," that opportunity has been robbed from me until we eventually return. While I believe this will help mitigate the spread of COVID-19, I still want to live my life. Stay tuned for more as I document my (lack of) adventure throughout these weeks!