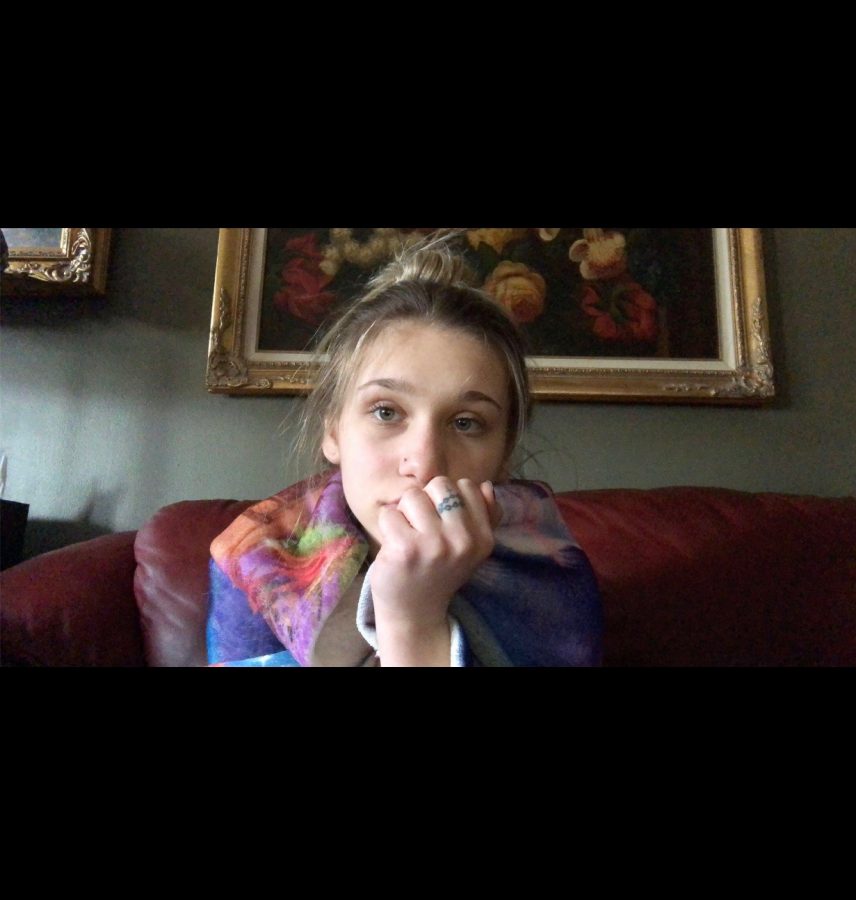 Alexis Daniels
Tuesday, March 24, 2020
I think it's day nine of our "Corona-cation" and I'm loving it. Besides sleeping literally all day, I also partake in activities such as breathing and occasionally showering. So far, I haven't really had a bad day of the break, just a lot of super bland days.
Today was my favorite day of the break so far though, because I remembered that Governor Gretchen Whitmer basically told the whole state yesterday to stay home and avoid any physical or social contact with others for a few weeks; my specialty. It's also a pretty good day because I discovered waffle cones in my pantry and ice cream in the freezer, and I've been craving that mint chocolate chip.
I'm definitely starting to miss seeing my friends though; FaceTime just doesn't feel like enough for me honestly. Plus, I haven't seen my brother in a while and I miss the twerp. Especially since he's been calling me everyday, I mean how would that not make me miss him.
Ultimately it's just a good idea to stay home and wash your hands often and be aware of others if you go in public. I'm going to just have to wait this out and see what's next.
Wednesday, March 25, 2020
Today is my least favorite day so far. It was beautiful outside but apparently everything else decided to be a pain in the butt.
First of all, my sleep schedule is so messed up that today I woke up at 4 in the afternoon. What did I wake up to? Glad you asked, I woke up to a fat cat on my face, suffocating me with its belly. Cute, right? No. Not cute. I inhaled fur in my sleep and then woke up with a dark, hairy tongue.
Aside from that though, I had just a couple (very) time consuming chores to do, of which I finished roughly around 9 at night. Just for my mom to call me and tell me she's picking me up tomorrow to do spring cleaning with her. Nice.
Let's hope tomorrow is way better then today, because this waking up late and doing chores all day is not for me.
Thursday, March 26, 2020
The chores weren't as bad as I expected because I finished them pretty fast. On top of that, today was even nicer out then yesterday and I went for a long walk with my little brother.
It was relieving how today turned out because I was really stressed out yesterday and needed to relax. The walk was super therapeutic and I really missed spending time with my brother. Towards the end of our walk it started to rain though, so I had to run a few blocks carrying him like a football.
Once we got home, we ate the rest of the ice cream I found in the freezer and watched YouTube videos. He fell asleep so I took  nap with him and woke up like 20 minutes ago to do my homework.
Can't wait to see what tomorrow has in store for me.
Friday, March 27, 2020
This is actually starting to feel like a break now. I'm started to realize how long we will really be out of school and it made me miss my friends a lot. So, I went to my favorite place to relax and enjoy my day.
I went to a creek in Riverbends Park and listened to all the animals and skipped stones. It was really beautiful out and I dipped my feet in the water a bit while I soaked in the ambiance. I walked a good four miles today, at least, and it really did brighten my day.
Later on my mom and I had a bonfire while my brother played with his toys. I got in some family time and then went inside to eat a Hot Pocket and FaceTime some of my close friends.
Once I got my social fill for the day, I plugged in my laptop and did some of my school work.
Even though this break can be boring or saddening, I really think I'm finding the little good things that help change my mood for the better.
Monday, March 3o, 2020
I woke up this morning, fell out of my bed, and then went to go make tea. Then, by the screams from my mother who had just awoken, I remembered what I did last night.
I snuck out of the house, bought hair dye at Walmart, and died my blonde hair pitch black while everyone was sleeping. Then, I spray tanned because I looked like Casper the friendly ghost, and went to bed.
So yeah, my mom is not too happy about it, because I also just recently pierced my nose. She said she understands though, because she knows I'm not the type of person who is able to stay home all the time or not socialize.
Basically, this break is going really well for me; I'm making impulsive decisions and sticking with them.