Students showcase their talents
Senior Dez LaCourse walks onstage, holding a guitar. Bright lights surround him, helping him to stand out against the black curtain he walks in front of. Taking a seat in front of a hundred people, he begins to strum his guitar and sing. Once he finishes and the applause dies down, junior emcees Annie Droelle and Caroline McDade walk onstage to continue the Talent Show.
On Mar. 6, the annual Talent Show was held for students and staff to show off their special talents for the whole school. The theme for this year's show was 'Show us What U Got!"
Auditions were held on Mar. 2, and gave students a chance to get a feel for what the show would be like. Auditions were judged by the International Thespian Society (ITS) Executive Board members, who also organized the Talent show.
Auditioning is a process that many describe as anxiety-inducing, so the student judges tried to make it as unstressful as possible for those auditioning. Senior Morgan Nugent and the other members of the ITS board gave all of the auditioners time and space to prepare and practice beforehand, while others auditioned.
"The audition process was very loose and laid back, very comforting," LaCourse said. "Since peers were judging it, you had that sense of just someone watching you in a smaller audience before the bigger audience. It didn't feel as pressurized as it could have been in that type of a situation."
Droelle and McDade came out between each performance to introduce the next act and keep the audience energized. The two, friends for years, wrote their own script, which saw Droelle acting as a mentor to McDade.
"We went to the [auditorium] after theatre, and we were fooling around, and we were told we had a good energy and we were asked to do it," Droelle said. "We had a list of all the acts and we thought of witty jokes that went along with each one. We wanted to really engage with the audience."
Sophomore Amanda Walters sang and played ukulele, to a song she wrote herself. The song, titled "Why I Was Made", was inspired by growth. Walters has been playing ukulele for three years, and wants to write more music in the future.
"I couldn't find anything that fit my voice, so writing my own song seemed like the best idea. I have written a song in a long time, so I tried and I ended up figuring out how to do it. It's really hard," Walters said. "[Auditioning] wasn't necessarily my first idea. I thought it was really cool, but I don't like singing in front of people, so it was a hard decision. I want to get better at performing in front of people, so it was a good way to practice and do something fun."
Though many people sign up for the talent show to showcase their singing, there were also comedy and dance acts this year. Senior Regina Araujo-Pedroza danced with her brother to "El Son de la Negra" , which tells the story of two separated lovers.
"It's a traditional Mexican dancing. The songs and dance each tell a different story. Every state of Mexico has a different dance and a different story to go with it," Araujo-Pedroza said. "It's fun to share my culture with other people who probably haven't seen that type of dance before."
Senior Gianna Bratke performed a comedy routine about her car for the talent show. This was her first year performing in the show, though she emceed last year.
"My friends, Alyssa and Gabi, encouraged me to audition for the Talent Show," Bratke said. "I figured I'd do comedy since it's all I really have going for me at this point. I'm telling jokes about my car, since it's old, and people constantly compliment me on it."
Bratke's routine was about her car, a 1993 Dodge Shadow, which she calls refers to as "Slim Shady". She made jokes about the awkwardness of being complimented on her car, especially by people she doesn't know. Bratke also talked about how certain cars, like hers, are unique and "peppy".
"I feel like older cars have personality," Bratke said during her performance. "Slim Shady doesn't like highways, he definitely doesn't like long walks on the beach, he's very picky about his gas, and he definitely doesn't like to be stopped."
Towards the end of the show, senior Josh Essemacher performed fan favorite song "Tequila" by The Champs. Essemacher is a seasoned Talent Show performer, having performed the past two years. His previous acts were comedic, and that aspect made a return this year as well, even though he turned to music.
This year's Talent Show brought out the biggest turnout in the last few years, and helped to raise money for Utica's theatre department.
Leave a Comment
About the Contributors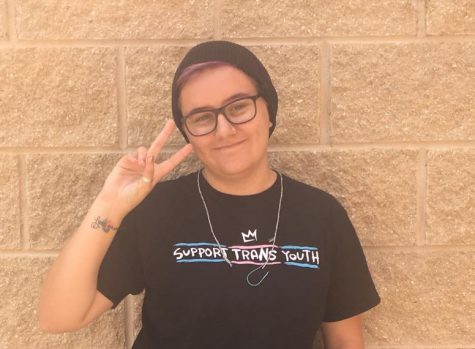 Parker Hopkins, Digital Editor-in-Chief
Parker Hopkins is a senior and this is their third year on the Arrow staff. When they aren't working on the newspaper, they spend a majority of their time...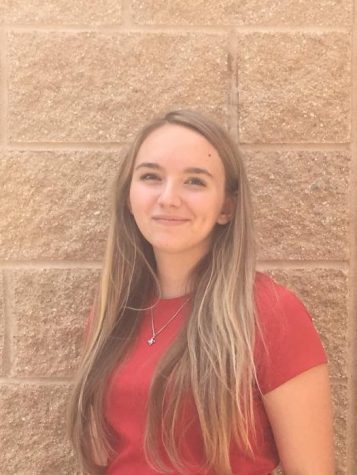 Haley Grooms, Print Editor-in-Chief
Haley Grooms is finishing off her senior year as the Editor-in-Chief of the print newspaper. This is her third and final year on staff, but hopes to make...