After 36 years in education, teacher Joy Grieco unexpectedly retires
Teacher Steve Haley takes over AP classes
Although teacher Joy Grieco's class ran as normal on Monday, Sept. 13, later that night she posted a message in Schoology announcing her retirement, after only two weeks of classes.
"I was at home and [Grieco] accidentally sent out a comment saying she was retiring, and she deleted it right away," senior Anthony Bleck said. "But when she sent it out I was able to read that she was retiring. Obviously when I read that I told people about it, as our AP teacher was retiring and it was kind of important. Then the next day of school she left a message in Schoology and everyone found out she was retiring."
News of Grieco's retirement quickly spread, and her announcement was once again posted to Schoology for all students to read her final goodbye.
"After 25 years at Utica High School, 36 years in education, I have made the decision to retire," Grieco said. "This decision did not come lightly, as I am leaving with an incredible heavy heart. Even though we were together for a very short time, I truly enjoyed every moment with each of you. I am fortunate to have carried out my passion for teaching and psychology over the past 36 years. My hope for you is to find your passion and follow it into your future."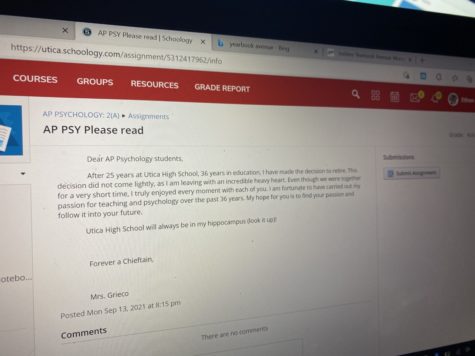 The staff remained in the dark about the situation as well, as many of the faculty members were unaware of the situation until the day she was gone and students began sharing news of Grieco's Schoology announcement.
"I did not find out until the students found out," teacher Kirsten Bolitho said. "I was very shocked, but after 36 years of teaching the retirement is well deserved. While we weren't expecting it and Ms. Grieco will be missed, we have a great new addition to our team with Ms. Wilcox."
The unusual situation was soon explained to staff, students, and parents when principal Tom Lietz sent out an email.
"Earlier this week, one of our outstanding educators, Mrs. Joy Grieco, let me know that due to personal reasons she would need to retire effective immediately," Lietz said in his email. "It was not a light decision. After 25 years at Utica High School and over 30 as educator, she determined she needed to retire. We respect that, and celebrate an incredible career as an educator. Though no change like this is easy, we would rather it come at this point than when we are further into the semester and year. That retirement has caused a ripple of change as we have to staff the position with highly qualified teachers able to instruct the subject matter."
On Monday, Sept. 20, teacher Steve Haley will take over all five sections of Greico's AP Psychology classes.
"Mr. Haley has spent over 30 years in the classroom and has taught AP Psych over five years, bringing much needed experience and certification to that position," Lietz said in his email. "Though Mr. Haley will miss his US History and regular psychology classes, he brings an expertise to this position that we need."
As Haley transitions to teaching his new classes, cheer coach and recent Central Michigan University graduate Sydney Wilcox will step in as Haley's replacement.
"We were fortunate enough to pull Ms. Wilcox into our system and she will be taking over this course as a very qualified long-term sub for the semester," Lietz said in his email. "She will continue to work closely with Mr. Haley and the Social Studies Department as she takes over these classes."
Questions are still being asked by students, mainly concerning the future of their AP psychology classes for the remainder of the year.
"If I take the AP exam for psychology at all I'll have to do late registration," senior Antonio Capelj said, "because I'm still unsure of how well we're going to be prepared for it this year."
Haley, however, is up for the challenge and knows his students will perform well on the test.
"After talking with the AP Psychology students, I was convinced that I needed to start over from the beginning," Haley said. "I have put together a calendar that allows me to cover the additional class information within the time frame that is needed to prepare the classes for the AP test in May. My method of teaching is much different, in that I offer a much more hands-on type of instruction, which allows for a more structured classroom environment. The students have been amazing adapting to the change, and I am confident that they will be successful for the rest of the year."
Leave a Comment
About the Contributor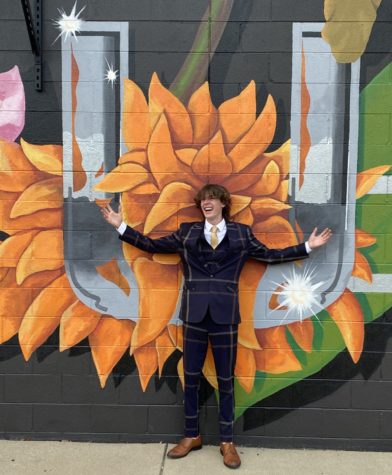 Ethan Smale, Editor in Chief
Ethan Smale is a senior at Utica and is the Editor in Chief for the news staff. He's a funny guy that loves to mess around whenever he can. He doesn't...