Candidates debate for their party's nomination

Debates are a stage for presidential candidates to speak to people, and to show what they plan to do in the White House. Most recently, it's been a stage of theatrical performances and outbursts against the media.
2016 has proven to be an exciting year for debates on both sides of the aisle. For Democrats, the front runners are Hillary Clinton and Bernie Sanders, whose platform involves issues of the working class.
Hillary has been the favorite to win the nomination for what seems like forever, but the Democrats have pointed to working together as a party in their debate on Oct. 12.
"I thought it was more respectful then the Republican debate," principal Tom Lietz said. "It was nice to see people who are far away on opinion respectfully disagree."
The Republican field has narrowed in the past, but it's still very strong in its diversity. The front runners, Dr. Ben Carson and business tycoon Donald Trump, have grabbed America's attention based on fact they're both not "career politicians."
Carson grew up in Detroit, poverty stricken, and rose to become a wealthy neurosurgeon and author. Trump rose to political fame on his build-a-wall manner, boosting off anti-immigrant sentiments in America.
For students currently in a government/politics class, the upcoming election offers an exciting look into the inter-working of American government, and how it can affect us all in Michigan and around the country.
During the Republican debate on Oct. 28 in Boulder, Colorado, some people had concerns about the questions raised.
"I thought the most recent moderators were biased," junior Jack Vohs said.
Students have gotten into the debate hype, as it is very exciting and controversial.
"I'm a Sanders fan," junior Lucas Moticsak said. "I like how Bernie stayed on course. Hillary Clinton changes her views too many times."
Currently in the Republican nomination, Ben Carson is closing in on Donald Trump.
"Donald Trump is still winning, but he has no substance on the issues," Vohs said. "Its possible Ben Carson will win."
2016 will decide the nation's future for the next four years.
Leave a Comment
About the Contributor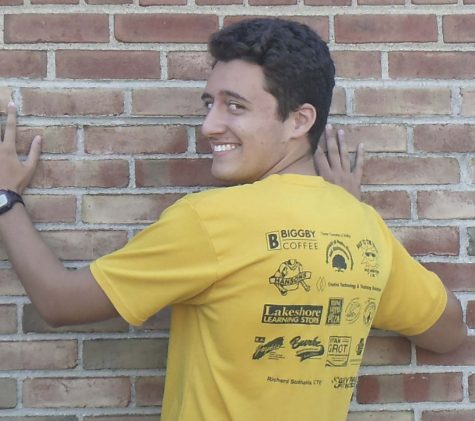 Ethan Cartwright, Editor-in-Chief
This is Ethan's third year of newspaper. Throughout all his horrible designs, and ok stories, he has become something he had hoped to be since 10th grade....