Stepping into the game: a new world with virtual reality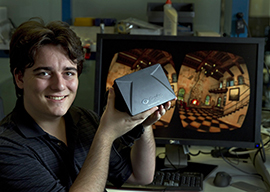 The first generation of Virtual Reality headsets are set to release within the second quarter of 2016, which include the Oculus Rift, HTC Vive, and Playstation VR. Unfortunately, we'll have to wait for "Tron" and "The Matrix."
The Virtual Reality trend began with the Oculus Rift's viral success. The Oculus Rift began as an independent project by Palmer Luckey. After creating the first prototype of the device in his parent's garage, he sent the prototype to id Software's John Carmack. Carmack was so impressed he helped present the Oculus Rift at the Electronic Entertainment Expo in 2012 by using it to play "Doom 3" on stage.
After that endorsement, the official Oculus Rift Kickstarter launched in July 2012, surpassing their goal of $250,000 in less than 24 hours. Since then, the Kickstarter has raised $2.4 million and was recently bought by Facebook for $2 billion. Nearly four years later, the Oculus Rift is set to release on March 28.
Many students are skeptical of the immersion of the Oculus Rift.
"It won't go anywhere until we have full subconscious immersion," senior Jared Haught said.
Other students are concerned with the staying power of virtual reality.
"It's a gimmick," senior Andrew Pakledinaz said. "It's comparable to the hyped up virtual reality that was promised with the Virtual Boy back in 1995."
In comparison to its competition, The Oculus Rift has the advantage of being first to be announced, as well as first to release. However, the Oculus Rift is not as accessible as the competition. The headset alone will cost $599, and also requires a very powerful Gaming PC, recommending at least an NVIDIA GTX 970 GPU. This is due to the Rift's comparably high resolution.
During the Oculus Rift's development, other companies have already begun making their own headsets to compete.
Though the pricing and release date are unknown, it can already be assumed Sony's Playstation VR is a more accessible alternative to the wallet busting Oculus Rift. It will require a Playstation 4 to use, which is already half the price of the kind of PC the Oculus Rift requires.
There is also the HTC Vive, which will be the first Steam VR headset. Though we are also unsure of the release date and price of this headset, its advantage lies within HTC's partnership with Valve. This will ensure a stream of steam games will be supported for the headset.
However, virtual reality has also expanded into other fields. The Oculus Rift is compatible for use with "11:57," a short horror film that is viewed from the viewer's perspective. The headset detects the viewer's head movements, which allows the viewer to control the camera. Even though the film was intended for use with VR headsets, it is also available on iTunes and Google Play for smartphones and tablets.
Virtual reality also has practical applications apart from entertainment. Google Cardboard, a VR headset made of cardboard used with your phone, was used to create an otherwise impossible 3D model of baby Teegan Lexcen's heart.
"The medical and industrial applications of Virtual Reality are honestly more interesting than the entertainment aspect of VR," Pakledinaz said. "It's still super cool, though."
With the promises of the next generation of immersion, the effect of VR on one's social life is often brought into question.
"It'll be like any other kind of game," Haught said. "Only the kind of people that are already addicted to games will get that way."
With Virtual Reality hitting store shelves soon, new ways of seeing our entertainment and industries will begin to creatively flourish. We will see brand new ways of experiencing our games and movies, and see new industry technology standards.                                            
Leave a Comment
About the Contributor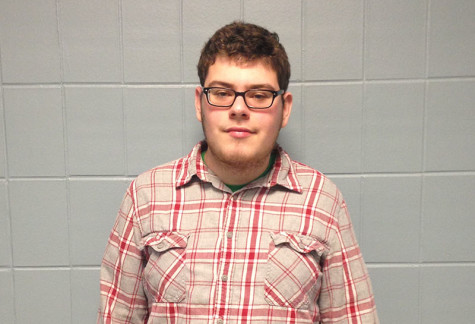 Dylan Vallis, Reporter
Dylan Vallis is a senior reporter who is also in the Early College of Macomb program. He hopes to pursue a permanent career in Journalism. He is also interested...