Halloween costumes banned at school
No more lions, and tigers and bears. Oh, my!
This year, Halloween will be just like any ordinary school day. Costumes have been banned, not due to any one specific incident, but to the large amount of inappropriate costumes every year.
"Utica was the only high school in the district that continued to dress up," principal Janet Jones said. "There's plenty of after-school time for Halloween."
Since the majority of students haven't worn costumes to school in the past, administration does not expect the change to have a negative impact. Some, however, are still disappointed.
"Our senior year is our last chance to dress up," senior Kelsey Weyland said. "It's going to feel so weird wearing normal clothes on Halloween."
While some believed the change was due to safety issues, security specialist Henry Piechowski said this isn't the case.
"Costumes posed no security risk, only disruptions," Piechowski said. "Costumes became more risqué every year, causing dozens of students to change or be sent home."
Leave a Comment
About the Contributor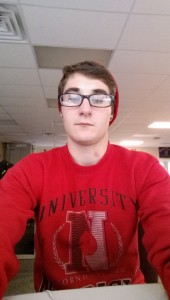 Dylan Hamilton, Editor-in-Chief
Editor-in-Chief. This is his 3rd year on staff. Being editor-in-chief not only is a great leadership chance, but also a real-world job experience as well,...