The Struggle is real.
As the end of the year comes to an end, so does senior students' motivation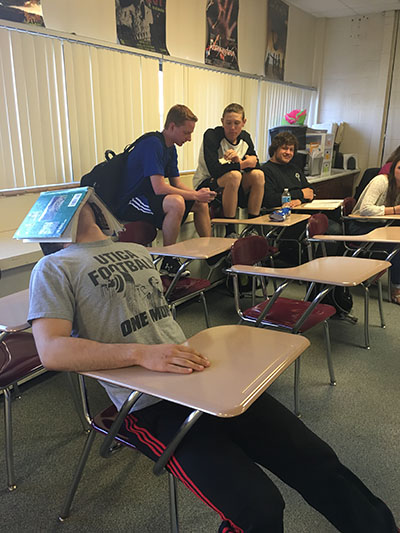 It's getting closer and closer to the last day of the 2015-2016 school year. With prom, senior picnic, senior skip day, senior all night party, and graduation all coming up in the next two months, it is getting increasingly difficult for seniors to focus on school work.
"Honestly, I checked out a while ago," senior Peter Gjini said. "It gets harder every day to give any effort because it's so close to being over. There's so much to look forward to."
For seniors, class gets out earlier than the rest of the school on June 3, instead of the usual June 14. That means only two months, or one quarter, is left of their high school careers.
However, principal Tom Lietz thinks that this habit is one of the worst students can have.
"I think people forget that it's not over until it's over," Lietz said. "There are real consequences for this kind of behavior."
According to Lietz, the school receives phone calls from colleges every year asking why some seniors' grades have fallen.
Students can and have been unaccepted into colleges because of their senior year second semester grades.
"Finishing is just as important as starting," Lietz said. "It's an enabled behavior and it could carry over into college if you let it."
Students, however, completely disagree and continue with their lazy behavior.
"I really doubt anything bad will happen between now and graduation," senior Drew Wager said. "My motivation to continue doing school work has completely went away. There's just too much other stuff to think about."
Doing homework is getting harder by the day and there are more students procrastinating every day as graduation gets closer and closer.
"This mind set definitely will not carry over into college," Gjini said. "I can very easily start focusing when it comes time to go to college. I will be just fine."
Teachers, however, hate the "senioritis" excuse kids have every year. It just makes more work for them as they receive a lot more late work from students.
Seniors have been doing this for years before, though, and will be doing this for years to come.
"High school is almost over," senior Luke Walters said. "That makes it harder and harder every day to come to class and pay attention every day."
Assuming you are giving at least the slightest amount of effort in your classes, your grades won't drop to the point where you can't go to college anymore. I've had these tendencies all school year and have yet to meet any repercussions, aside from finishing homework at the last minute or asking for a little bit of extra credit at the end of the quarter.
With one quarter of their high school careers left, some seniors are caring less and less and I personally have no problem with that. The seniors have worked hard enough through the past four years and have earned the right to slack off a little bit.
Leave a Comment
About the Contributor

Anthony Kesto, Editor
This year is Anthony's third year on the Arrow staff. He likes long walks on the beach and playing with puppies. Anthony enjoys writing about sports as...