Music of Summer
Summer 2016 is a time for music, festivals, concerts galore
May 4, 2016
Music provides the perfect pick-me-up whenever someone is feeling down. Summer is a time for students to soak up the sun and let worries run free. Put those two together and students have the perfect break from school and stress.
Every year during the summer months, music festivals and concerts seem to be in full swing. With more popular festivals such as Coachella and Lollapalooza taking place around their usual times, other less known festivals like Faster Horses and Electric Forest are marked on music lover's calendars, as well. Many artists, of all genres, are going on tour and filling summer with all the songs we love. With performers like Weezer, Twenty One Pilots, Beyonce, Selena Gomez, and so many more, there is no doubt this summer will be one to remember.
MUSIC FESTIVALS
Whether someone is into country music, fast pace and flashy electronic, hip-hop, indie rock, or basically any music genre, there is a music festival for them. Reaching various places all over the United States, and even the world, there is a spot for everyone.
Most music festivals are held out of Michigan and tend to be located in bigger, popular cities and states like New York, California, and Chicago. Any true music enthusiast wouldn't let location stop them, though. After all, some of the most memorable events happen over the journey.
"My best friend and I are taking a train down to Chicago and will be spending the night at her aunt's place in the city," junior Grace Hartigan said. "The next morning we are going to go down to Lollapalooza and then taking a train back home the next day."
Most students have heard of Coachella. It's a wide range of artists, crazy and friendly people running amuck, and the off chance of bumping into a celebrity or two puts it at the top of many music lovers to-do list. However, it's location in Indo, California doesn't make it all that obtainable for those who do not want to, or can't, travel so far.
"
Warped Tour is so laid back and really awesome because all of the people that are there all like the same music"
— Melissa Machusko
What if there were awesome festivals similar to Coachella right here in Michigan? Good news; there are. Faster Horses, Electric forest, even VANS Warped Tour is held in Michigan.
"Warped Tour is so laid back and really awesome because all of the people that are there all like the same music," senior Melissa Machusko said. "My favorite performers [were] As It Is, Neck Deep, and Simple Plan. I was able to crowd surf to the front during Simple Plans performance which was exhilarating."
Aside from the music, the enthusiastic and colorful atmosphere is what makes music festivals what they are. Whether it's city life or a quiet forest any music lover is looking for, there is a place for everyone. Aside from location, the vivid lights, and crazy decorations, the excuse to express a bizarre and creative style is another factor that has put music festivals in the spot light.
"It's nice to have your own personal style as long as it is not offending anyone," senior Iman Traore said. "I would dress like how I was feeling and try to be comfortable and express my personality."
Music festivals are a great place to free yourself and have fun with some friends or newly made ones. No matter what kind of music someone is into, there is something for everyone, and then some.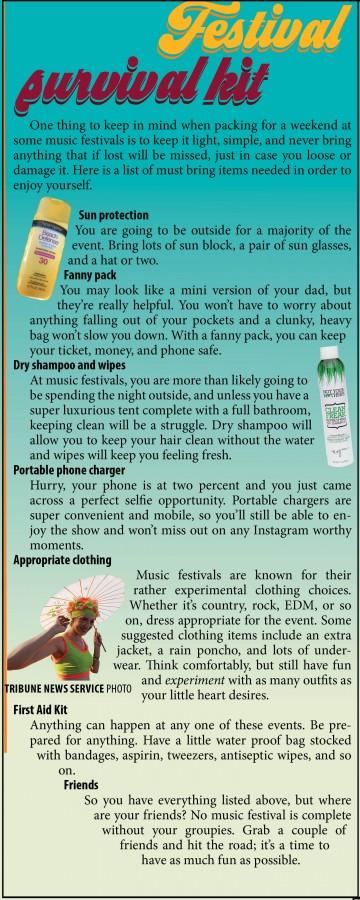 CONCERTS
The room goes dark and the crowd starts with an uproar of excitement. Anticipation has filled the stand long enough and it is time for the show to start.
That moment when the lights shine down on stage to reveal the performer is possibly one of the greatest moments for any fan. Aside from music festivals, summer is busy for a lot of performers as they are more likely to go on tour during these months. Artists from all sorts of genres of music like Tori Kelly, Ben Folds, and Darius Rucker are heading to Michigan soon and are sure to keep students busy as the weather gets warmer.
"I'm going to the Justin Bieber concert on April 25," sophomore Garret Barson said. "My expectations are really high and I'm really hoping he will perform 'The Feeling.'"
Anyone can expect a lot at a concert, as they should. Being able to see some of your favorite performers live is an event to remember. Music is all about expression and having fun, so seeing any artist or band in person is nothing short of amazing.
"I expect the show to be really fun, [The 1975] is my favorite band and I looked up videos of them live and they look like they just really enjoy being on stage, which I think really contributes to the spectacular show they give," senior Rachael Mooney said. "They're real about what they sing and although their topics may be a little dark in some songs, they make you feel something, which I think is really the purpose of music."
Concerts are also great places to discover new artists and bond with old favorites.
"I'm going to see Panic! at the Disco and Weezer this summer, and I think it will be really fun, loud, and filled with lots of energy," sophomore Kelsie Donaldson said. "I really love Panic! at the Disco's songs, so seeing them live will be awesome. When it comes to Weezer, I've only heard some of their songs on the radio; seeing them live will only allow me to get to know them better as a band."
Experiencing something live is without a doubt so much better than plugging in a pair of headphones. For most, being able to see a favorite artist or band perform live and sing along to personal favorite songs, is truly one of the best feelings and experiences one could never forget.
"Honestly, I have been to many concerts," Machusko said. "They really aren't kidding when they say it's the best day ever."