Mock elections
Students vote for the best of the best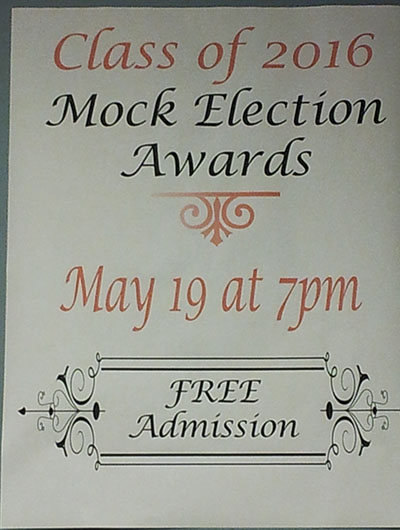 The ballots were cast. The votes have been counted. The nominations for the 2016 senior Mock Elections have been made. Once the final voting has been done, the award ceremony will take place May 19 at 7 p.m.
The categories include Future President, Next Albert Einstein and the classic Class Clown. This year, the Mock Election ballot was done electronically. For each category, the seniors voted for one boy and one girl. Each student was only allowed to submit one ballot.
The seniors had fun voting for each other in the many unique categories. However, that does not mean this was necessarily a popularity contest. Many students took the voting seriously; voting for the people they thought deserved to be nominated for a certain category. Some students even had a favorite category that they made sure went to the right senior. Other seniors, like Ian Briggs, were nominated for an unprecedented eight categories.
"It's very humbling. It's an honor being nominated for so many of the categories." Briggs said. "I think 'Best Personality' fits me the best. I really like that one. I also kind of hope I win Class Clown."
Since the voting format was changed this year for the 2016 senior Mock Elections, the ballot was released electronically in a link on the Utica High School home page.
"There were two reasons for switching the voting to online," senior Shannon Habba said. "The first was to save time because we used to give about thirty ballots to each of the senior English classes. Then the Stu-Co kids would count all of them individually. The other reason is because it would kind of help us save money because we aren't using paper."
As one could imagine, most of the students were surprised when they had discovered they were nominated for a certain category.
"I was nominated for Next Voice and Future Movie Star," senior Robert Gambrell said. "It was cool to be nominated for those categories because it's a blessing when people recognize your talents. It makes me strive to be great in everything that I do."
The senior class has made their voice heard on who they think is the best of the best among them. The seniors have amazing camaraderie. The Mock election is a very humbling experience for most students. To them, it is not all about winning; it is an honor just to receive votes. We will just have to wait and see who comes away with an award (or for some multiple) on Thursday, May 19.
Winners
Match Made in Heaven: Sara Baum & Paul Marble
Best Smile: (Girls) Saxton Baumann (Boys) Mohammad Khan
Biggest Flirt: (Girls) Emily Stewart (Boys) Brendan Flores
Most Likely to Never Move Out: (Girls) Andrina Yago (Boys) Jason Grohman
Next Star Dance: (Girls) Sophia Simopoulous (Boys) Josiah Page
Hottest Ride: (Girls) Bridget Spagnuolo (Boys) Jacob Narra
Biggest Junker: (Girls) Mary Davis (Boys) Alec Connell
Next Picasso: (Girls) Jillian Oberts (Boys) Jackson Hintz
Next Movie Star: (Girls) Anna Hoffman (Boys) Robert Gambrell
Best Eyes: (Girls) Caylie Conwell (Boys) Chase Prisza
Tanoholic: (Girls) Angela Evanoff (Boys) Anthony Nigro
Best Musician: (Girls) Jessica Cummings (Boys) Evan Danielson
Next Top Model: (Girls) Iman Traore (Boys) Nicholas Mason
Biggest Scrub: (Girls) Justine Palushaj (Boys) Dean Wundrach
Snazziest Dresser: (Girls) Sydney Wilcox (Boys) Mitchell Fraser
Most Spirited Chieftain: (Girls) Paige Spinale (Boys) Ethan Fromm
Class Clown: (Girls) Valentina Giambanco (Boys) Ian Briggs
Best Personality: (Girls) Addison Breeding (Boys) Yousif Yousif
Most Contagious Laugh: (Girls) Tara Lehr (Boys) Ronald Pinto
Best Hair: (Girls) Hailey Lenzing (Boys) Luc Fluent
Next Apprentice: (Girls) Olivia Windorf (Boys) Ryan Thomas
Most Likely to go Pro: (Girls) Veronica Kramer (Boys) Kumehnnu Gwilly
Future President: (Girls) Shannon Habba (Boys) Jonathan Goettsch
Next Albert Einstein: (Girls) Annalise Guitar (Boys) Cameron Gudobba
Next Voice: (Girls) Lauren Hill (Boys) Robert Gambrell
Leave a Comment