"Humans of New York" project comes to Utica
"Excuse me, do you mind if I take your photo?"
If a complete stranger approached you and asked this question, how would you reply? This is exactly what Brandon Stanton began doing back in 2010 when he documented random New Yorkers and their stories for his Facebook page, "Humans of New York."
Soon, many people on Facebook followed his project and he gained a massive following. So many of the stories are heartbreaking, some about losing a loved one, and others about losing their jobs. Each story, person, and picture is unique. As a massive city with distinct cultures, New York is the best place to cultivate unique stories.
"New York is a really energetic city," junior Matthew Rogalski said. " I would love to live there. It's such a big city."
Stanton's stories are not only unique to New York. There are human stories everywhere and some happen to be relatable, depending on the type of life people live.
"It's incredibly cool. Anytime you humanize people, it's a good thing," principal Tom Lietz said. "It helps us recognize that people are people."
The project also showcases the old style of small talk that is unfamiliar to many today. Brandon Stanton has taken his project worldwide to Iran, documenting pictures and stories of many living there. Stanton also has penned a book which is a compilation of the many photos and stories from inner New York.
Stanton has documented some of the migrants exiting Syria. According to TIME magazine, President Obama recognized one of the migrants from Stanton's stories and brought the migrant family to the State of the Union Address as guests.
Students enrolled in any of the school's journalism courses have been planning a similar project to Stanton's that will showcase Utica's unique individuals and stories.
"You learn more about people than you ever knew," junior Mackenna Galui said. "One person I interviewed told me about how he got hurt over spring break when I asked him about his limp."
The ability to tell touching human stories is the key to learning the art of journalism. The project showcases an ability to connect over a story, an ability every journalist should possess.
"The project helped me interact with people better," senior Robert Gambrell said. "I thought it was very interesting to learn about other people's lives."
The journalism students enjoyed the project as it helped them in class and was something interesting to do. Real stories from real people. Much like Stanton's website, humansofnewyork.com, the Arrow now features online photos and stories, whether they're humorous, heart-breaking or something in between, from the students of Utica.
Leave a Comment
About the Writer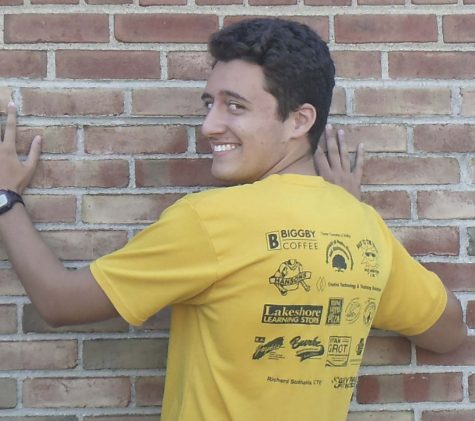 Ethan Cartwright, Editor-in-Chief
This is Ethan's third year of newspaper. Throughout all his horrible designs, and ok stories, he has become something he had hoped to be since 10th grade....