Going the distance
The 2016 boys track team has created a plot twist in the Mac White conference. At the start of the season, the team made their mark taking down Chippewa Valley, their only opponent who defeated them last year in White Division.
"I was shocked, but thrilled that we had won," senior Ceion Strange said.
Being the biggest competition of the year, the outcome shocked both the Chippewa and the Utica teams. The Chieftains were going into the meet as the underdogs due to last year's loss with Chippewa.
A big part of the team's success is their distance runners. Junior Gabe Garbarino and sophomore Remares Bell have been having a successful season crushing the distance events.
"We have been having great success in our distance relays," Bell said.
Due to the fact that they have so many strong distance runners, the relays are so ahead that no one has to pick up the slack. They're both around 55 seconds on the 400m relay and 2.15 seconds on the 800m.
"Working hard and being motivated by the team makes me succeed," Garbarino said. "If we continue to push ourselves every time, we will always place."
They have always placed in the meets they have participated in this year, earning the team a huge pile of points.
Along with the strength in the distance running, there was a great number of new faces at the finish line in the 100 meter dash. Junior Nathan Ayers has been putting up points for Utica in the 100m averaging a 11.2 time. The team has always been strong in distance; but now that they are strong in sprints, the team appears as a huge threat in the Mac White Division.
To add on to the team's success, junior hurdler Cam Mitchell has had great times in the 110m hurdles averaging 15.6 seconds. The field events are putting up big points for the team this year. Senior Ethan Culberson has been averaging over 50 feet on shot put.
The team currently leads the Mac White with an undefeated record. Overall, the team is looking very promising and continues to shock the county.
Leave a Comment
About the Writer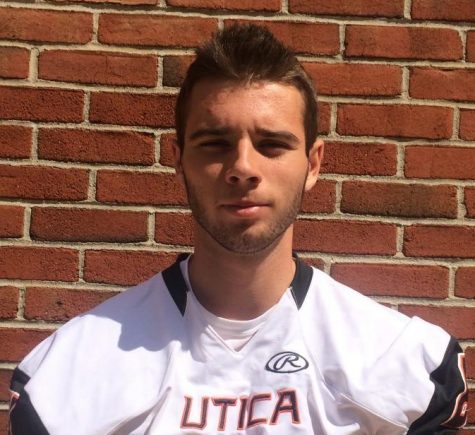 Reid Bonifas, Sports editor
Reid Bonifas is a sports reporter for the newspaper. He is a senior and is graduating in 2018. He plays football and does track and field. He is a wonderful...