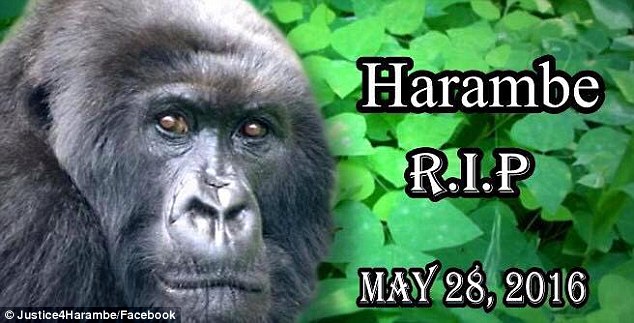 Harambe's Revenge
October 4, 2016
It was the shot heard around the animal kingdom.
On May 28, the world changed as we knew it– well, for most of us, anyway– when a majestic western lowland gorilla christened "Harambe" was gunned down after a boy fell into his enclosure.
"I think accidents happen," principal Tom Lietz said, "but Harambe's life doesn't amount to a kid's life."
Cincinnati Zoo officials report that the boy fell in the gorilla pit while his mother was distracted. The gorilla dragged the boy around, and after determining the boy was in danger, the decision was made to shoot, and kill, Harambe. The boy escaped, unharmed.
"
"Who lets their son wander into a gorilla pit–what was the mom thinking?"
— Junior Logan Wessel
While zoo officials made the decision to shoot this majestic beast to save the child, many were outraged at the decision.
"Shooting Harambe was the worst decision the zoo could've made," junior Dequan Walker said. "The shot could've hurt the kid."
The internet exploded, seeking "Justice for Harambe." More than 500,000 signatures were signed to protest Harambe's death.
"His death meant something," junior Sam Soriano said, "but some people don't think it did."

Harambe's death may have been horrific, but his death united people.
"Everyone seemed to mourn together," junior Elijah Huyghe said.
Harambe's death surprisingly launched him into national fame, spurring widespread memes that are still present today, months after his death.
"They [memes] bring laughter to a tragic event," junior Salvatore Narusch said.
Harambe's death was tragic, but his death brought unity, sadness, and laughter to the world.
"I miss Harambe every day," senior Joshua Abate said. "He will always be remembered."
 https://pbs.twimg.com/media/Cpdjal8WcAELH4i.jpg
http://i.imgur.com/Jod1Yvjl.jpg
http://www.fafmag.com/wp-content/uploads/2016/09/13298110_813221145476616_1828160293_n.jpg