School Liaison Officers
Police presence in schools is vital to keep students safe, on the right path
October 28, 2016
After allegedly stabbing a Warren woman over sixty times and stealing her car, Anthony Iannotti was on the run and loose in Shelby Township.
The woman, 61-year-old Donna Lawerence, had been assisting Iannotti. But, when he asked to borrow her car, she refused, and he attacked her and stole the car.
On Aug. 10, Lawrence was found beaten to death in her home in Williamsburg Eastern Apartments.
Iannotti had been on the run for six days, when the Shelby Township Police Department received a 911 call from a woman who was with her 2-year-old son. Hiding in her bathroom, the suspected murderer was outside, trying to break in.
Utica's own Officer Jim Malczewski heard the call, and instead of heading to the scene, searched for it online to check out the area. "I had a feeling it was the murderer," Malczewski said, "and when I saw the nearby woods, I knew that's where I needed to look."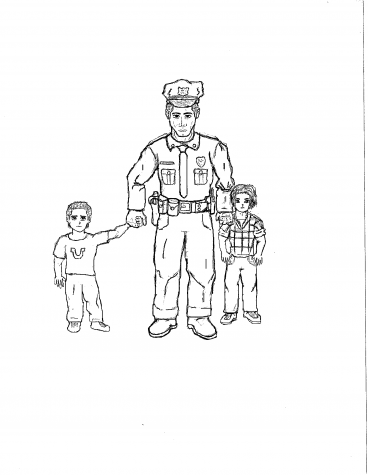 As he approached, Malczewski identified Ionnetti's "unique" teeth, and gave chase with another officer, making the arrest.
Malczewski, a hero in students' eyes, has been working as Utica's liaison officer for four years. Several times, budget cuts may have eliminated the position; however, Chief Robert Shelide fought to keep his officers involved in schools, knowing the important role they play.
"I've worked in several stations over the years," Malczewski said, "and I can tell you that our chief is one of the best. He understands what needs to be done to keep our community safe. He's just a great guy to work with."
Malczewski, like many other liaison officers, is proof schools need an officer figure around school. He offers advice to students, as well as keeping them on track. We've heard stories of Malczewski helping students avoid embarrassing situations, to stopping over to a student's house to check in, or even offer a ride to school.
We believe that schools should continue to have a police officers present, not only to keep schools safe, but to help guide students that may need advice. At Utica High, we are lucky to have an officer that many can turn to at times when they feel as if even their parents can't help, such as building connections and finding the best solution if legal trouble arises.
While Malczewski is firm when he needs to be, his friendly mannerisms make him easy to talk to, something every teen needs. He has been there to lead students through a time in their lives where their judgment might be clouded, or a single mistake could dictate a life time full of trouble without his help.
"
Should police departments keep officers in schools? yes 8 no 0 "
— Editorial Board Vote
Overall, we believe school liaison officers should not be eliminated. They provide more than just protection within the school and their importance should not be overlooked, Our Chieftain family would not be the same without "Officer Jim."