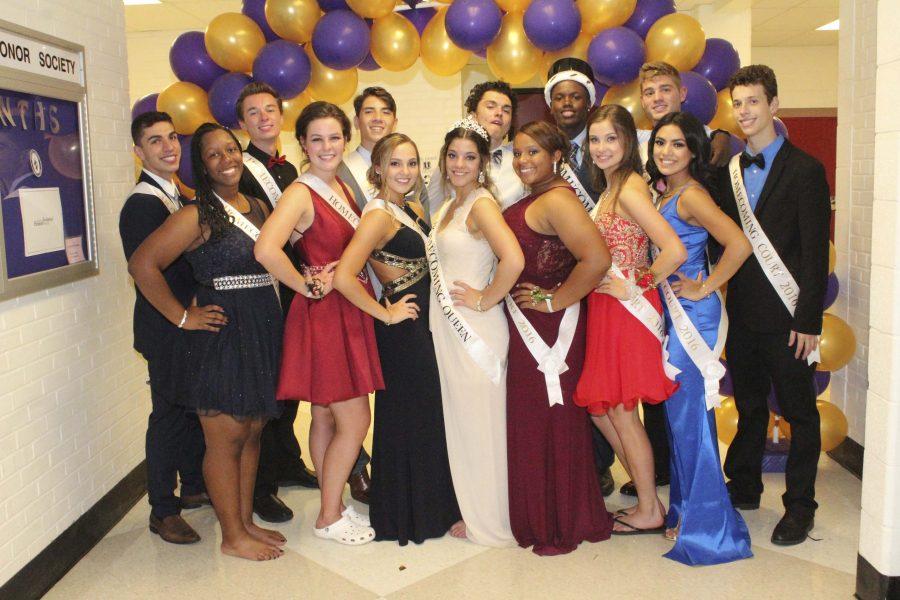 Homecoming 2016
The recipe for a perfect homecoming includes a great outfit, good music, and the perfect decorations. The night is magical for all, but behind all the fun is serious preparation. When students walked into the dance they were transported to a new world. The once plain gym was draped with props and sculptures.
However, the gym does not transform with the snap of one's fingers. It involves the hard work of student council.
Friday afternoon festivities are kicked off with the annual homecoming parade. Months of preparation go into the floats that drive through the streets of downtown Utica."We started working on the float as soon a soon school started," senior Jacob Blanco said, "even though homecoming wasn't until October 8."Clubs and sports build floats and toss out candy on their way past. It's the highlight of homecoming week for many involved."The parade was really fun," junior Claire Decker said. "It was nice to have such a variety of sports and clubs participating."
The homecoming theme for this year was Egyptian. The decorations ranged from pyramids, to a sphinx, and so much more. After the homecoming game on Friday night, student council members fled into the gym to decorate and prepare for the dance. The decorating went well into the night with most members leaving around 3am only to return at 7 am to continue."We started early and stayed really late setting up for the dance," junior Kyle Shock said. "I think it paid off, the dance was great this year."The amount of dedication and effort each member puts in is immense.
Despite the great task at hand, they always have fun while doing it. "It was really fun being able to set up for the dance with friends," Decker said. "I made a lot of memories this year."All of the hard work put in behind the scenes by student council makes homecoming possible every year."Everyone's so grateful for the work they put into decorating," senior Danielle Poth said, "and making the night magical."This year's dance was just as successful as ever. The night was unforgettable for all who attended."I was so happy with how everything turned out," Blanco said. "I love being a part of a school who puts so much into their homecoming week and really gives it their all."