Pulitzer Prize-winning journalists, teachers, friends
Meeting professional journalists was a once-in-a-lifetime experience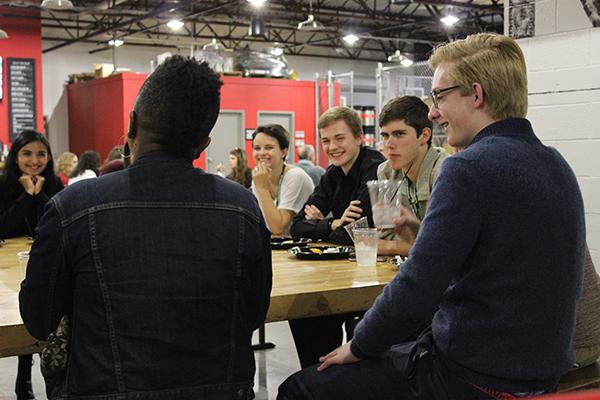 Have you ever walked into a room filled with famous people? Your stomach is in a knot and your hands are shaking as you wipe off the sweat that's formed on your forehead. You are just so nervous to the point that if you don't rethink every action you are about to do five times that you might have to run out of the room in embarrassment. That's how it usually feels, right?
When I walked into a room filled with Pulitzer Prize-winners on Oct. 23… I felt none of that. I walked in, took in my surroundings, and walked right over to the giant Jenga blocks in the corner to play one of the most intense block moving games in the world. Something about the air inside Lansing must have calmed me down, because talking to famous reporters and writers such as Jim Mitzelfeld, Steve Luxenberg, Eric Freedman, and more who have all done some amazing work, felt almost natural.
I was invited to meet these famous journalists because of my work over the summer at the Michigan International Press Association's summer journalism camp. Hosted at Michigan State University, the workshop taught students everything news related. From broadcasting to editing, photography to reporting, there was a class for just about anyone. I personally took the Website Boost Camp, where I learned how to design, improve, and upload stories to our site.
While I was at camp, School Newspapers Online provided us with a temporary website to mess around with and a tech from their company to show us the ropes. Immediately, I started playing around with the site and learned as much as I could about it so I would be able to do the same with our own student news website.
During my time in this class, I pushed myself to learn as much as I could, working on as many things as I could. As a result, I ended up winning a Sparty, an award given to the top students in each class. Originally, I didn't think I had a chance to win this award, because everyone in my class had more experience than me. But suddenly, everything just came to me, I changed the entire layout of our temporary website, started changing the layouts of the stories, implementing immersive splash pages, pull quotes, and next thing I knew, my name was being called on the last day as the winner. Everyone was cheering, and my eyes started watering up as I embraced my MIPA teacher, Natalie Sekicky, for honoring me with the award.
Little did I know that the award would also lead to the once-in-a-lifetime opportunity to meet Pulitzer Prize-winning journalists.
As I arrived at the Lansing Brewing Company, we all sat down to enjoy some food while talking about our opinions of today's conflicts and issues. I even had the chance to ask Detroit Free Press's staff writer Jim Schaefer (who's also won a Pulitzer Prize) about the influence of social media in journalism.
"Nowadays, everyone looks at a meme and believe it's true," Schaefer said. "We need to get out of the meme culture and start having people dig deeper into what is actually true."
Suddenly, I was in the middle of a conversation with two Pulitzer winners.
"We need to draw a line between what is content," Nichole Christian said, "and what is false journalism."
Christian, who her Pulitzer for contribution to New York Times 9/11 stories "Portraits of Grief," was very open to sharing how she felt about many subjects regarding today's journalism community.
"Don't be afraid to say what you think," she said. "What you say matters to somebody out in the journalism world."
Christian shared other motivational ideas for young journalists.
"It's a glass half full out there that we can get full," she said. "If we have the right leaders out there to go and tackle it."
After spending an evening talking with these famous journalists, I feel that I can go out and report on just about anything. Even the next day at the MIPA Fall Conference, the journalists recognized me, waved to me, and even pulled me aside to talk a couple times.
They were teachers, as well as friends, that provided me with memories I will never forget.
"Don't spend your life sitting at a keyboard or on the phone. One of the greatest things about journalism is the ability to go out and get photos, observe things, talk to strangers, ask embarrassing questions, go places most people can't go, and make connections that'll last a lifetime," Freedman said. "Journalism should be an active adventure of getting out and meeting new people. Remember that people will always act differently face to face compared to email or messaging systems."
Mitzelfeld also provided me with a piece of advice for future endeavors.
"Make sure you write as many stories as you can, get published in as many places as you can, and make as many mistakes as you can early," Mitzelfeld said. "This way your skills will develop for the future opportunities, stories, and reporting you will be doing."
I am super grateful for everything MIPA has provided me with and would like to say thank you to all my new role models, teachers, and at most, my new friends.
Leave a Comment
About the Contributor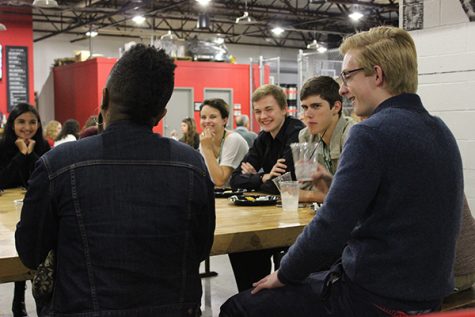 Colin Baker, Online Editor
Colin is in his senior year. It's also his first official year on the Arrow staff, even though he's helped them out before. He's a part of Hispanic Honor...