Origin of the 'Cheese Puff' chant revealed
Varsity boys swim team keeps tradition alive
Cheese puffs
Cheese puffs
Munch, munch, munch
Eisenhower, Eisenhower
What a great bunch
Yes, those are the words chanted by the varsity boys swim team at every meet.
It's important to have a good bond with your team mates on all sports teams, and the now-famous "cheese puff chant" creates good relationships and good chemistry in and out of the pool.
Most of the athletes on the varsity swim team shout the words, however, without knowing its origin.
"Ever since freshman year, Colin Newton introduced the chant and it has been a tradition ever since," senior co-captain Charlie Fromm said. "But it definitely goes back farther than that."
It certainly does.
"The cheese puff chant started in 2011," coach Joe Michol said.
It is a long-standing tradition in swimming that each team does a chant at the end of the swim meet to congratulate the other team.
"I had a pretty inexperienced and young team that season with few returning swimmers," Michol said.  "At the end of that meet we circled around and no one knew of a cheer."
On the spot, the boys created what would become Utica High's standard chant.
"A pretty standard cheer was, 'potato chip potato chip crunch crunch crunch' and so on," Michol said. "So the boys laughed and they said, 'Lets replace potato chip with cheese puff cheese puff.' We have been doing that chant ever since."
Members of the team were amused when they learned the origin of their chant.
"Imagination is always in the spur of the moment," senior co-captain Josh Giles said. "It is tradition now, and it will be around for a long time."
Leave a Comment
About the Contributor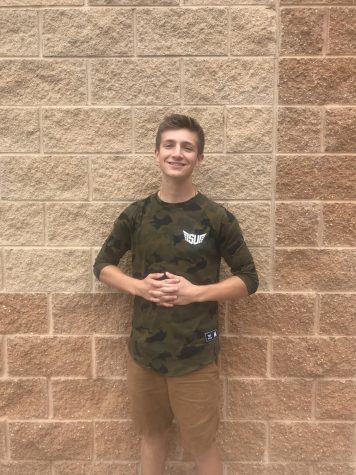 Collin Fox, Sports Editor
This is Collin's third and final year with good ol' Smales. He is the sports editor and is ready to go out with a bang and do it to em this year. #comebackszn