After running from Al-Qaeda, Polina finds himself in a new world, starting a new life in America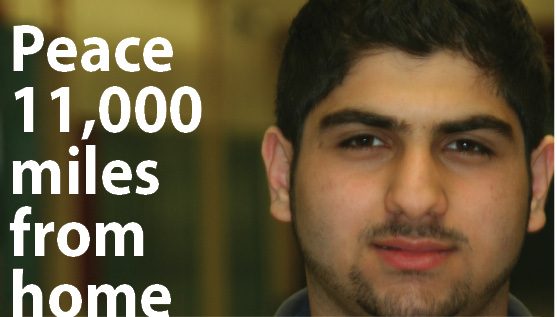 EDITOR'S NOTE: This story was originally published in our print edition on April 30, 2010.
He sat in his seat, confused and scared about his new surroundings. He was like any new kid on his first day of school, but he wasn't your normal new student.
He didn't know the language. He didn't know the writing. He didn't know anyone. He didn't know what snow was or what a yellow school bus looked like. Junior Aws Polina was starting his first day of high school in America.
The bell rang and Polina got out of his desk and into the crowded hallway, where people speaking a foreign language moved past him as he stood still. Wondering what to do next, Polina want to ask for help, but didn't know how.
He was late to every class that day, and even after a couple weeks still found himself wandering the halls of Utica High School, trying to find the right classroom. Teachers helped Polina for the first month to reach the correct class, bring the right books, and learn the simplest phrases in English.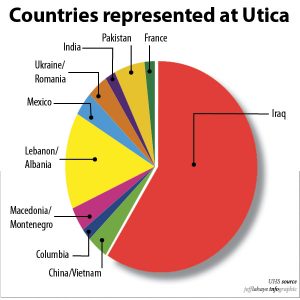 "It was confusing at first," Polina said. "I didn't know anything, and the school was a lot bigger than any school I have ever seen before. I started to second-guess myself and wonder if just going home would be easier."
To help Polina become familiar with the language of his new country, Utica placed him into the English Language Learners program. The ELL was formed to help students from different countries learn to speak, read, and write English. The program at Utica includes 54 students, teachers Carol Dimovski and Olga Afanassieva, and a bilingual para-professional, Wequar Quedsoo.
"The ELL classroom is a place where we celebrate our differences while studying the English language and culture," Dimovski said. "It's not difficult to connect to the students from different cultures, and I feel that it's a plus because with so many backgrounds from students, the class gets a lot of different perspectives on literature we read."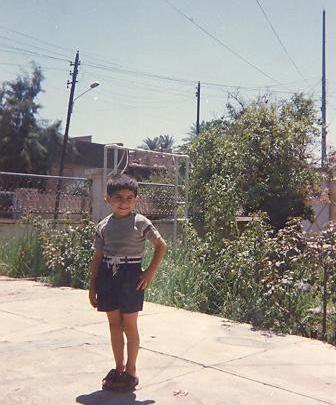 LEAVING IRAQ
Polina's journey to America was long and rigorous, as it stretched through three countries and four years. It started in the capital city of Baghdad in Iraq with a death threat to his dad by the terrorist group Al-Qaeda. Polina's father, Imad Polina, was a professor at a college in Baghdad. His uncle, Baraa Polina, was kidnapped by Al-Qaeda and beheaded. The terrorist group videotaped the beheading and played it on national TV in Iraq.
"We never did find his body," Polina said. "My family knew right at that moment that we needed to leave as soon as we could."
The Polina family then packed up what they could and left the place they called home for the small country of Jordan. Twenty-eight thousand people from Iraq left the country because of war and terrorism.
While in Jordan, Aws and his family faced many new challenges.
"People there treated the immigrants horrible," Polina said. "If the police arrested you, they would immediately deport you back to Iraq."
The Polina family struggled to survive in Jordan, and life was hard for the four years they spent there. Finally, the Polina family received some good news.
"It takes a lot to be chosen over the thousands trying to get to America," Polina said. "You have to have a story and a good reason why you want to go there."
Six months after filling out paperwork to be selected to move to America, the United Nations contacted the Polina family and offered them the opportunity to leave Jordan and travel to America.
"It's not like it is here in Jordan; if someone steals something or beats you up, you can't go to the police," Polina said. "If you work hard and try your best in America, you can get a job and succeed. But in Jordan, they won't ever give you a job because you're an immigrant."
On Aug. 28, 2008, the Polina family started their final voyage to America. They boarded a plane and headed to Germany. Once in Frankfurt, they waited five hours before boarding another plan to New York City.
"We were given the opportunity to live in either Michigan or California, because we have family in both places," Polina said. "Because of Michigan's current economy, I'm starting to realize that California might have been the better choice."
After staying the night in New York City, the Polina family went back to the airport and had one more day of traveling. After a second day of traveling, the plane from JFK airport landed in Detroit. The Polinas were directed by an instructor and filled out immigration forms. Afterward, they all saw a familiar face.
Polina's cousin was standing outside the terminal. The family stayed in their relatives' house for the first month in America.
"It was really cramped living in a house with seven other people," Polina said. "I was getting annoyed, but I couldn't say anything; I was just grateful to be there."
The same day Polina arrived in Detroit, school was starting for the students at Utica. After a month of getting settled in his new environment, he walked into Utica High for the first time.
AMERICAN DREAM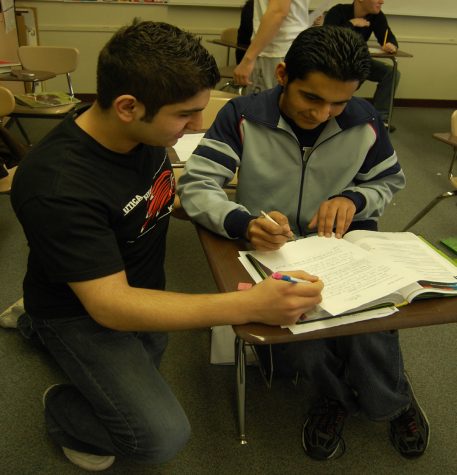 "I was overwhelmed about school in America," Polina said. "If it wasn't for my friend, Zaid, I don't think I could have made it."
One of his first friends at Utica was senior Zaid Kanam. Kanam helped Polina find his classrooms, toured him around the school and took him to the counselors for help.
"I felt the same way my first day at school and knew what he was going through," Kanam said. "He's a very nice and responsible guy, and we are still really good friends today. He's cool with everyone in the school."
All the adversity and adjustments of a new country that Polina had to go through didn't stop him from becoming one of the best students at Utica.
During his two years at Utica, he has worked hard to maintain a 3.77 GPA. He has excelled in every class and takes his school work very seriously, enrolling in two math classes his junior year, Trigonometry and Introduction to Calculus.
"Aws makes sure that he takes advantage of every opportunity in this country," Dimovski said. "He is really trying hard to be successful in and out of the classroom."
Along with doing great in school, Polina is also involved in many after-school clubs, including Science Olympiad, Key Club, National Honor Society, Math Club and Science Club.
In Science Olympiad, Polina and his team built a robot that placed fourth in a local competition.
"He is a really smart, well-rounded kid," Science Olympiad sponsor and teacher Mark Moehlig said. "It was the first day and he was new, but that didn't stop him from going around and talking to everyone."
Polina is currently still involved with the ELL program, but has been learning and speaking English at an astonishing rate, according to his teachers. He is ready for a bigger challenge next year.
"I'm hoping to take the regular English class for seniors next year," Polina said. "It looks better on a college application, and I really want to do good in that class."
As for the Polina family, they are currently renting a house. Like many in Michigan, his parents are out of work and are trying desperately to find jobs. To help his family, Polina has found work and is employed at Sbarro's Italian Eatery in Lakeside Mall.
"At first I didn't like the idea of living in America; it just wouldn't feel like the home I was used to," Polina said. "Now when I look back, I am so grateful that my family made it to America. I'd just like to say thank you to everyone that helped me get here and helped me in school, and to thank God."
Leave a Comment