The Winter Dance: How Did It Go?
The music was booming and resonating as the blue light glowed in the main gym. The Winter Dance had begun and could potentially become a new tradition here at Utica High School.
The second consecutive Winter Dance was hosted Saturday, Feb. 11th in the main gym, and no outside guests were allowed to attend. Tickets were sold at the door for $10 each.
At 7:30 sharp, when the dance officially began, attendance was low. A performance from Theater members taking place the same night caused any students involved in the performance who wanted to attend the dance to be late to arrive. Over time, more students arrived as the dance went into full swing. Of course it wasn't as crowded as Homecoming, as only Utica students could attend, but attendance was still moderately low.
"I'd say about half of the gym was filled, but people were all spread out," sophomore Macy Drinkall said.
The main gym was decorated with dark blue lighting, white snowflakes on the ceiling and walls, and balloons in varying shades of blue.
"Those were super pretty, especially the snowflakes," sophomore Mckenzie Remeselnik said. "They were really cool!"
All of the themed decorations contributed to a festive winter spirit at the dance.
"I thought the decorations were pretty cute," Drinkall said. "There were spots to take pictures."
The music was controlled by a DJ, who some students approached to request a song. Mostly popular music was played. The music selection was very similar to that of the Homecoming dance.
"The music was interesting," Remeselnik said, "which made it even more fun to be hanging out with friends."
With the Winter Dance in the works of becoming a tradition here at Utica High, it was very important for the dance to be successful and considered an enjoyable experience by all students who attended.
*"Everybody had fun," said Drinkall.
"I think it's pretty likely that there will be another Winter Dance next year," senior Danielle Kaschalk said. "Each year I think we want to keep making it bigger and better."
Some students have suggestions in mind for an improved experience at future dances.
"Food and maybe more publicity, because maybe not enough people knew about it," Drinkall said. "It was really fun though, maybe even more fun than Homecoming."
Leave a Comment
About the Contributor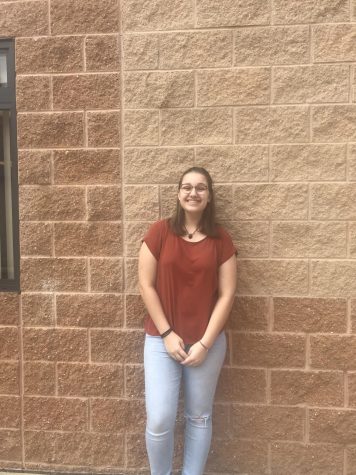 Hannah Piasecki, Design Editor
Hannah Piasecki is a senior and design editor in her third year as part of the Arrow staff. She's part of DECA, Quill & Scroll, and hopes to join more...