Long-time teacher makes unexpected exit
English teacher Chris "Dr. D" Dabrowski retires after 42 years
The morning started out as any other. Students groggily entered the school, stopped by their lockers, and then proceeded to class. It was an ordinary day, except for students of long-time English teacher Chris Dabrowski, who were met with a unexpected sight.
Upon entering the room, two things were clear: Dabrowski was not present, and the room appeared significantly bare in comparison to just the day before. Confusion immediately spread.
"When I walked into first hour, I was very confused; all of her stuff was gone,"  junior Kelsie Donaldson said. "The whiteboard had a message printed that read: 'To my fabulous students, believe in yourself and your dreams. Remember just do it.'"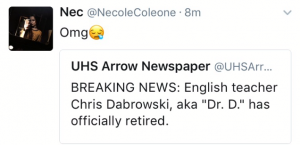 Dabrowski's first hour students soon came to the realization they did not have a scheduled substitute teacher for the day, either.
"Principal Lietz came into the room a few minutes after class started," Donaldson said, "and told us even he didn't know what was going on and that he did not receive a phone call from her."
The situation was unclear to many. However, few who were close to Dabrowski knew a small amount of information regarding her exit.
"While I was saying my typical goodbyes for the day yesterday, she told me that I wouldn't see her later," senior Benjamin Sanchez  said. "At first I thought she meant she was going on vacation, but when I looked at her I knew she meant it was permanent. I instantly began to cry."
Lietz later confirmed her retirement.
"I just got off the phone with Human Resources who have confirmed that Dr. Dabrowski did conclude her over 42 years of service at Utica Community Schools and Utica High School yesterday afternoon, and notified them prior to the Mid-Winter break," Lietz said in an email to the staff. "Chris [Dabrowski] was a long-time Chieftain, impacted thousands of young people, more than most of us will in our careers, and did so with a positive attitude."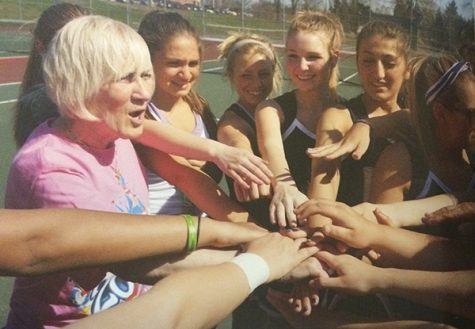 Dabrowski, who has taught at UHS for her 42-year career, has taught multiple subjects along the way including Drama, English, Forensics and Debate. In addition, she coached girls tennis for many years.
"Dr. D's sudden retirement is a tremendous loss for Utica, but a very deserving retirement after so many nice years," teacher and English Department Chair Andrea Solomon said. "She did it her way."
The unexpected retirement has left an open position in the English department, which will need to be filled for the remainder of the 2016-2017 school year. Students are eagerly awaiting the announcement of her replacement.
"I have already spoken with Andrea [Solomon], and we have begun working to find a teacher to take her classes for the remainder of the year," Lietz said in an email to the staff. "We will hopefully have that in order shortly."
The retirement itself was shocking, but the private nature of her exit has confused many. The various reactions among the students made for an emotional day.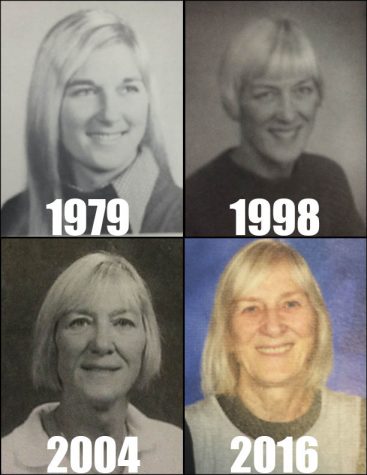 "I can't believe she just left without telling us, because we would've liked to say goodbye," senior Angel Augustitus-Bell said. "There were so many students crying today. I'm so sad about it; I hope she's going to graduation."
Along with a getting a new teacher, administration needs to find a new tennis coach.
"We received our schedule and our first match is March 30," senior Gabrielle Jaques said. "In order to be ready for the match, we should be practicing by next week. I don't know what we are going to do without a coach."
Dabrowski's long-time teaching status allowed her to be known and loved by many students throughout the years. She invested a significant amount of time to her job, and impacted thousands of children during her career. The sudden exit has left students saddened and overall shocked.
"It's really sad to hear that she's gone," senior Daniel Standifer said. "She was everyone's favorite."
About the Photographer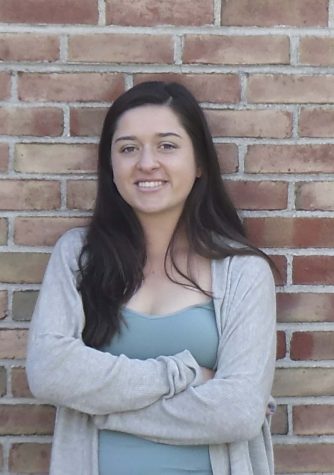 Makenna Galui, Editor








Makenna Galui is the managing editor. She is finally a senior.When she isn't crying and complaining about her AP Calculus class,...